Nokia's (NYSE:NOK) shares seem to have serious trouble breaking through the $8 mark. Since the end of last year, after Nokia agreed to offload its struggling Devices and Services unit (D+S) to Microsoft (NASDAQ:MSFT) for $7.4 billion, shares of the mobile communications company have largely traded in a narrow range between $7-8 without any clear indication of where the shares are headed next.
Two things have negatively influenced Nokia's share price lately: First, ongoing disputes with Indian tax authorities, which, at some point, included the freezing of Nokia's assets for violating certain provisions of the Indian tax code. India now demands that Nokia puts approximately $570 million into an escrow account as a guarantee that Nokia can meet its tax obligations. As a result, Nokia's tax issues in India have delayed the asset transfer of its Chennai production facility to Microsoft. Secondly, regulatory authorities in Asia are holding back their approval for the Nokia/Microsoft deal.
Clearly, both issues are potentially severe in nature and they have added a substantial amount of uncertainty to Nokia's stock. However, I am confident that the Nokia/Microsoft deal will go through, even though deal completion has been delayed because of the issues described above.
On March 24, 2014, Nokia issued a press release reassuring investors that the landmark deal with Microsoft is not endangered [emphasis added]:
Espoo, Finland - Nokia today announced that it now expects the transaction whereby the company will sell substantially all of its Devices & Services business and license its patents to Microsoft to close in April 2014. This compares with Nokia's previous expectation on the transaction closing in the first quarter of 2014, which Nokia communicated when the company first announced the transaction on September 3, 2013. Nokia and Microsoft remain committed to the transaction.

As previously communicated, the closing of the transaction is subject to regulatory approvals and other customary closing conditions. Nokia and Microsoft have already received most of the required regulatory approvals, including approvals from the European Commission and the U.S. Department of Justice. Furthermore, Nokia and Microsoft continue to make good progress related to the closing conditions and integration planning. However, the transaction is pending approvals from certain antitrust authorities in Asia which are still conducting their reviews.

Nokia and Microsoft continue to be confident that the transaction will close, resulting in the sale of substantially all of Nokia's Devices & Services business to Microsoft, and both companies are working diligently to close the transaction as expeditiously as possible.

Nokia reiterates that ongoing tax proceedings in India have no bearing on the timing of the closing or the material deal terms of the anticipated transaction between Nokia and Microsoft.
I consider it highly unlikely that the D+S deal is approved by European and US regulators, but rejected by their Asian counterparts. Microsoft also found it necessary to address the current regulatory issues surrounding the D+S deal in a dedicated blog post on March 23, 2014:
We wanted to provide a brief update on the status of the regulatory process for approval of Microsoft's acquisition of the Nokia Devices and Services business. We are nearing the final stages of our global regulatory approval process - to date we have received approvals from regulatory authorities in 15 markets on five continents. Currently, we are awaiting approval confirmation in the final markets. This work has been progressing, and we expect to close next month, in April 2014.
(Source: Yahoo Finance)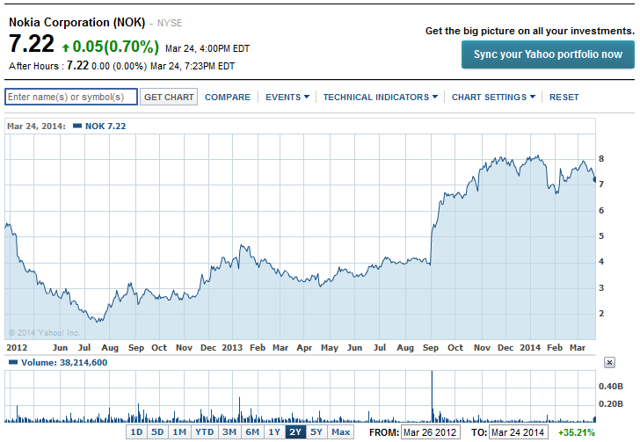 Click to enlarge
Conclusion
Both Nokia and Microsoft expressed their conviction that the D+S transaction will go through and completion of the deal will only be delayed to the second quarter of 2014. Moreover, Nokia stated that tax proceedings have no impact on material deal terms. Even if Indian tax authorities and Indian courts obstruct the transfer of select Nokia assets in India to Microsoft, I doubt whether those actions would be considered a deal breaker. Worst case, Nokia keeps producing its phones in India for Microsoft on a contract basis.
In addition, regulatory authorities in the US and in Europe have already approved the Nokia/Microsoft transaction, and I am sure political pressure on Asian counterparts will be applied behind the scenes to push the deal through. Big multi-national corporations have strong bargaining leverage in emerging markets and often benefit from political quarterbacking.
That being said, I am confident that Nokia will receive regulatory approval in Asia and that Microsoft's acquisition of Nokia's Device and Services business will be completed as reported. Nokia's new business model is highly attractive, and the D+S deal is a major milestone achievement for Nokia. Long-term BUY.
Disclosure: I am long NOK, MSFT. I wrote this article myself, and it expresses my own opinions. I am not receiving compensation for it (other than from Seeking Alpha). I have no business relationship with any company whose stock is mentioned in this article.