Cisco (NASDAQ:CSCO), like my friends over at Intel (NASDAQ:INTC), is playing a game of catch up. With Intel, it's with mobile and tablets - for Cisco, it's in cloud computing.
Cisco is a manufacturer of IP-based networking equipment and items for use in information technology and communications. This very article is being brought you through a series of Cisco routers and switches; all designed to bring the chaos in my head, directly onto your screen.
Cisco's trading has been anything but convincing. The company has failed to produce a return of more than 4% in the last twelve months, while its sector-mates have been mostly putting up double digit gains in the same time frame.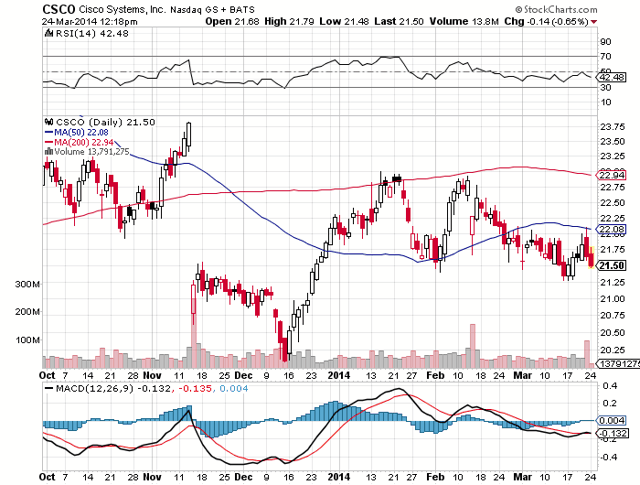 My last article on Cisco went into detail about why I was cautious about the company increasing their shareholder payouts in the midst of mediocre performance:
Yes, I understand it happens regularly, and yes - I get why companies do it. But for me, I would like to keep businesses as clean, simple, and concise as possible when running them. It reminds me of a monster debate that took place over REITS in 2013 and whether or not the dividends were technically "real" dividends if the company is diluting at the same time. Interestingly enough, a lot of tickers mentioned in that story haven't really moved, while continuing to furnish their dividend. But, that's another argument for another day. Dollar Tree (NASDAQ:DLTR) is doing the same exact thing, too - but it doesn't make it right to me.

That is not to say that Cisco doesn't have the fundamentals in place to do this, I just don't like the action of it. Cisco actually remains an attractive buy, in my opinion - one that I've considered nibbling on since last month.
Coming off of a less than stellar earnings season and a downgrade from Barclay's last week, it was announced this morning that Cisco plans to invest over $1B in cloud. Seeking Alpha reported:
Cisco Systems plans to invest $1B over the next two years on a new cloud computing service similar to Amazon Web Services (NASDAQ:AMZN).
Cisco Cloud Service has already snagged partners, including Australian telecom operator Telstra and Canada's Allstream.
Cisco intends to focus on big corporations and government agencies, and optimize its services to work with software from companies such as SAP (NYSE:SAP), Microsoft (NASDAQ:MSFT) and VMware (NYSE:VMW).
The introduction of the cloud service comes as Cisco looks to revive falling revenues.
This is going to leave investors asking the question, "Is Cisco getting into cloud too late?" Because, if so, $1b in capex is going to be a substantial amount to risk on services that are already in the meat of their adoption curve.
That company has given itself a timeline of two years for being able to enter into the market - again, a question that begs whether or not the company is missing the adoption curve, as cloud computer seems to be in its heyday now.
(click to enlarge - source)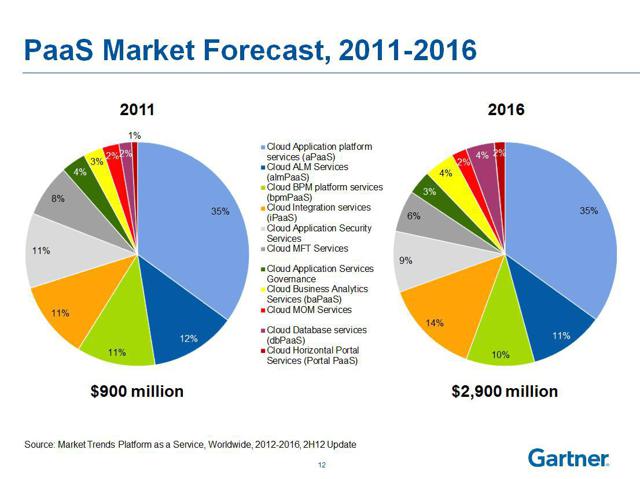 Additionally, you have people like myself that are simply anti-cloud computing, for the most part. The less places at once for my data, the better.
True story, I returned from Best Buy (NYSE:BBY) last night with a brand new laptop and external monitor to add to one of my home's trading station. Inside the bag was a card for free cloud service, from some company I've never heard of, for a year. I look at the discount on the receipt - it was a $29.99 value. I promptly chucked it into the trash.
So, Cisco is walking a tight rope of sorts - they're throwing money around to their shareholders and now announcing another sieve of capex that is soon going to be opened. A positive result for Cisco, like walking on a balance beam, needs to be a perfect combination of not too much spent and execution within an effective time frame.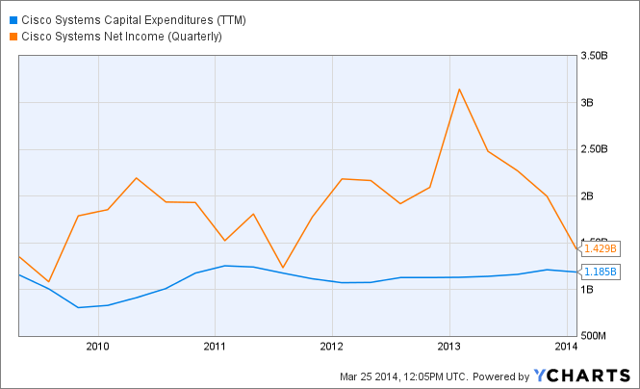 CSCO Capital Expenditures (TTM) data by YCharts
But, look at the above chart. Does it seem like time to ramp up capex for Cisco? The obvious answer to this question is "hell no." It also doesn't seem like time to be ramping up payouts to shareholders.
As such, I've currently gone from considering Cisco a buying chance, to very likely sitting on the sidelines for a while to come. While I wish the company the best in its endeavors, I think this program will have a short-term negative effect on the stock. Until its foray into cloud is proven and Cisco "rights itself," consider me watching from the sidelines.
Best of luck to all investors.
Disclosure: I have no positions in any stocks mentioned, and no plans to initiate any positions within the next 72 hours. I wrote this article myself, and it expresses my own opinions. I am not receiving compensation for it (other than from Seeking Alpha). I have no business relationship with any company whose stock is mentioned in this article.