Many studies show that investing in companies that continually increase their dividends over time can deliver returns over and above the returns of the broader market such as the S&P 500 (NYSEARCA:SPY). That said, trying to obtain that market "beat", actually capturing the gains available from dividend growth stocks might be easier said than done.
Many investors try and beat the market or index. That's our primal nature - to win. If there's a competitor most of us want to beat it, even if it's a passive index such as the S&P 500, Dow, or Vanguard Dividend Appreciation Fund. I was watching a very interesting show the other night with my son, the show is called Brain Games and it offers a very interesting exploration into the way the brain works and human behaviour in general. The will to win is hard to resist. Again, it's primal and it's part of who we are, the will to win ensures that mankind can excel and move forward. Competition and beating others makes us create new, and more advanced tools, weapons, medicines and methods. Brain Games said that it all comes down to looking for that rush of winning.
When you're on the winning side, your brain releases a higher-than-usual amount dopamine, a neurotransmitter that helps to send signals between nerve cells. That produces a powerful pleasure response.

Your brain likes dopamine a lot, which is why you actively seek out opportunities to win, and feel the urge to push hard and beat your own personal bests, when you're not trying to outdistance others.
Investors will see that index as the mark to beat even though all of the evidence suggests that it's very, very tough for a self directed investor to get a win against that big unthinking beast known as the S&P 500. Maybe that's what makes it more enticing and more of a fight that investors want to pick. What "born competitor" doesn't want to take on the champ? Well, just about all the born competitors on Seeking Alpha are here to beat. Heck, this site is called Seeking Alpha, and Alpha by definition means beating the market (on a risk-adjusted basis).
Again, the large majority of investors don't beat the market. According to Dalbar studies in fact, the numbers are quite alarming. Much of the poor results are certainly due to investors taking on too much risk, and not being able to hang on during the market meltdowns. Many more investors are simply not very good stock pickers (they don't put in the time necessary, or don't truly understand how to find value above and beyond the market). And for many, human emotion plays against them. That will to win is short term, and immediate. Beating the market is a very long term proposition, measured in many years and decades. A competitive person will see a short period of underperformance as a sign of them doing something "wrong", so they need to make changes to their portfolio. They feel the need to work harder to win, while the opposite may be true. They need to trust their initial research and instincts. If they did their homework, perhaps they simply need more of the most valuable commodity when it comes to investing; patience. That said, the word patience does not seem to fit very well with the idea of winning and beating. The word "attack" seems more fitting.
You won't find many market beaters on Seeking Alpha, from those who share their results or make their portfolios public, even among the dividend growth investors. Yet dividend growth does provide the simple opportunity to beat the market. Many studies show that companies that continually raise their dividends over longer periods outperform the broader market.
Here's a chart I've posted in a couple of recent articles.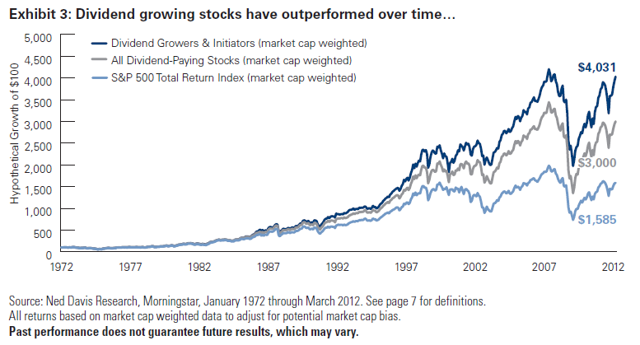 One author on Seeking Alpha who has experienced market beating returns is David Crosetti. He would on most days call himself a dividend growth investor, but also an investor who will stray and simply seek value whether there are dividends or not. In addition to being able to find value, it appears that his greatest trait is patience. This insight is from a recent article from David, he is writing a series on successful investing and I would suggest all investors read the articles through and through. In my opinion listen to the writers who've been through the wars. Be very careful of listening to those writers who are new to investing and perhaps have not invested through a market cycle or two.
I began investing in dividend paying stocks back in 1984. I worked for Coca-Cola (NYSE:KO) and we could purchase KO stock as part of our 401k plan. So, I did. I had friends that worked for other companies and they were as excited about the opportunities at their companies as I was about Coca-Cola. So we all started buying stock in each other's companies. I bought Johnson and Johnson (NYSE:JNJ), Colgate Palmolive (NYSE:CL), Kimberly Clark (NYSE:KMB) and Procter and Gamble (NYSE:PG).

I've held those other 4 companies since 1986 and have never sold a single share of stock. I've always reinvested dividends and the results have been spectacular. All of these companies are part of what is known as the Dividend Champions. These are companies that have increased dividends annually for at least 25 years in a row. Each of these companies has done exactly that.
Now that's patience. It also delivered market beating returns for Mr. Crosetti. As I've mentioned in other articles and posts, David has more patience than Warren Buffett, at least when it comes to a great company with one of the strongest brands in the world, McDonald's (NYSE:MCD).
Here's a simple strategy that just might enable you to beat the market or at least get some very generous returns; simply go out and purchase all of the dividend aristocrats from the S&P 500. Those are the elite dividend payers that have raised their dividends for 25 years or more, just like those great core holdings in David's portfolio.
Here's the list of dividend aristocrats (as of Dec 31, 2013)
| | |
| --- | --- |
| Constituent | Symbol |
| 3M Co | (NYSE:MMM) |
| Abbott Laboratories | (NYSE:ABT) |
| AbbVie Inc. | (NYSE:ABBV) |
| AFLAC Inc | (NYSE:AFL) |
| Air Products & Chemicals Inc | (NYSE:APD) |
| Archer-Daniels-Midland Co | (NYSE:ADM) |
| AT&T Inc | (NYSE:T) |
| Automatic Data Processing | (NASDAQ:ADP) |
| Bard C.R. Inc | (NYSE:BCR) |
| Becton Dickinson & Co | (NYSE:BDX) |
| Bemis Co Inc | (NYSE:BMS) |
| Brown-Forman Corp B | (NYSE:BF.B) |
| Cardinal Health Inc | (NYSE:CAH) |
| Chevron Corp | (NYSE:CVX) |
| Chubb Corp | (NYSE:CB) |
| Cincinnati Financial Corp | (NASDAQ:CINF) |
| Cintas Corp | (NASDAQ:CTAS) |
| Clorox Co | (NYSE:CLX) |
| Coca-Cola Co | KO |
| Colgate-Palmolive Co | CL |
| Consolidated Edison Inc | (NYSE:ED) |
| Dover Corp | (NYSE:DOV) |
| Ecolab Inc | (NYSE:ECL) |
| Emerson Electric Co | (NYSE:EMR) |
| Exxon Mobil Corp | (NYSE:XOM) |
| Family Dollar Stores Inc | (NYSE:FDO) |
| Franklin Resources Inc | (NYSE:BEN) |
| Genuine Parts Co | (NYSE:GPC) |
| Grainger W.W. Inc | (NYSE:GWW) |
| HCP Inc | (NYSE:HCP) |
| Hormel Foods Corp | (NYSE:HRL) |
| Illinois Tool Works Inc | (NYSE:ITW) |
| Johnson & Johnson | JNJ |
| Kimberly-Clark | KMB |
| Leggett & Platt | (NYSE:LEG) |
| Lowe's Cos Inc | (NYSE:LOW) |
| McCormick & Co | (NYSE:MKC) |
| McDonald's Corp | MCD |
| McGraw Hill Financial Inc | (MHFI) |
| Medtronic Inc | (NYSE:MDT) |
| Nucor Corp | (NYSE:NUE) |
| Pentair Ltd. | (NYSE:PNR) |
| PepsiCo Inc | (NYSE:PEP) |
| PPG Industries Inc | (NYSE:PPG) |
| Procter & Gamble | PG |
| Sherwin-Williams Co | (NYSE:SHW) |
| Sigma-Aldrich Corp | (NASDAQ:SIAL) |
| Stanley Black & Decker | (NYSE:SWK) |
| Sysco Corp | (NYSE:SYY) |
| T Rowe Price Group Inc | (NASDAQ:TROW) |
| Target Corp | (NYSE:TGT) |
| VF Corp | (NYSE:VFC) |
| Wal-Mart Stores | (NYSE:WMT) |
| Walgreen Co | (WAG) |
As you can see, that's quite an impressive list of companies. Those are companies with a lot of staying power. You could go out and purchase all 54 companies. Or you could get them all in one stock symbol, in one ETF called (BATS:NOBL). This ETF offers the dividend aristocrats in fund form, for a fee of 35 basis points or 0.35%. On $50,000 an investor would pay $175 in annual fees. That might be the equivalent of 21 individual stock purchases at $8 per trade. To purchase the entire index of 54 the initial cost might be in the area of $430. It would take some 2.5 years before buying the entire index individually would be more cost effective - on a $50,000 portfolio.
Here's more on the index composition.
The S&P 500® Dividend Aristocrats® Index, constructed and maintained by S&P Dow Jones Indices LLC, targets companies that are currently members of the S&P 500®, have increased dividend payments each year for at least 25 years, and meet certain market capitalization and liquidity requirements. The index contains a minimum of 40 stocks, which are equally weighted, and no single sector is allowed to comprise more than 30% of the index weight. The index is rebalanced each January, April, July and October, with an annual reconstitution during the January rebalance.
The Dividend Aristocrat NOBL is a simple index with simple metrics. It has outperformed the market over the last 5 years.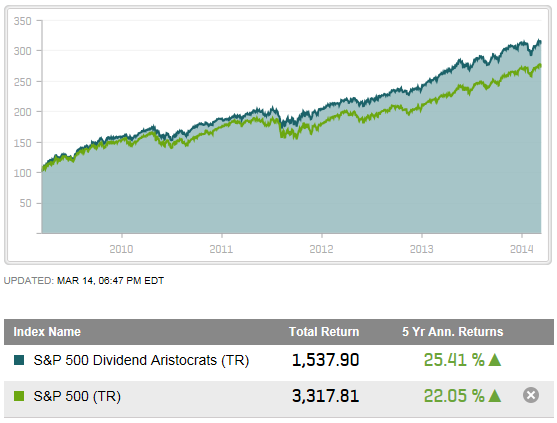 And it has outperformed the market from its inception date. From the ETF provider, ProShares' press release:
The S&P 500 Dividend Aristocrats has gained an annualized return of 9.7% since its May 3, 2005 inception, compared to the S&P 500′s 6.7% return.
The Dividend Aristocrats might prove once again that the most common sense move is to simply buy the index. We see dividend investors post their returns and their public portfolios, by and large they are not reporting a broad market beat, never mind the available returns of dividend growth companies. They are perhaps trying too hard to win.
Much of the research points to indexing vs. stock picking for most any style - and it appears that the truth might apply to Dividend Growth investing as well.
But then again, there's that will to beat. There's also the enjoyment many investors get in return. They love investing. They love doing the research. They love collecting those dividends. But is there a cost to stock picking? If you beat the market with an index ETF, would that still not feel like winning? Maybe not.
That is the question. Do investors want to give up control?
NOBL for whom?
This index appears to be ideal for the accumulation phase and also in the spending or harvesting phase. I have read on Seeking Alpha (I did not confirm) that all of the Aristocrats increased their dividends through the recession. That's some incredible income protection. More than that, they delivered increased revenue through the most challenging stock market environment in our lifetime.
I'll be back with more on NOBL as we look under the hood. What makes this index tick, and win?
Disclosure: I am long VYM, SPY, DIA. I wrote this article myself, and it expresses my own opinions. I am not receiving compensation for it (other than from Seeking Alpha). I have no business relationship with any company whose stock is mentioned in this article. Dale Roberts is a Streetwise Coach at ING Direct Mutual Funds. The Streetwise Portfolios offer index-based complete portfolios to Canadians. Dale's commentary does not constitute investment advice. The opinions and information should only be factored into an investor's overall opinion forming process