Global economic and chemical demand has been growing over the years, and the growth should continue to speed up in 2014. Based on ACC chief economist and managing director, with the progress in the economy, growth for chemicals and agricultural products will improve globally to 3.8% in 2014. The strongest growth will mainly come from developing nations of the Middle East, Asia, and Latin America.
As a result of competitive advantages from shale gas, the growth rate is expected to be strong in North America. However, Western Europe and Japan should recover modestly. Looking at the economic circumstances and the increasing demand for chemical and agricultural products, in this article, I picked two giants that are generating strong growth and are setting strong footprints for future growth: E.I. du Pont de Nemours and Co. (NYSE:DD) and The Dow Chemical Company (NYSE:DOW). I looked at both companies' business strategies, financial positions, and future prospects to gauge which one is in a better position to invest in.
Where Does DuPont Stand?
E.I. du Pont de Nemours and Company is a research and development and an engineering company that offers product and patent applications for nutrition, agriculture, electronics and communications, home and construction, safety and protection, and transportation and apparel.
DuPont's businesses are well-positioned to capitalize on the increasing demand for healthier food, advanced industrial materials, and renewably sourced materials. These markets are creating considerable growth opportunities. The company is focusing on using three strategies to capitalize on demand. It plans to expand its leadership across science-driven segments of the Agriculture and Food value chain. It plans to strengthen its lead as a provider of high-value advanced industrial materials. And it plans to build transformational new bio-based businesses by combining DuPont's world-leading science with expertise and resources from the Advanced Materials and Agriculture & Nutrition businesses.
Its agriculture business accounts for nearly 40% of its revenue. Therefore, the company is concentrating more on its Agriculture & Nutrition science-driven product line. Most of the demand is coming from outside America, and the company has extensive global footprints to capitalize on this. It is investing heavily to produce innovative customer-focused products and applications, biotech and native traits, elite genetics, novel chemistry and seed-applied technologies. With the recent product success of Optimum® AcreMax® corn products and Optimum® AQUAmax™ corn hybrids, Cyazypyr, Rynaxypyr, and new fungicide products, the company is set to grow in the coming days with new seed treatments under the Lumigen™ Seed Sense brand. The company has also launched EncircaSM services to improve productivity and success of grower operations, which should add around $500 million in the company's sales.
Overall, most of the company's business segments generate strong growth, except the performance chemical business segment. The company wants to spin off this segment in the coming year to a separate company. This will help DuPont focus on its core business and enhance its operational efficiencies and earnings.
All the positive moves resulted in a 3% growth in the top line and double-digit growth in the bottom line. With its increased focused on its Agricultural & Nutrition business, global industrial production, and favorable growth in the economic environment, the company is anticipating double-digit growth in earnings in 2014. However, its operating cash flows came down compared with the past year because of the chemical business and changes in Agriculture working capital. Consequently, its free cash flows are not covering dividend payments. In 2013, its free cash flows were standing at $1.3 billion, and dividend payments are at $1.6 billion. Nevertheless, the company has the potential to substantially increase its free cash flows with its expected double-digit growth in earnings.
Where Does Dow Chemical Stand?
The Dow Chemical Company is a manufacturer and supplier of specialty chemical, advanced materials, AgroSciences, and plastics used primarily as raw materials in the manufacture of customer products and services. Dow is strongly working on portfolio management initiatives. It is mainly investing in the electronics, water, packaging, and agriculture businesses. Last year, it announced it would build numerous new Performance Plastics production units on the U.S. Gulf Coast. These units further enhance its Performance Plastics franchise business. Further, it plans to divest in non-core business items. Recently, it announced divestiture of its Polypropylene Licensing & Catalyst business, which sold for $490 million. It is reducing its focus on low-growth commoditizing businesses, and it announced a carve-out of a portion of a chlorine chain.
The company is also investing in its agricultural business. Last year, AgroSciences received registration for a new insecticidal active ingredient, "sulfoxaflor," which controls several important sap-feeding insect pests. Further, Dow AgroSciences and Monsanto Company entered agreements for the creation of the next generation of SmartStax® corn.
With all these initiatives, Dow has generated steady growth in revenues and earnings. It wants to pace up revenues and earnings with its portfolio management strategy. Last year, it generated 1% growth in revenues, while bottom line growth was much stronger. The company generated earnings per share of $3.68, compared with the past year of $0.70 per share. Its aggressive focus on cost reduction allowed it to save $500 million in the past year, which enabled it to generate massive earnings. Strong growth in earnings and cash received from a K-Dow arbitration cash award allowed it to generate massive cash flows, which are more than enough to cover capital investments and dividend payments. Consequently, in the past year alone, it reduced debt by $3 billion and lowered its interest expense by $170 million. Further, with an ability to generate strong cash flows, it increased its dividends by 15% and further extended its buyback program.
Which Is a Better Company to Invest In?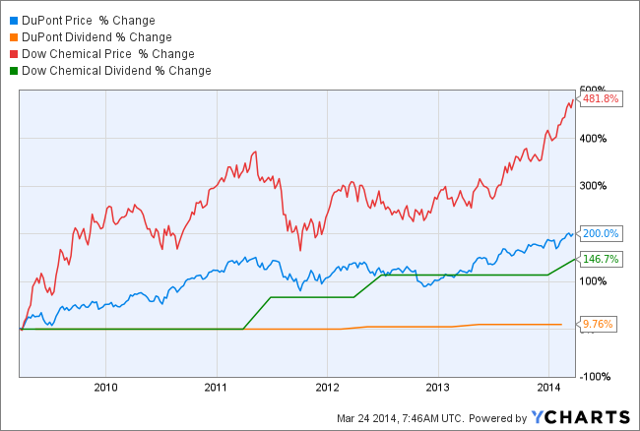 | | | | |
| --- | --- | --- | --- |
| | DD | DOW | Industry Average |
| Price/Earnings TTM | 22.0 | 14.6 | 15.0 |
| Price/Book | 3.9 | 2.7 | 3.3 |
| Price/Sales TTM | 1.7 | 1.1 | 2.2 |
| Rev Growth (3-Yr Avg.) | 7.7 | 2.1 | 6.9 |
| Net Income Growth (3-Yr Avg.) | 17.0 | 27.5 | 14.5 |
| ROE TTM | 37.3 | 22.4 | 22.5 |
Source: Morningstar.com
DuPont and Dow Chemical are making smart moves to make profits. DuPont generated strong top and bottom line growth with its increased focus on its Agricultural & Nutrition and Industrial businesses. The company has been marketing innovative products and services, which are setting it up to generate strong growth arising from the agricultural business. Investors appreciate the business and financial success. It is paying decent dividends; however, its dividend growth remained slow over the past five years. The company's dividend yield has been coming down over the years. Its payout ratio is also high, at around 60%, which is manageable, but I do not see a big dividend increase for this year. The company, amid this, has announced a buyback program of around $5 billion, which I believe will help the company strengthen its dividends and earnings per share in the coming years. The continued surge in stock price makes it pricey at the moment. It is trading at high multiples compared with Dow Chemicals and the industry average. Therefore, I do not recommend initiating a position in a company when it is trading above its fair value estimates.
On the other hand, Dow is strongly working on portfolio management. It is divesting its low performing businesses, while investing in high-growth businesses like agricultural and industrials. The company can turn steady top line growth to big earnings with cost management initiatives. Further, its cash generating potential looks to be much stronger than DuPont's and, thus, has been able to make double-digit increases in dividends over the years. It has also extended its buyback program, which should further enhance dividends and earnings per share. In my opinion, Dow looks to be a better buy over DuPont considering its current valuations and potential to make strong growth in dividends. It is also in a strong financial position, and it is making smart moves in its business to fuel future growth. Its plan of going narrower and deeper into new markets and that of divesting low-performing assets that are no longer core to its business will generate profits for the company.
Disclosure: I have no positions in any stocks mentioned, and no plans to initiate any positions within the next 72 hours. I wrote this article myself, and it expresses my own opinions. I am not receiving compensation for it (other than from Seeking Alpha). I have no business relationship with any company whose stock is mentioned in this article.