In first article we recommend investors increase portfolio allocations to investments poised to benefit in a rising rate environment. In this edition we will the brokerage sector as an opportunity to capture upside as rates increase -- following an earlier article on bank loan etfs
Brokerage firms generate interest revenue on client margin loans, cash balances held in clients accounts, and money market funds. As interest rates rise the brokerages capture additional income from these sources with little additional operating expenses. Meaning a substantial amount falls to the bottom line resulting in rapidly growing earnings and (hopefully) share prices.
Let's look at a recent presentation by Charles Schwab. (see slides below) (NYSE:SCHW) The company estimated that for each 1 basis point (NYSE:BP) change in net interest margin the company would generate an additional $15 million in revenue. Additionally, for each 1bp increase in money market yields SCHW earns more than $15mm more in revenue.
Couple this substantial leverage to upside rates with a fed funds increase of 100 basis points by the end of 2015. You can see SCHW revenue could increase substantially, by $1.5 billion or more given the above scenario. Based on Joseph Martinetto's ,SCHW's CFO, comments at an investor meeting below, nearly 75% of the revenue falls to the bottom line.
And that does that operating leverage hold true for all of the interest rate scenarios highlighted?

Joseph R. Martinetto - Chief Financial Officer, Principal Accounting Officer and Executive Vice President

No, it does not. We've said multiple times to the extent that we start to pick up incremental revenue from higher interest rates, we would expect to drop a vast majority of that to the bottom line. We would look at the incremental margin to be at least 75%. So the leverage would definitely be growing in periods where we were getting the lift in revenues driven by interest rates because higher interest rates really drives very little in the way of expenses..
Looking at SCHW income statement an increase in $1.5B of NIM revenue would likely result in more than $1.1 B in Net income. This results in a more than doubling of EPS.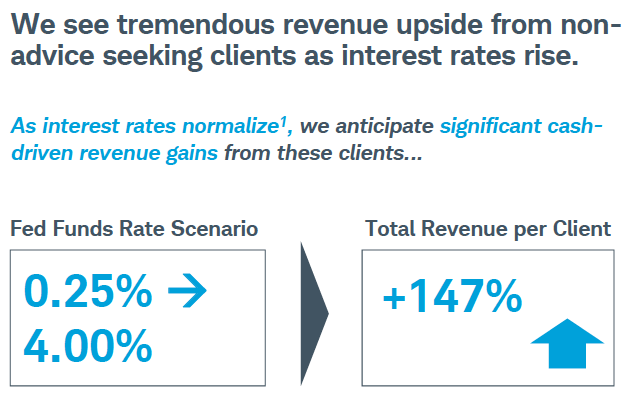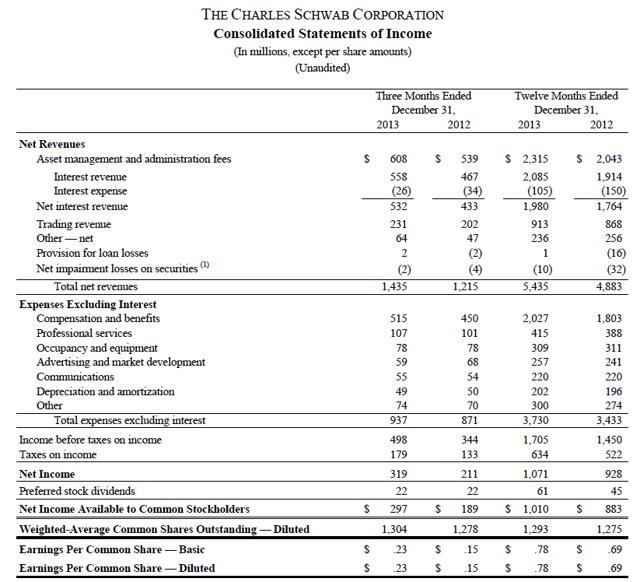 The Sector
While Schwab is a great example of the upside from increased rates this impacts nearly every brokerage firm positively. E-Trade Financial (NASDAQ:ETFC) and TD Ameritrade (NASDAQ:AMTD) have disclosed similar upside. Looking at the below AMTD estimates a positive EPS impact raging from 0.32 to 0.54 over the next few years for a 100 bps rate increase -- A significant upside to current forecasts of $1.00 per share.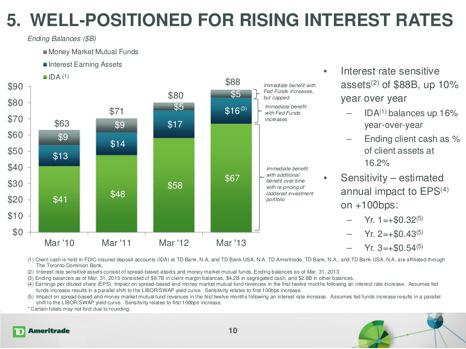 Recommendations
As Yellen and the Fed begin to reduce accommodative monetary policy short term and long term interest rates are likely to rise. Recent comments point towards a fed funds rate of 1.00% nearly a 100bps increase by the end of 2015. The brokerage sector is well positioned increase earnings from rising rates. We recommend investors add SCHW and AMTD to their portfolios.
Disclosure: I have no positions in any stocks mentioned, and no plans to initiate any positions within the next 72 hours. I wrote this article myself, and it expresses my own opinions. I am not receiving compensation for it (other than from Seeking Alpha). I have no business relationship with any company whose stock is mentioned in this article.