When I first really started following natural gas prices I would always hear people talking about rig count and how much it would affect the production of natural gas. It made common sense to think that the more rigs that are out there the more wells will be drilled and therefore the more gas comes online. This was the conventional thinking when I was positive that gas withdrawals would fall off before the heating season of '09 and '10. This however was not the case and the drop in rig count didn't really play that big of factor into a significant production decline that was supposedly going to follow the decline in rigs.
From going over the numbers I believe it has come clear that throughout the history of the liberalized US natural gas market ('91, more or less, to present) the rig count has not dictated the amount of production that will flow into the market. As you can see below, it is the price of natural gas that actually looks to be the indicator of rig count and not rig count being a leading indicator of production. I'll take this a step further and argue that the more rigs that are out there, the higher the price and the more marginal the wells that are coming online will be.
click to enlarge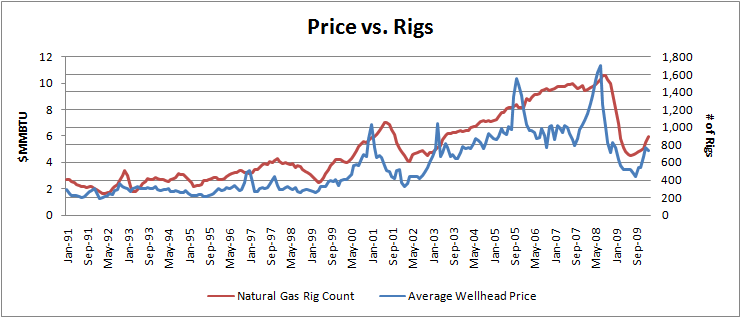 So if you take the Hurricane year anomalies out of the picture I think one can clearly see my point that you shouldn't always take a lower rig count to mean that there is positively less production on the horizon. People will still run to say "but rigs dropped by more than half. Production has to fall". It's not the first time that's happened before so let's use history as a barometer and see the outcomes of the huge rig count swings in the past. In the Spring of '99 natural gas prices were a mere $1.70 an mcf and the natural gas rig count had plummeted to around 400 rigs. Meanwhile the daily average withdrawals from wells was 66.6 bcf/d. This number had fallen from an industry high natural gas rig count topping out at 648 in Dec. '97. The gas withdrawals in Dec '97 were at 65.9 bcf/d. That was a 42% rig decrease in a little over a year in which production at the end of the drop was higher than the peak.
This is when we started to pick back up the rig count and the price spiked above $6 per mcf for the first time. This propelled the natural gas rig count to new highs as well breaching 1,000 rigs. July of '01 was the peak averaging 1058 rigs. In July though we were only producing 65.8 bcf/d almost an entire billion cubic feet lower than before the rig count ballooned by 150%. I realize that hand picking these figures out of the EIA and Baker Hughes data is not giving the entire picture. There were surely a ton of other factors that went into what was being produced at the time. I'm just trying to make it apparent that huge moves in what Baker Hughes reports on Fridays doesn't come close to being a good leading indicator for the future production of natural gas.
The main point that coincides with this involves the average productivity of wells in regards to the rig count. I've reached the opinion that the more rigs you have in the field, in turn makes each producing well on average turn out less and less natural gas. It is my belief that this is strictly because the higher the price we're getting for natural gas makes more wells economic. It also brings in more money that independent producers can leverage into their drilling schedules.
Let me get some of the simpler/obvious stuff out of the way to setup my point. First, when prices are higher, this enable companies to hedge their gas prices and sell their gas at higher prices, which ends up making the company more revenue. When companies then appear to be more profitable they are capable of selling more debt, or borrowing more. Companies usually only want to take on more debt or borrow more money so they can have growth and return their shareholders money, via a higher stock price or dividend yield.
Ok that was easy, but now how do natural gas companies grow. They grow by booking more reserves, and consistently replacing reserves that they've depleted. You do this by exploring and expanding new fields that at this point are only resources and not proven reserves. Once a company decides they would like to go after new reserves they clearly want to start from the sweet spot that they are positive will make them money, and not go hitting up some wildcats on the borders of a play. Now these sweet spots will have the bigger wells that will surely surpass the conservative EUR estimates. So with a bigger well comes a wider range of economic viability in terms of price. There are only so many bigger wells though and they are usually going to be located in a similar area. With prices high and companies grasping at the opportunity to grow faster than the competition they start venturing out of the sweet spot, especially when high prices allow them to.
So when a company looks to do this they drill offset wells farther out from wells that are already producing or drilling their Proven UnDeveloped wells (PUDs) into Proven Developed Producing wells (PDPs). This will in turn create new PUDs that will be booked onto their reserve reports. Now the companies have drilled a bunch of wells, but with prices still high they are able to keep bringing on new rigs and venturing farther and farther from where the large wells have been drilled. For every producing well you have, you are able to book multiple other PUDs on your books, so this process exponentially enlarges company's reserves. This is alright as long as gas prices are high and the lesser and lesser prolific wells still make money. Although you start seeing more reserves, the result of these high prices and rigs is that you see a lot more development wells that aren't near as large as the ones drilled in best parts of the play, and wouldn't fit into a company's budget at a lower price.
So if Baker Hughes (BHI) is reporting a significantly large rig count, in the past it has usually been preceded by a large sustained price movement upward (not hurricane induced). However, along with this rig count moving higher one should be aware that production is not guaranteed to go higher as well, and they especially will not move in proportion to one another. In fact the main thing you can take away from a high rig count and high prices is the average well will be producing less than if companies have to make a decision on which well to drill when price is an object to be considered, and not how to book reserves. Are these shale plays continuing this practice? That is yet to be determined with their wheels off drilling programs right now, so I'll follow up on whether or not these plays fit this historical mold next.
Disclosure: No position