Forgive me for paying too much attention to the tonnes of gold that are now moving mostly into, rather than out of, the trust for the SPDR Gold Shares ETF (NYSEARCA:GLD), but this could be a very important story this year.
It certainly was last year as one analyst after another concluded that the price of the metal wouldn't be able to find a bottom until U.S. investors stopped selling.
That's about all U.S. investors did last year as more than 500 tonnes of gold exited the trust.
The gold price fell, more Westerners sold gold, this exacerbated the price decline causing even more shares of GLD to be sold and the holdings of the GLD trust fell further.
On several occasions last year, the gold price mounted a rally and, toward the end of the rally, some new buying interest emerged.
There were some rather large additions at around the same time that prices peaked, but, once the price reversed course, investors sold their GLD shares like they were hot potatoes.
Well, that's not happening this year.
U.S. investors continue to buy this latest gold price dip that has now extended more than a week, something that hasn't been seen in quite some time as indicated below.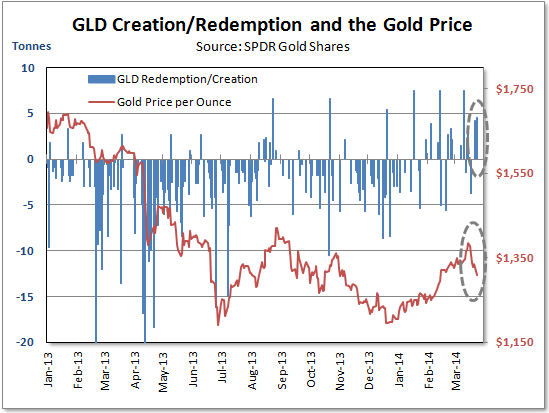 Yesterday, the gold price plunged more than $25, yet some 4.5 tonnes of gold were added to the trust.
Obviously, Americans are seeing something different in the yellow metal this year. So far, they are acting more like buyers in Asia who consistently add to their gold holdings when prices fall, not when they rise. Perhaps U.S. investors are now seeing the long-term value of the metal that has served as money for thousands of years, that is, right up until about 40 years ago.
Well, that might be going a bit too far.
The merits of gold as an investment are seen quite differently in the East versus the West and maybe it's just best to say that views in the West might be changing a little bit.
As for the gold price, it's again worth pointing out that the way today's gold market works is that prices are set in Western markets, mostly via the paper futures market where very little physical gold is traded.
As we learned last year, it doesn't matter how much physical gold they buy in China and India. So long as there is more conviction in selling gold futures contracts than in buying them in London and New York, the price is likely to move lower, not higher.
Moreover, the GLD ETF does a pretty good job of mimicking the "paper gold" trade over the near- and medium-term, serving as a good indication of sentiment toward gold in the West.
I don't claim to fully understand why gold is now flowing into the GLD trust as prices are falling, but, as shown in the chart above, it's clearly a new development and deserves close watching.
All told, more than 10 tonnes of metal have been added to the trust in the last week as the gold price has tumbled more than $60 an ounce and the bulk of this came in just the last two days of trading after momentum had made an unambiguous turn.
Clearly, a lot of investors didn't get last week's memo from Goldman Sachs about how the gold price has nowhere to go but down this year.
What are these investors thinking?
Disclosure: I have no positions in any stocks mentioned, and no plans to initiate any positions within the next 72 hours. I wrote this article myself, and it expresses my own opinions. I am not receiving compensation for it (other than from Seeking Alpha). I have no business relationship with any company whose stock is mentioned in this article. I own gold coins