This is part 10 in a continuing series of articles discussing building a portfolio of dividend income equities. The strategy seeks to use value investing principles and apply them to stable companies offering reliable dividends. Further safety is sought by diversifying through a wide range of industry segments and often using multiple tickers in each of those segments. This lowers our entry cost.
Series parts 1, 2, and 3 lay out the philosophy, strategy, and methods of the Tortoise Strategy and Use of Covered Option Writing to boost performance. I recommend readers review each of these first 3 initial parts. Beginning with part 4, each subsequent installment reviews and analyzes one of the 16 tickers identified in the preliminary screen (listed in part 4). A full index of links to the complete series, including future installments as they occur, is available here.
ConocoPhillips
| | | | |
| --- | --- | --- | --- |
| ConocoPhillips (NYSE:COP) | $67.56 | $ 2.76 | 4.10 % |
ConocoPhillips is one of the six supermajors that emerged during the decades of the mergers '80s and '90s, culminating in the period 1998 through 2002 as the global integrated oil and gas industry consolidated through a series of mega-mergers in response to weakened prices and the rising competitive advantage of national oil companies backed by the resources of sovereign governments and cartels. Conoco was the last of the supermajors to consolidate, arising from the combining of Conoco and Phillips in 2002. It is one of only two supermajors (Total, SA. being the other) not to trace its roots back to the original seven sisters of big oil.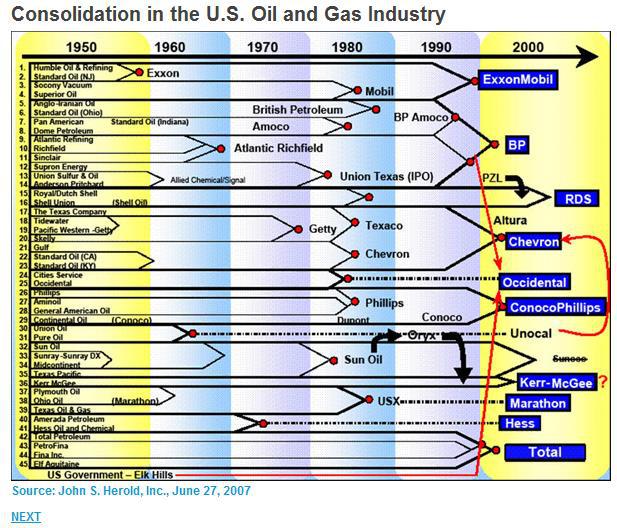 ConocoPhillips entered the world after the merger of its predecessors as the world's 16th largest oil & gas producer in 2003. Since then it has slipped out of the top 20, the only supermajor to decline in competitive standing. Late to the party, early to rest, investors have to question COP's staying power.
Since its current incarnation begun in 2002, Conoco shares have been a rollercoaster, climbing from the $20s to highs at about $73 in June 2008 and then plunging during the financial crisis far steeper and deeper than its supermajor peers. Slow to recover, the $73 price has only been revisited since then for a few brief weeks in the final quarter of 2013. Following this most recent peak, shares have retreated into the mid to high $60s range.
(click to enlarge) (source: yahoo.com)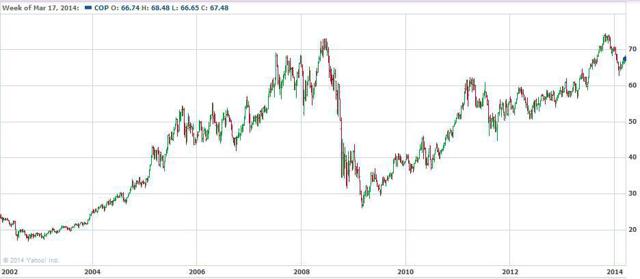 Investors are attracted to Conoco for its history of consecutive dividends with distribution growth, for share price appreciation, and for its position in the energy sector as one of the supermajors. We will examine each of these aspects further.
The YDP chart for Conoco does reveal it to fit a dividend income equity investment pattern of valuation. Investors bid price up and down in reciprocal response to dividend distribution growth so as to yield a result of relatively stable trends of effective yield rate. The correlation of these 3 variables is defined by the mathematical Y = D/P (Y is yield, D is dividend distribution, and P is share price). This is characteristic of dividend income equities and indicative that yield rate can be a measure of value. For those not familiar yet with YDP charts, I refer you to my introductory article on YDP chart analysis and its precursor article with several YDP chart interpretation examples.
A look at Conoco's YDP chart shows the company increases dividends on a healthy growth pattern over the years, slowing since 2011. From 2005 into 2009, yield rate was stable, fluctuating around 3%. Price shocks triggered by the macroeconomic global financial crisis and followed by the great recession drove yields up sharply as risk and uncertainty increased. A slowly stabilizing and improving macro economic environment has resulted in a slow downward drift in yield rates from 2009 4.75% ranges to a stabilizing pattern focused on 4.5% in 2011 and 2012. Recent erosion of yield rates down to 4.0% appears related to a temporarily over extended price run-up and possibly perception of lower risk in the improving economy, further reinforced by the Fed's QE tapering effect on interest rates. The semi-stable 4.5% yield rate of 2012 and 2013 would indicate a share value of $61.33 to provide that yield at the present $2.76 annual distribution.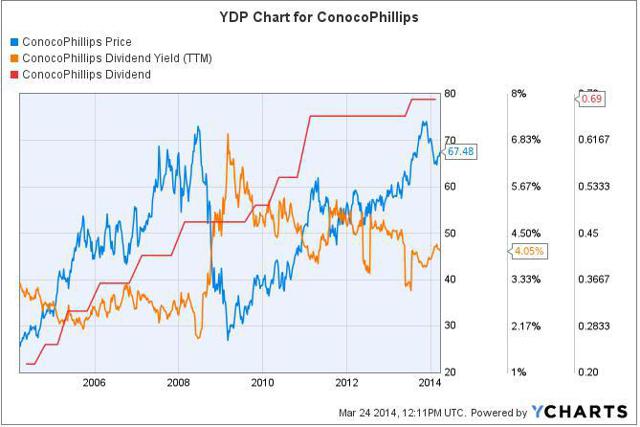 Cash dividend payout ratio has leaped from a comfortable 35% historical rate to unsustainable rates in 2013 and 2014. These trends and absolute ratios for payout ratio to net income are not as extreme and remain at a healthy 35% ratio on income.
(click to enlarge)
Traditional value metrics show ConocoPhillips to compare favorably to its competitors, British Petroleum (NYSE:BP), Exxon Mobil (NYSE:XOM), and Royal Dutch Shell (NYSE:RDS.B) on P/E ratio, gross margins, operating margins, and PEG.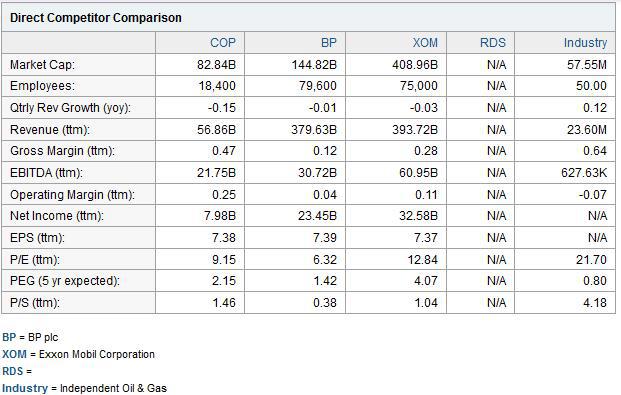 Conoco's Price/Tangible Book is solidly in line with the other supermajors - Exxon Mobil, British Petroleum, and Total (NYSE:TOT). However, the company's Price/FCF ratio has risen way out of line with these peers in the past 2 years and suggests shares are overvalued on this important measure for income investors.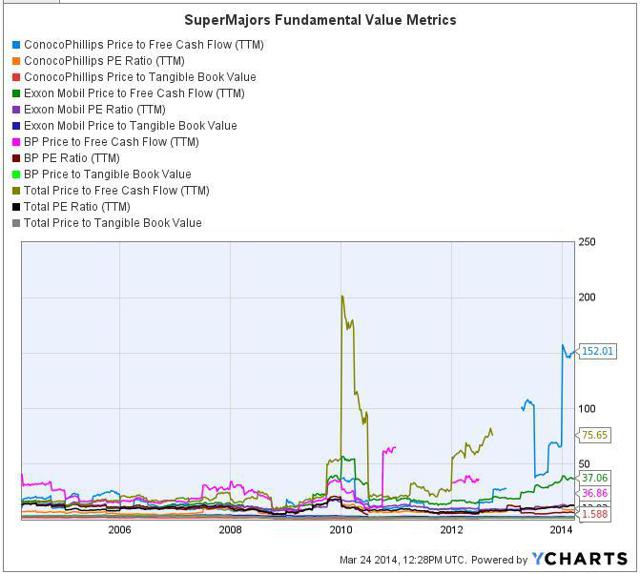 A look to the technical chart analysis highlights the recent well defined head and shoulders pattern formed during October 2013 through January 2014. This clearly indicates a topping and trend reversal from the prior climb of share price growth. A near-term recovery above $69.00 is not likely unless triggered by a breakout from positive news and results. The moving average death cross of February 25th is further suggestion of continued weakness in share price on a technical basis.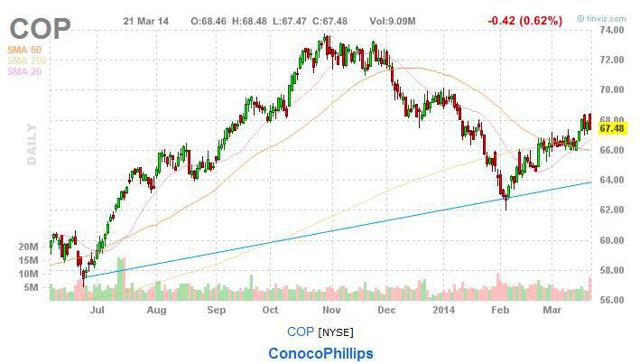 In summary;
ConocoPhillips is valued as a dividend income equity, an energy sector supermajor, and a growth stock.
The present yield of 4.1% is unsustainable on FCF but not extreme on historical net earnings. The recent distortion of cash distribution payout ratio reflects accelerated capital expenditures and is not of particular concern in this capital intensive industry.
The current $67.56 price is high for value based on historical yield rates of 4.5% suggested by the YDP chart. A price of $61.33 is a more suitable entry level for dividend income investors.
Technical analysis reveals a clear recent head and shoulders pattern topping around $73.00 and with strong resistance now at $69.00. Additional technical weakness in the SMA death cross and overall long-term trend reversal is present.
Dividend income investors should drive on by current entry prices and take a look at cash covered put opportunities or other tickers to employ their current cash.
Covered Options to boost performance:
Covered Calls (left side of chart)
As discussed above, it is not a favorable time to initiate a position at the $67.56 current share price. None of the covered calls look interesting to me, not even coming close to a Strike price and premium value which would near the target $61.33 adjusted basis value. For shareholders already owning units, the 5/17/2014 $70.00 Call with $0.55 premium offers a short term 53 day yield boost of $3.78 on an annualized basis. This is an effective 137% boost to the $2.76 annual dividend distribution, very attractive. The 1/17/2015 $70.00 call with $2.20 premium for the 10 month contract is an annualized 97.63% add-on boost to the dividend and locks in this boost for 10 months (almost doubling income) instead of only two. Intermediate boosts are available at the intermediate contract lengths.
(click to enlarge) (source: schwab.com)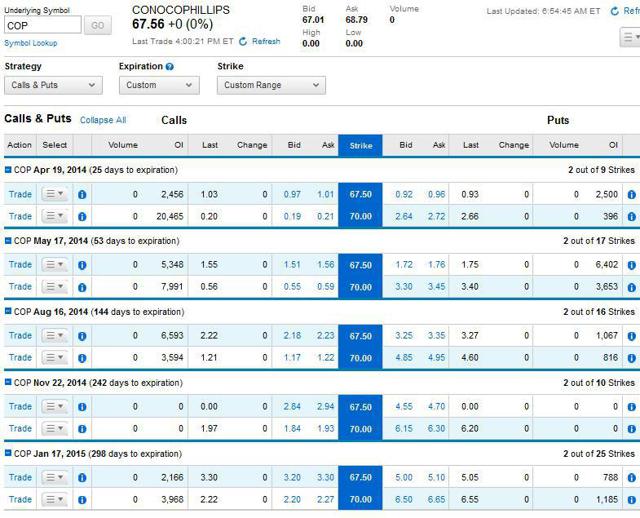 Cash Covered Puts (right side of chart)
For those that do not own shares in ConocoPhillips, I do not see any Strike price and premium value combinations that come anywhere close to being interesting with a focus on the $61.33 share valuation focus based on dividend income investors. It will be better to look at other ticker opportunities to put our money to work.
(click to enlarge) (source: schwab.com)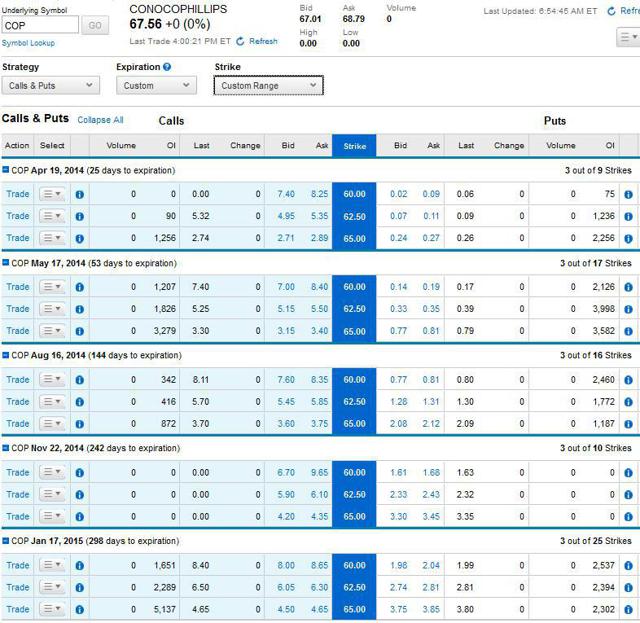 Conclusions & Recommendations:
Do not establish a ConocoPhillips entry at current retail market price.

Alternative covered call option strategies are attractive for many current shareholders, providing almost a doubling of the dividend yield at $70.00 strike prices.

The shares are technically weak at present. Strong resistance at $69.00 for the upper boundary and value pricing of $61.33 for income investors defines our price ranges of interest.

Existing share owners with basis below $70.00 should consider the 1/17/2015 $70.00 call with $2.20 premium for the 10 month contract, an annualized 97.63% add-on boost to the dividend and locks in this boost for 10 months (almost doubling income).

Always be aware of ex-dividend dates and the potential for call, dividend capture, and Strike price adjustments by the option clearing house when writing contracts across dividend months.
In part 11, I will discuss Reynolds American, Inc. (NYSE:RAI). Each subsequent part of the series will discuss and evaluate one more of the original 16 tickers identified in the preliminary screen for building your Tortoise on Steroids portfolio.
I hope you will join me as I detail the use of covered option writing on quality dividend income equities to develop a model portfolio for the Super Tortoise. Simply click on the bold link labeled FOLLOW above the title at the top of this article to get an email notice of my new articles when they are published.
Disclaimer: I am not a licensed securities dealer or advisor. The views here are solely my own and should not be considered or used for investment advice. As always, individuals should determine the suitability for their own situation and perform their own due diligence before making any investment.
Disclosure: I have no positions in any stocks mentioned, and no plans to initiate any positions within the next 72 hours. I wrote this article myself, and it expresses my own opinions. I am not receiving compensation for it (other than from Seeking Alpha). I have no business relationship with any company whose stock is mentioned in this article.