A bubble is an extremely dynamic market phenomenon that has its own set of behavioral characteristics rooted in the human psyche. Emotions such as hope and euphoria drive prices to absurd highs, and then fear and despair drive them to extreme lows after the bubble has imploded. The equilibrium between supply and demand that exists in a normally functioning marketplace becomes equally distorted, accounting for both the parabolic rise in values leading up to the crash and the post-implosion market environment wherein prices tend to languish at low levels for many years.
The US residential housing market experienced its largest, most speculative bubble in modern history last decade, and it is now languishing as expected as post-implosion market dynamics constrain valuations. The inflation and subsequent implosion of the bubble are clearly evident on the following graph of the Case-Shiller Index from Calculated Risk.
click to enlarge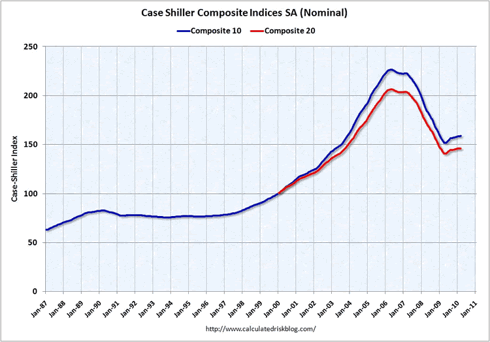 Click to enlarge


The rise in values that began in the late 1990s accelerated into a parabolic move early last decade before finally topping in 2006. The subsequent violent crash resulted in a loss of about 35% on the index over the course of two years before a weak bounce driven primarily by the injection of government stimuli lifted values off of the 2009 low. Many market experts confidently proclaimed that the "bottom was in" last year, but we believed—and still believe—that the final bottom has yet to form. The massive oversupply produced during the speculative frenzy will require several years to be fully absorbed by the marketplace, and a second wave of adjustable rate mortgage (ARM) resets (the first being the primarily subprime wave of 2007 and 2008) will provide additional pressure via new foreclosures until the end of 2011.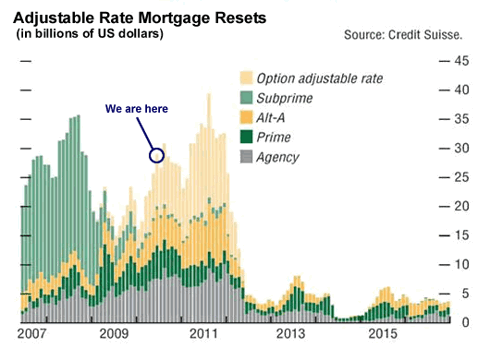 Click to enlarge

Although the majority of the price declines are likely behind us, residential real estate data trends strongly suggest that another leg down to new lows will occur over the next 12 to 18 months. The first trend that supports this view is that of valuations themselves. The weak bounce off of the 2009 low by the Case-Shiller index is a prototypical reaction following the implosion of a speculative bubble, and it is already starting to exhibit early signs of rolling over and heading lower once again. Looking at other data across the sector, housing starts have broken down following a tepid bounce off of the 2009 lows.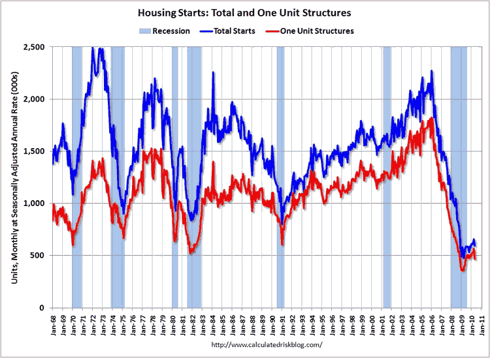 Click to enlarge

The National Association of Home Builders' housing market index is on the verge of breaking down following a weak bounce off of the 2009 lows.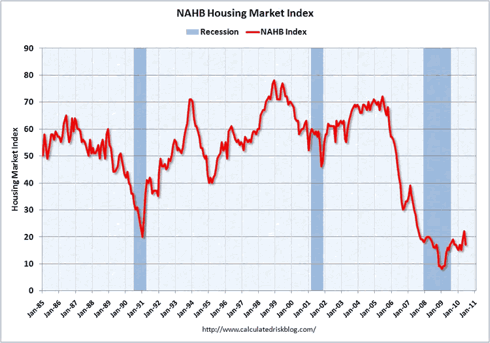 Click to enlarge

The Mortgage Bankers Association purchase application index is at a 13-year low and trending lower.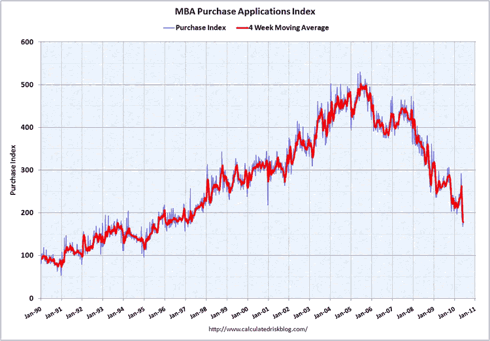 Click to enlarge

Finally, foreclosures are hovering near historic highs, with 932,234 being reported in the first quarter of 2010 alone, and that figure will continue to be pressured higher by the mountain of ARM resets mentioned earlier, providing additional supply to an already oversupplied marketplace.

While the worst may be over, post-bubble market dynamics and current data trends clearly indicate that a move to new lows is very likely before a relatively solid long-term bottom is formed sometime in the second half of 2011.

Disclosure: No positions