There have been various articles out there lately that leave out critical information on Zogenix's (NASDAQ:ZGNX) new pill, Zohydro. These articles were the reason for the decrease in the stock recently, and why you can buy it for such a great price now. In less than a month, the stock has fallen more than 40% from its 52-week high reached in February 2014 of $5.19, to $3.04. Analysts for Nasdaq.com have the one-year target price of $5.95. Zogenix expected over $500 million for 2014 revenue, and that was using only the 10 months since release date, which was March 3, 2014.
Zohydro ER (sometimes referred to as just Zohydro) is hydrocodone extended release with no Acetaminophen/Tylenol, which studies have shown to severely damage the liver. Hydrocodone is the most prescribed pain medication in the world. There is, rightfully, concern for its potential to be abused and the addictive nature of the drug, but I believe that the information presented below will show why it was approved and should continue to be available through a doctor's prescription. Additionally, I will include information on the owner of the drug, Zogenix, and why I believe it is a strong buy at current prices.
Given the current situation, it is imperative to properly compare hydrocodone (Zohydro ER) with oxycodone. Zohydro is less strong, making it easy for physicians to manage dosage, and it carries lower risk of abuse. The argument is pretty straightforward:
Zohydro is superior to oxycodone with respect to strength and abuse risk.
Oxycodone is already on the market (i.e., not banned/illegal).
Zohydro should be on the market too because it is easier to dose and safer.
The articles are extremely misleading because they leave out two critical elements: whether or not Zohydro should be allowed on the market, and that it will kill its first day on the market (it has been released since March 3, 2014, with zero deaths). Click here to read one of the articles.
Unfortunately, this misleading information has resulted in Ohio introducing a bill that would make it illegal to possess or prescribe the drug. These articles have left out two critical elements. There is no reference to users' physical dependency or how the strength of the drug compares to other drugs out in the market. These are the most important factors. Zohydro should be the last of the extended-release pain killers to be illegal, as per the below information.
The proper way to compare drug strengths is through an equianalgesic chart. I found it shocking to read so many articles, many of which were commented on by doctors, that failed to use proper drug comparisons. Oxycodone is almost twice as strong as hydrocodone, which means Zohydro is a much weaker substitute for oxycodone (which is already on the market). The anti-Zohydro groups need to pay attention and understand the significance of this truth.
The fear that most have is based on addiction. What I haven't seen in any articles posted about Zohydro is anything on its user dependency. Per Wikipedia, hydrocodone can be habit-forming, causing physical and psychological dependence. Its abuse liability is similar to morphine and less than oxycodone.
As per U.S. Pharmacist:
Oxycodone: Oxycodone is more potent and causes fewer severe adverse effects (e.g., histamine release, pruritus, nausea) than morphine. Oxycodone is metabolized by CYP2D6 to an active metabolite, oxymorphone, which is now available in an oral formulation. However, unlike codeine and hydrocodone, oxycodone is itself a potent analgesic. It is unknown whether oxymorphone significantly contributes to the analgesic activity of oxycodone. Patients with CYP2D6 deficiencies who do not respond well to codeine or hydrocodone may achieve more pain relief by using oxycodone (the greater strength of oxycodone increases abuse risk).

Oxycodone is available in combination with non-opioids or alone in immediate- and sustained-release products. For the elderly, or for patients with renal impairment, oxycodone requires less dosage adjustment and may be a safer alternative to morphine.

Oxymorphone: Oxymorphone is approximately twice as potent as oxycodone. It is more lipophilic than morphine, allowing for a faster onset of action. It is available as an injection and as oral formulations: immediate-release (Opana) and sustained-release (Opana ER). Because it has a longer half-life than morphine, hydromorphone, and oxycodone, the immediate-release product may be dosed at longer intervals (up to every six hours).
According to USA Today, Opana overtook oxycontin as the painkiller most abused in the U.S. I would assume that the activists who are protesting Zohydro would protest these two drugs before complaining about Zohydro.
There have also been articles that only mention the largest Zohydro pill, 50 milligrams, and use its strength for all the comparisons. In my opinion, that is blatant manipulation. There is no discussion on the lower dosages and how they compare. Articles also compare it to heroin, yet these "experts" fail to mention any credible research on that statement. It is difficult to compare considering heroin comes in all types of different purity levels and is cut with different drugs that change its strength.
As per the Opioid Analgesics site, using the U.S. Medication guide from National Institutes of Health (NIH), Zohydro only had adverse reactions in ≥2% of patients in placebo-controlled trials compared to in ≥5% or worse of the other extended release medication besides Opana. Zogenix has a lot of potential entering very large markets; it announced launch readiness plans for its new drug, Zohydro ER, and the drug should still launch in March 2014. The stock has a current market cap of $500 million. That is an extreme undervaluation considering the conservative revenue expectation for just Zohydro during 2014 is valued at $300 million. That does not even include a full year or any of Zogenix's other products.
Zohydro is the extended version of our country's most prescribed pain medication, hydrocodone (Vicodin). The person takes only 1 pill, which is released to reduce pain over an extended amount of time (12 hours). The current product requires the person to take a Vicodin every four hours, and the pill currently includes acetaminophen. This is serious business because of how much acetaminophen hurts a person's liver. The FDA has been developing regulations to nearly banish Acetaminophen because of these devastating effects.
Special Considerations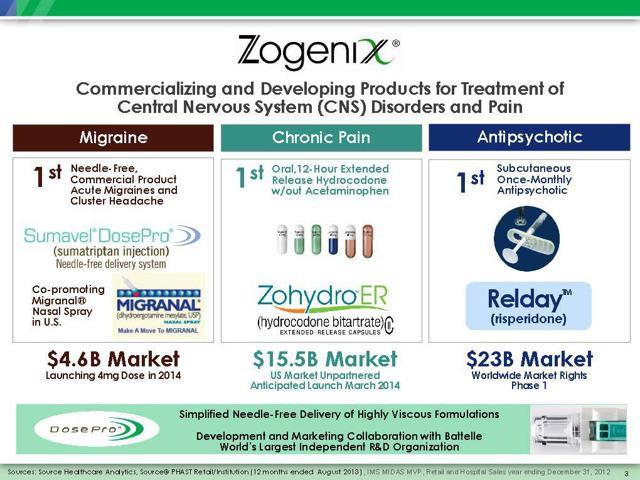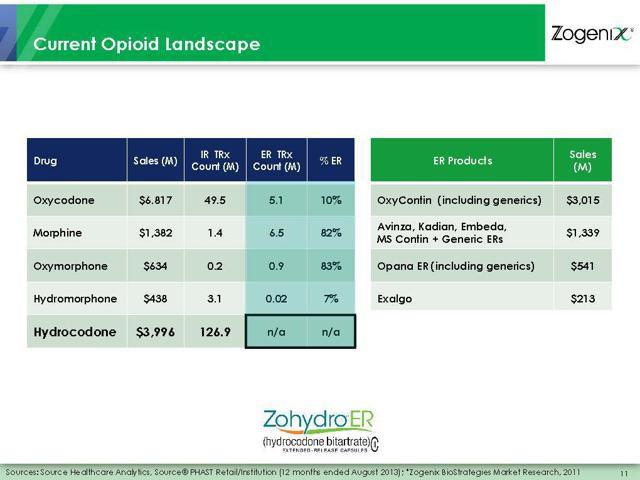 Source: Zogenix Investor Relations.
Hydrocodone is about one-third the strength of its competitors. This is a positive because of increasing regulation on pain medicine. Doctors have overprescribed their patients and the FDA and DEA are working together to minimize this issue. They want a step program, meaning that doctors slowly increase dosage. It only makes sense that the weaker drug be prescribed first. Potency increases the longer a patient is prescribed because of the development of drug tolerance. Hydrocodone has fewer side effects than oxycodone. There are no studies that suggest this is true or not true for the ER formula. The user can still take more of the drug and, in doing so, increases tolerance since they have to take more milligrams to get the high. This also makes it more expensive, resulting in users seeking a more cost-effective method -- such as buying heroin.
At this time, it is important to realize that Zohydro ER can be abused if crushed, which breaks the time-release function to give the user a stronger high. This was a concept that was previously abused with the original oxycontin. A couple of years ago, oxycontin replaced the original formula with the current formula that includes an anti-abuse technology. The FDA is working with Zogenix and has given it a three-year grace period. Zogenix has wasted no time and has begun its studies to produce a Zohydro formulation that includes the inclusion of an anti-abuse formulation. They have also staffed an outside medical board of top prescription drug specialists to oversee any possible side effects and develop the appropriate safeguards if any issues happen to be uncovered.
It is also interesting to see that there are no complaints about Purdue seeking to release a nearly identical pill that comes with as much as 120 milligrams. It is expected to be released in 2015 and will have the tamper-resistant formulation. It is a plus for Zohydro advocates that a similar situation occurred last year when the FDA allowed Opana to be prescribed in a crushable formula, even though it can come with a tamper-resistant formulation.
Zogenix is not limited to only selling one product. They have entered a growing market that specializes in migraine treatment. Every 10 seconds, someone in the United States goes to the emergency room with a headache or migraine. Zogenix's technology will decrease the need to go to the emergency room since the individual will be able to self-treat at home. This is a growth industry that Zogenix is positioning itself as the industry standard.
Per the Migraine Research Foundation, migraines are an extraordinarily common disease that affects 36 million men, women and children in the United States.
Nearly one in four U.S. households includes someone with migraine.
Migraine is most common during the peak productive years, between the ages of 25 and 55.
In addition to attack-related disability, migraine interferes with a sufferer's ability to function in everyday life, whether that is going to school or work, caring for family or enjoying social activities.
Migraine ranks in the top 20 of the world's most disabling medical illnesses.
Most sufferers experience attacks once or twice a month, 14 million people or about 4% have chronic daily headache, when attacks occur at least 15 days per month.
More than 90% of sufferers are unable to work or function normally during their migraine.
American employers lose more than $13 billion each year as a result of 113 million lost work days due to migraine.
Migraine sufferers, like those who suffer from other chronic illnesses, face the consequences of high costs of medical services, too little support, and limited access to quality care.
People with migraine use about twice the medical resources -- including prescription medications and office and emergency room visits- as non-sufferers.
Nearly half of all migraine sufferers are never diagnosed.
The majority of migraine sufferers do not seek medical care for their pain.
Only 4% of migraine sufferers who seek medical care consult headache and pain specialists.
Zogenix has been developing new technology that expands on its Dosepro technology. They have recently successfully completed a promising study Phase 1 clinical trial that involves a licensing agreement with Durect Corporation (DRRX). This product uses the Dosepro technology for a less painful needle-free injector. Dosepro technology is a new product in a growing market, currently at $4.6 billion annually and Relday a potential new entrant in a $23 billion-plus annual market. They are both technologies that are introducing a new concept, and the results have looked extremely promising thus far.
Disclosure: I am long ZGNX. I wrote this article myself, and it expresses my own opinions. I am not receiving compensation for it (other than from Seeking Alpha). I have no business relationship with any company whose stock is mentioned in this article.