This article was written by Roy Vimer
Moving on a fast track, Exelixis (NASDAQ:EXEL) is a bio-pharmaceutical company committed to developing and commercializing new treatment options for patients with diverse types of cancer, including but not limited to prostate, renal and liver cancer.
Exelixis has impressive clinical achievements to date, numerous products in their pipeline and an exciting plan for future development. In 2014, Exelixis expects to achieve multiple clinical and corporate milestones that if positive, will be truly transformational. These aspects, taken together with its recent pullback mean that Exelixis is clearly undervalued and should be considered as an investment.
In this review, I will lay out four reasons that make Exelixis a potentially great investment opportunity in 2014.
Reason # 1: Pipeline and Near-Term Catalysts
COMETRIQ® (cabozantinib) and cobimetinib are important Exelixis compounds currently used in six randomized pivotal trials within and outside the USA.
COMETRIQ® received FDA approval in 2012 to treat progressive metastatic medullary thyroid cancer (MTC). Exelixis commercially launched COMETRIQ®, while pursuing additional potentially larger commercial indications for patients with prostate cancer, renal cancer and liver cancer.
Exlelixis announced today that the European Commission approved the use of COMETRIQ® to treat adult patients with progressive, unresectable (non-operable) locally advanced or metastatic medullary thyroid carcinoma (MTC). The European Commission granted conditional marketing authorization following a positive opinion from the European Committee for Medicinal Products for Human Use (OTCQB:CHMP) issued in December 2013. Expanding commercialization of COMETRIQ® to Europe is an important large step towards building a global commercial presence. Together with positive results from the pivotal trials expected in 2014, the European commercialization helps the company gain valuable international commercializing experience and can assist in launching COMETRIQ® rapidly and effectively in potentially larger commercial indications.
Exelixis expects top line data from four pivotal trials in 2014 including two Phase III clinical trials with COMETRIQ® indications COMET-1 and COMET-2 to treat metastatic castrate-resistant prostate cancer (CRPC). These trials are near-term catalysts. Prostate cancer is the most commonly diagnosed cancer among American men, with approximately 233,000 new cases each year and approximately 29,480 deaths each year. Rather than planning to compete with several other treatments like Zytiga, Xtandi (enzalutamide), or Sanofi's chemotherapy drug Taxotere, Exelixis is testing their treatment only on patients who have failed with other treatments and their disease is progressing. The primary endpoint of COMET-1is overall survival (OS), with March 2014 as the estimated completion date for this primary outcome. Anticipated trial data updates are likely to occur in Q2 2014. The primary endpoint of COMET-2 is evaluating reduction in bone metastases associated pain, with the estimated completion date for this primary endpoint set for June 2014. Further anticipated trial data updates are likely to occur in Q3 2014. Piper Jaffray analyst, Edward Tenthoff, forecasts COMETRIQ® CRPC peak sales of $1.7B in 2020.
The company also expects to have overall survival data from a phase III EXAM trial in patients with progressive Medullary Thyroid Cancer (MTC). The estimated study completion date for the EXAM trial is March, 2014, with anticipated trial data updates likely to occur in Q2 2014. Analysts predict nearly a 50% penetration of MTC in the U.S., generating peak global sales of about $100 million a year. In addition, Roche-Genentech, Exelixis' partner on the cobimetinib compound, expects to have top line data and pursue regulatory filings for cobimetinib following results from the coBRIM Phase III trial in metastatic melanoma study in 2014. This was confirmed on their recent year-end 2013 earning call. Maxim Group analyst Echo He forecasts peak sales of $790M from this indication. Exelixis is entitled to 30-50% of U.S. profits from this candidate and is also entitled to low double-digit royalties from overseas sales.
Exelixis has two additional Phase III pivotal trials in metastatic renal cell cancer (RCC) and in hepatocellular cancer (NYSE:HCC). The phase III trial in RCC, which called METEOR, was initiated in May 2013. Each year, over 50,000 people in the United States are diagnosed with renal cell carcinoma. The renal cell cancer market is to peak at a value of $2.7B by 2019. The primary endpoint of the study is progression free survival and the secondary endpoint is overall survival. The phase III trial in HCC, which is called CELESTIAL, was initiated in September 2013. Hepatocellular carcinoma is the most common type of liver cancer and the value of the hepatocellular cancer market is set to grow by 172% and hit $1.4B by 2019. The primary endpoint of the trial is overall survival and the secondary endpoint is progression free survival. Exelixis hope to see top line data on RCC in 2015 and on HCC in the 2016 -17 timeframe.
Given these four Phase III pivotal trials as near-term catalysts (with additional data from 2 Phase III pivotal trials in the next 2 years), the market size of each indication and existing partnerships with Exelixis, its current market valuations do not reflect the possibility for positive results of any of the pivotal trials. Such positive results will cause the share price to rally substantially, especially if Phase III clinical trials with COMETRIQ® in CRPC, which could be an instant blockbuster, will be successful.
Partnership Milestones and Royalties
As seen on the Fig below, Exelixis is also developing nine partnered compound drugs, all with major partnerships players. Three of these compounds are in Phase II trials: with GlaxoSmithKline (NYSE:GSK) for triple negative metastatic breast cancer and non-small cell lung cancers (NSCLC); with Sanofi (NYSE:SNY) for endometrial cancer; and with Daiichi Sankyo for hypertension. Other Exelixis collaborations include Bristol Myers Squibb Company (NYSE:BMY) for treatments of cardiovascular and metabolic disorders, diabetes and inflammatory disorders, breast cancer, Non-Hodgkins lymphoma (NHL), leukemia and glioblastoma, and with Merck (NYSE:MRK) for inflammatory disorders.
If successful, Exelixis will be eligible to receive approximately $3.1 billion in milestone payments and royalties from these partnerships.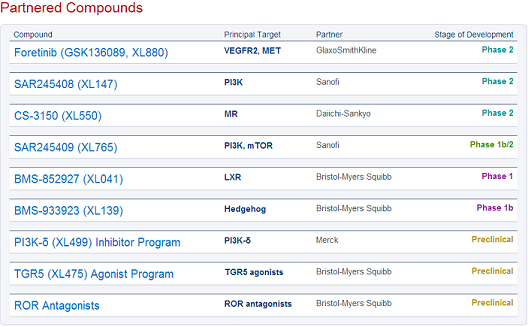 Reason #2: Traders turn bullish
Checking the numbers of calls / puts helps evaluate current sentiment concerning a company. In the case of Exelixis, a strong bullish trading picture is revealed, as more than 5,400 April 8 calls were bought for $0.70 to $1 on March 11th, 2014. Total option volume reached 11,200 contracts, quadruple its daily average for the previous month. Overall calls outnumbered puts by 5 to 1, a reflection of the session's bullish sentiment. With an April call, I conclude that someone somewhere is very bullish near term on Exelixis. After all, the contract is doomed to become worthless if shares remain below $8.
Reason #3: Potential for a short squeeze
A short squeeze can occur when a company has a high proportion of short interest compared to overall float sees a bump in share price. As of February 28th there was a massive short interest in Exelixis. Approximately 25.8% of the shares of the company were sold short. Based on an average daily volume of 2,827,797 shares, the days-to-cover ratio is presently 17.2 days. Given such large short ratio (short interest/float), even a sliver of positive news could tip the balance and cause shares to spike higher. In my opinion, given the near-term catalysts (see Reason #1), expecting a short squeeze is a reasonable scenario.
Reason #4: Pull back and technical correction
As the graph shows, a recent pull back from $8.40 occurred with a full technical correction to 61.8% Fibo and then nicely bouncing back. Judging by the technical analysis, share price is starting to bounce back from the $6.05 low and looks ready to reverse its downtrend, breaking out and entering a new uptrend.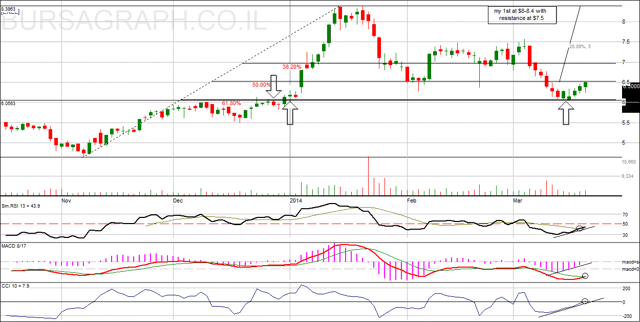 Exelixis Financial Position:
Currently Exelixis is in a solid financial position. Net revenues for the quarter ending December 31, 2013 were $4.3 million from the sale of COMETRIQ in the treatment of MTC. As stated in Reason #1, with a positive CHMP opinion and approval in the EU, Exelixis expects additional growth going forward from treatment of MTC in Europe. Net loss for the quarter ending December 31, 2013 was $70.7 million. Exelixis ended the year with $415.9 million in cash and secured an additional $75.6 million in net proceeds after issuing 10 million shares of common stock in January. Exelixis expects to end 2014 with more than $200 million in cash.
Risks Factors
MTC is a small commercial market. Peak sales estimates of COMETRIQ® in MTC are low at around $50-100 million. Thus, the drug may not be able to generate enough revenues for the company to be profitable from this indication alone. Exelixis is aware of that and MTC is only expected to be the first of several, much larger, approved cancer indications from COMETRIQ® as stated in Reason #1. Investors also need to be reminded that there are significant risks when investing in biotech companies, and there is no such thing as a "guarantee" when it comes to binary events where any negative result can affect the share prices. Even though Exelixis has six trials in advanced Phase III stages, nine trials in Phase II stages sponsored by National Cancer Institute (NYSE:NCI) and three trials in Phase II with other major partnerships, there is always a risk that data will not support progression to Phase III or later approval. Nonetheless, even with the risk of some of the trials not finalizing, the company has a large pool of compound drugs which increases the likelihood of success at least in a few trials. Another possible risk facing investors is a dilution concern. However, after the latest offering in January 2014 and the outlook of the company that is expecting to end 2014 with more than $200 million in cash, I do not expect to see a dilution in the near future.
Why I think Exelixis is on its way to at least $8 in the coming month:
First, Exelixis was above $8 at the beginning of the year. On January 23th Exelixis announced the pricing of its underwritten public offering of 10,000,000 shares of newly issued common stock at a price of $8.00 per share. The successful offering meant that traders were willing to pay this price and were betting on a positive outcome as pivotal results are getting closer. Next, the last big call option buy from March 11th also supports the fact that traders are bullish on Exelixis and the stock is expected to reach $8 in April. In my opinion, this "gamble" on a call option that expires next month if the shares remain below $8 means that someone is very bullish on Exelixis and he "may" know something that will be revealed later. My assumption is backed by the technical perspective of the chart. After a full technical correction the chart indicates the share is on its way back to the previous peak of $8.4.
My estimations on Exelixis share price: If we calculate peak sales of $1.7B by 2020 based only on the CPRC indication (stated in Reason #1) with an assumption of a 50% chance at success, and than apply a conservative 4.0x price-to-sales multiplier to that figure and discount to the present, Exelixis should be a $8 stock today. I actually believe that the forecast for Exelixis is even rosier than my $8 current target, but prefer to err on the conservative side. Here are the two reasons I think Exelixis should be valued even higher. First, the target share price does not include the value of COMETRIQ® for the Phase III pivotal trials on two indications: renal cell carcinoma (RCC) and hepatocellular carcinoma . Second, the target price of $8 does not include the value of cobimetinib's Phase III results in metastatic melanoma, which will also be reported in 2014. Given these fundamentals, I believe that the company is undervalued (especially after the pullback from its last secondary offering) and therefore has much room to grow.
In conclusion
Together with four Phase III pivotal trials as near-term catalysts and major Pharma compound partners, a strong bullish call option, high likelihood for a short squeeze and being in a good technical position for a new uptrend, these are the four reasons I think Exelixis is very attractive for short and long-term positions. Following the call options, I set my short-term price target at a conservative level of $8 compared to other analysts such as Stifel Nicolaus and Maxim Group, which rate Exelixis as a "buy" with an $11 price target. For long-term positions, with positive pivotal trial results, Exelixis will be very attractive, with additional upside toward the level of $11-13.
Disclosure: I am long EXEL. I wrote this article myself, and it expresses my own opinions. I am not receiving compensation for it. I have no business relationship with any company whose stock is mentioned in this article.
Additional disclosure: I rely upon publicly available information gathered from sources which are believed to be reliable and has included links to various sources of information within this article. However, while I believe these sources to be reliable, I provide no guarantee either expressly or implied. Lastly, before making any decision to buy, sell or hold any security mentioned in this article, investors should consult with their financial adviser.