Oasis Petroluem (NYSE:OAS) IPO Quick Look

IPO raised $395 mm for the company

Shares out after deal 92.2 mm,

Market cap = $1.36 B

Total Enterprise Value = $1.022 B

Balance sheet:

No debt

Cash $339.6 mm

(or $3.68 per share)

Pure Play Williston Basin Bakken player – North Dakota and Montana.




292,000 net acres

1Q production: 3,295 BOEpd (91% oil)

1,084 BOEpd Sanish (EOG and WLL country)

1,037 BOEpd East of Neeson Anticline


1,078 West of Neeson (drilling in and around BEXP's Rough Rider)

The remaining volumes are non-core, non Williston.

Reserves: 13.3 MMBOE. Acreage is largely unproven by OAS but in territory highly proven by offset operators.
The 2010 Plan:

Spend $220 mm in 2010 drilling 30 net wells in the Bakken with a 4 rig program. Note in the model that follows that I've factored in some fairly conservative assumptions on the incremental production this could lead to but this is very preliminary on my part. Chances are better than not that this forecast is overly conservative and will be lifted as we get more insight into their well results. Note that OAS is drilling two wells at present in the hear of BEXP's Rough Rider area, in close proximity to BEPX wells that IP'd between 2,000 and 3,600 BOEpd and have demonstrated solid 30 and 60 day average rates. By contrast, I am modeling average IPs of 1,200 BOEpd and somewhat sharper decline rates than offset operators seem to be experiencing in this part of the play. Obviously there is no guarantee's completions will be on this level but at least they are drilling in the right neighborhood.
This a brief, first take model and it will be updated as more data becomes available in the near future…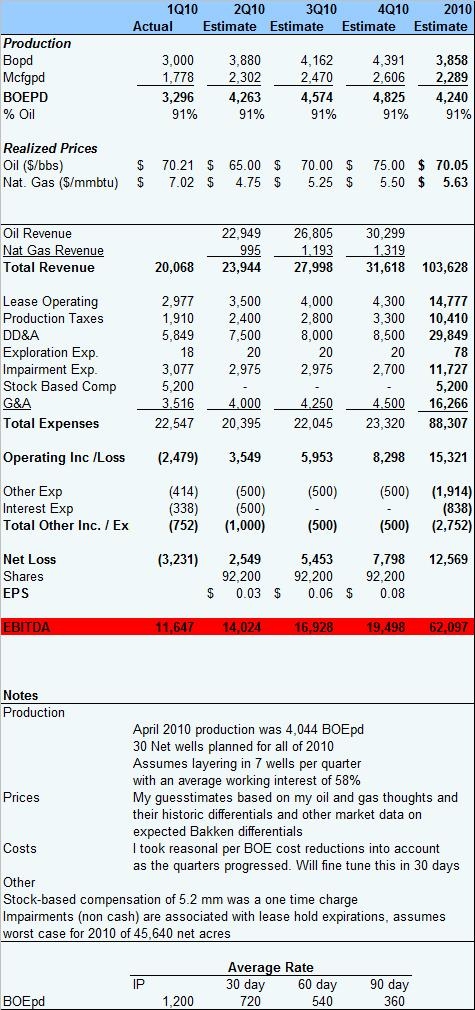 Valuation:




TEV / EBITDA:

Trades at about just over 16x my preliminary estimate for this year. While this number is high relative to their peers that is a function of being at the beginning of a production ramp and as BEXP's multiples have contracted (even as the stock has risen) so too should OAS.


Acreage:

$3,526 / acre. This is more than reasonable given where recent auctions have priced and where their peers are trading.


Nutshell: Oily and extremely Bakken focused with at least 2 years of capex in the bank and no debt. In a month expect glowing Buy recommendations from the underwriting group (Morgan Stanley, UBS, and Simmons plus a host of middle tier and energy savvy banks on the cover). Production should ramp fairly swiftly given where they are drilling, especially since we're building on a small base and running a four rig program. I took a starter position yesterday.

Disclosure: Long OAS, WLL, BEXP