In response to a resolution filed by shareholder advocacy groups, focusing on corporate responsibility for climate change, Exxon Mobil (NYSE:XOM) agreed to publicly disclose risks posed to oil reserves that may never be realized as a result of strict climate control regulations.
This development is a major win for shareholders, representing a colossal change in how certain at-risk reserves of oil and gas companies will be valued by investors.
Exxon Mobil Discloses Information Requested
The resolution was filed jointly by Arjuna Capital, the sustainable wealth management branch of Baldwin Brothers, Inc., and As You Sow, a non-profit concern, focusing on holding corporations responsible for environmental issues. The resolution was withdrawn in response to Exxon Mobil's agreement to disclose the information requested in a Carbon Asset Risk report, which included:
*The risks and opportunities associated with various low-carbon scenarios;
*Strategic capital expenditures plans impacted by these scenarios;
*How the risks will be managed; and
*Disclosure of the role played by the Board of Directors in managing risks.
"That the largest American oil and gas company is the first to come to the table on this issue says a lot about the direction that energy markets are taking," said Danielle Fugere, President of As You Sow. "Companies that prepare early for a future with reduced carbon emissions will likely perform better than those who delay, and investors need transparency and disclosure about these company choices."
Addressing Low-Carbon Scenarios
The acquiescence by Exxon Mobil highlights a growing awareness and acceptance by both companies in the oil extraction sector and investors that the balance sheet value of certain reserves may not be realistic when viewed in light of climate change initiatives established by President Barrack Obama. Certain deep-water oil reserves, for example, may not only be more expensive to extract, but would likely be a wasted investment if carbon emissions are required to be reduced by up to 80 percent under goals established by the President.
"We're gratified that Exxon Mobil has agreed to drop their opposition to our proposal and address this very real risk. Shareholder value is at stake if companies are not prepared for a low-carbon scenario," said Natasha Lamb, director of equity research and shareholder engagement at Arjuna Capital. "More and more unconventional 'frontier' assets are being booked on the balance sheet, such as deep-water and tar sands. These reserves are not only the most carbon intensive, risky, and expensive to extract, but also the most vulnerable to devaluation. As investors, we want to ensure our Companies' capital will yield strong returns, and we are not throwing good money after bad."
According to the press release, jointly issued by the advocacy groups, governments around the world agree that no more than a third of current proven carbon reserves can be burned in order to avoid "catastrophic" global warming. They view the agreement with Exxon Mobil as an important step in the evolution of corporate responsibility with respect to the environment, building upon momentum established by the Carbon Asset Risk Initiative. Launched in September 2013, the Initiative was an effort led by a group of non-profit organizations including Ceres, Investor Watch, and the Global Investor Coalition on Climate Change. It was sent to 45 companies requesting increased disclosure about their carbon risk portfolio.
Exxon Mobil's response to the shareholder resolution was applauded by Andrew Logan, Director of Ceres' Oil and Gas Program. "A careful and detailed assessment of the potential for stranded assets is an important first step for all fossil fuel companies," said Logan. "We're encouraged by Exxon Mobil's commitment to publish this report."
Conclusion for XOM Investors
The day following the publication of Exxon Mobil's report showed a sharp increase in both price and volume of XOM stock, suggesting a positive reaction from investors.
For those considering XOM as a long-term holding, the company's public recognition of the risks that current and future climate regulations could have on its core assets is encouraging. It shows the company is willing to address the facts, pleasant or not-a first step towards ensuring its business will last.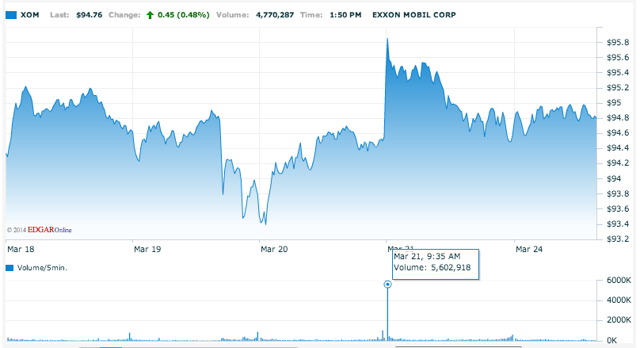 XOM has also steadily increased dividends each year, a second promising signal for investors.
We recommend investors consider the worthy steps the largest American oil and gas company is taking to secure its own future, as well as its shareholders'.
Disclosure: I have no positions in any stocks mentioned, and no plans to initiate any positions within the next 72 hours. I wrote this article myself, and it expresses my own opinions. I am not receiving compensation for it (other than from Seeking Alpha). I have no business relationship with any company whose stock is mentioned in this article.