Summary
Windows XP was a huge success for Microsoft (NASDAQ:MSFT), and a record number of users adapted this operating system over a decade. The innovation and technological advancement always takes new steps, leaving behind previous innovations. The same is going to happen with Windows XP, when after almost 13 years, Microsoft will end support for Windows XP on April 8th, 2014. Microsoft will no longer provide security updates or technical support for Windows XP. The end of support means instability bugs, and security vulnerability will go forever unpatched. According to Microsoft computer systems running Windows XP may be exposed to potential security and compliance risks. The businesses that are governed by regulatory obligations may find that they are no longer able to satisfy the compliance requirements. Considering the compliance requirements, it will be necessary for those businesses to upgrade their systems to Windows 7, 8 or 8.1. In this way, Microsoft will be able to make a progressive adaption for its Windows 8 and 8.1 operating systems.
There are banks, airline companies, and other huge enterprises that still have back-end systems that are very old. According to Bloomberg BusinessWeek, 95% of the 420,000 ATMs in the USA still run on Windows XP. Come April 8 2014, if a serious security flaw is found in Windows XP, the banks will be on their own to defend against increasingly high-tech criminals. The same situation may happen around the world, because only one-third of world's 2.2 million ATMs that use XP will have been upgraded to the new platform by the April deadline.
Banks will pay High Transition Fees to Microsoft
One thing that is obvious is that no ATM operator will want their name on the paper for this failure. This will prove to be an advantage for Microsoft in terms of more earnings along with the increased popularity and adaptation of Windows 7, 8, and 8.1. To ensure that ATMs are secure against hackers and viruses, many banks entered into an agreement with Microsoft to continue supporting their ATMs until they upgrade. The top five UK banks: Lloyds Banking Group (LLOY), Royal Bank of Scotland (NYSE:RBS), HSBC (HSBA), Barclays (BARC) and Santander UK could pay as much as $100 million each to keep their Windows XP support combined with the costs to upgrade their ATMs.
In the U.S, JPMorgan (NYSE:JPM) claims they will start updating their ATMs from XP to Windows 7 in July with the goal of completing the process by the end of 2014. Other groups such as Bank of America (NYSE:BAC) and Citigroup (NYSE:C) will pay Microsoft to keep supporting XP while they upgrade their ATMs. However a rough estimate can be made based on the numbers. The five banks in the U.K have a combined total of 25,870 ATMs, whereas JPMorgan and Citigroup both have 31,200 ATMs. Those five banks might pay $500 million, so it can be expected that the three banks in the U.S. would be paying much more than $500 million to Microsoft for extended support and upgrading.
The support by Microsoft may come to an end, but statistics show that Windows XP still holds a 29.5% market share. The compliance, security issues, and improved functionality of the latest Windows versions may urge the large enterprises, businesses, and financial institutions to upgrade their operating systems over the next few years. However there is less likelihood that home-based computers will be upgraded in the near future. The PC market decline and increasing adaptation of tablets and convertibles will also contribute to the growing adoption of Windows 8/8.1. Ultimately Windows XP has come to an end, and Microsoft will definitely benefit from this transition.
Windows Phones will Play An Important Role for Microsoft
The smartphones and tablets OS platform is dominated by Android followed by iOS. The Windows phones and tablets are not as popular as Android and iOS; however, the forecasted growth statistics might be surprising. According to a new mobile phone forecast from the International Data Corporation [IDC], worldwide smartphone shipments will slow down to 8.3% annual growth in 2017 and 6.2% in 2018. The report forecasts that Android and iOS will lose slight market share. The Windows phone will grow comparatively faster with the continued support from Nokia (NYSE:NOK) as well as nine new Windows phone partners. The emerging markets will play an important part in bringing the Windows phone experience to customers. In 2014, the shipment of Windows phones is expected to reach 47 million units resulting in a 3.9% market share. The shipment will reach 121.8 million units by the end of 2018, with a market share of 7%. Overall the Windows phone market will grow at a CAGR of 29.5% between 2014 and 2018 compared to the Android CAGR of 10.7% and iOS CAGR 10.2%.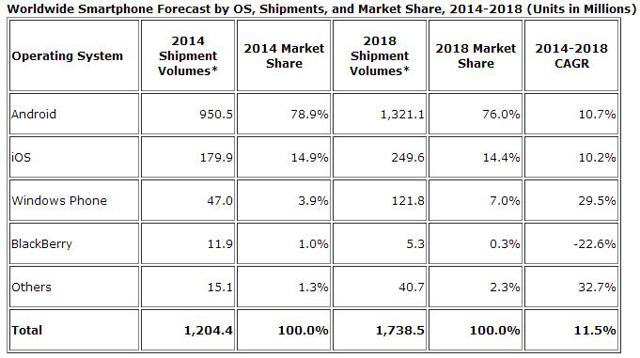 Source: IDC
Windows phones have gained serious momentum in 2013. Now Microsoft claims that its Windows phones are outselling the iPhone in 24 markets, and India is a major one amongst these markets. The pricing difference played a prime role in the Windows phone lead. To strengthen the competitive advantage and capture significant markets, Microsoft recently announced that the company is offering Windows phone OS for free to Karbonn and Lava. Their Windows phone devices are likely to hit the market in the next few months. This is very risky move, but if deployed well, this arrangement will help Microsoft to stand out in the emerging market of India.
Nokia ended 2013 with a market share of 92.1% of Windows phone. Soon the deal between Microsoft and Nokia will be complete and Microsoft will take control of the hardware division. This addition will enable Microsoft to take control of the Windows phone market. If Nokia maintains its 85% market lead, the company will be able to ship 103.53 million phones, and based on the average selling price of $195 per unit in 2018, it will be generating $20.2 billion for Microsoft.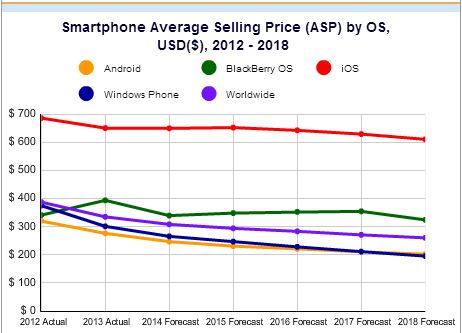 Source: IDC
In the tablet market, Microsoft competes using its Surface and Surface 2 devices. Like smartphones the tablet market is also dominated by Android and iOS, however according to IDC, Android and iOS tablets will both begin to lose global market share in 2014, while Windows slightly increases. Android's market share is expected to drop slightly this year to 60.7% from 60.8% in 2013, while iOS is expected to drop to 33.1% down from 35% in 2013. Windows will grow this year to 5.7% from 3.2%. By the end of 2017, Windows tablets will have a 10.2% share of the pie compared to 58.8% of Android and 30.6% of iOS.
Microsoft is trying hard to compete with Android and iOS. In 2013, Microsoft's tablet volumes improved to 4,031,802 units, but the share still remained small. Microsoft is acting rapidly to evolve Windows 8.1, but its ecosystem still failed to capture major consumers' interest on tablets. To compete, Microsoft needs to create a compelling ecosystem proposition for consumers and developers across all mobile devices, as tablets and smartphones become key devices for delivering applications and services to users beyond the PC.
For the second quarter of fiscal year 2014, Microsoft's devices and consumer division's revenue rose 13 percent to $11.91 billion. Surface revenue was $893 million for the second quarter, more than double what Microsoft reported in the first quarter. Microsoft also sold more than double the number of Surfaces it sold last quarter. The growth is due to the improved execution at retail and favorable reviews of the Surface 2 and Surface 2 Pro tablets that debuted in October.
Microsoft entered the smartphone and tablet industry late. Now the company must strengthen its product portfolio according to what consumers need. Recently, Microsoft has released the Surface 2 LTE Windows RT 8.1 powers the ARM-based tablet. The important aspect of this version is its competitive pricing. The Surface 2 LTE 64GB model is priced at $679 compared to the iPad, priced at $829. The Surface 2 LTE with Microsoft's keyboard and improved apps base to enhance productivity will be a good option at a comparatively lower price. Hopefully Microsoft will get the best out of it. Keeping in mind the potential growth, it can be hoped that Microsoft will succeed in boosting its earnings for the coming years.
Conclusion
Microsoft's total return of 39.19% has outperformed the S&P 500, Oracle (NASDAQ:ORCL) and Apple (NASDAQ:AAPL).

Source: ycharts
Microsoft's fundamentals are favorable, and it seems that the stock is relatively undervalued compared to its competitors and the industry. Currently the stock is trading at a P/E of 14.09X compared to Google's (NASDAQ:GOOG) P/E of 31.35X, Oracle's P/E of 16.26X and the industry average P/E of 29.66X. The forward P/E of 12.5X with estimated 5 years growth of 11.1% compared to the S&P 500's forward P/E of 16X growth of 10.3% makes Microsoft more attractive.
The new CEO, Satya Nadella, is making important moves to accelerate the earnings growth. Microsoft has a complete version of Office ready for release on the iPhone and the iPad, and it is highly anticipated to be released by the end of March 2014. It is quite late, as there are other productivity apps available for users. However Microsoft will manage to take advantage and benefit from the estimated $2.5 billion each year from the iPad version of Office. It is also anticipated that Microsoft will introduce the Surface mini to compete with the 7 to 8 inch display tablets by the end of 2014. Going forward Microsoft is working on Windows 9 that will come out next year. The company has a lot more to offer. I believe the new CEO will put Microsoft on the right track to take advantage of its long-term growth prospects. Therefore looking forward into the company's progress investors may consider adding Microsoft to their portfolio.
Disclosure: I have no positions in any stocks mentioned, and no plans to initiate any positions within the next 72 hours.
Business relationship disclosure: The article has been written by a Gemstone Equity Research research analyst. Gemstone Equity Research is not receiving compensation for it (other than from Seeking Alpha). Gemstone Equity Research has no business relationship with any company whose stock is mentioned in this article.