King Digital Entertainment (BATS:KING), an Irish game development company, based in Dublin, and with studios in London, Sweden, and San Francisco, offers digital games that can be played on smartphones and tablets to players around the world.
Their most popular game, Candy Crush Saga, has taken the world of spare-time gaming by storm. The company is now offering shares in its initial public offering ("IPO"), which could value the company at $7.6 billion.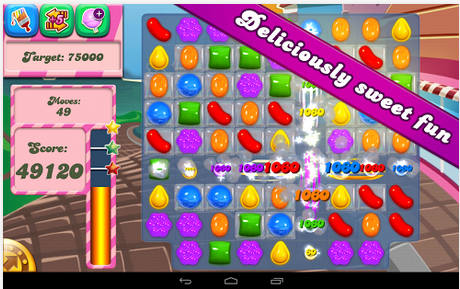 (Source)
According to a filing, the company owners, who include APAX Partners LLP and Index Ventures, plan to sell 22.2 million shares for $21 - $24 each, and raise about $533 million. After the IPO is completed, APAX will own 44.8 percent of outstanding shares, and Index Ventures, 7.8 percent. The money raised in the initial public offering will used for working capital, as well as acquisitions. The company plans to list its shares under the symbol KING on the New York Stock Exchange.
What's So Sweet About Candy Crush?
While King offers other games, such as Pet Heroes Saga and Farm Heroes Saga, Candy Crush, a straight-forward yet tricky and highly addictive puzzle that involves lining up three pieces of imaginary confection, is the company's bread-and-butter. In 2012, King earned a respectable $164 million; by 2013, this figure jumped to $1.9 billion.
The Freemium Pricing Model
While Candy Crush itself is free to play, based on the freemium software-pricing model, King makes money when users buy extra virtual items. For example, users may decide to spend a dollar on extra lives or additional content. While most people choose only to use the free version and never buy extras, the few who do buy additional items often do so with abandon. This creates enormous revenues, which would not have been possible by simply charging a flat fee to all.
Available On All Digital Devices
The game is available on numerous devices. It can be accessed from a computer, as well as mobile devices and tablets. Specifically, it is available on Apple's (NASDAQ:AAPL) iOS devices, Android phones, Amazon's (NASDAQ:AMZN) Kindle device, and on Facebook (NASDAQ:FB). This availability on the devices also generating revenue for these technology companies.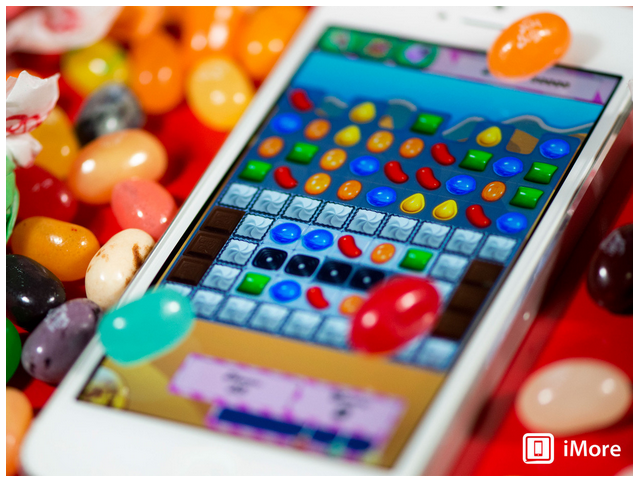 (Source)
Because of its ubiquitous presence on popular platforms, the popularity of the game is growing: in December of last year, the game had 93 million active users; in February of this year it was up to 97 million active users.
Crushing Zynga and Electronic Arts
Naturally, analysts are comparing this IPO to a similar gaming phenomenon, Farmville, made by Zynga Inc. (NASDAQ:ZNGA), which pioneered social gaming. However, the popularity of Candy Crush has routed Farmville. Passionate Farmville players have defected in the millions to play Candy Crush, and Zynga's shares have fallen as much as 44 percent since its own IPO in 2011.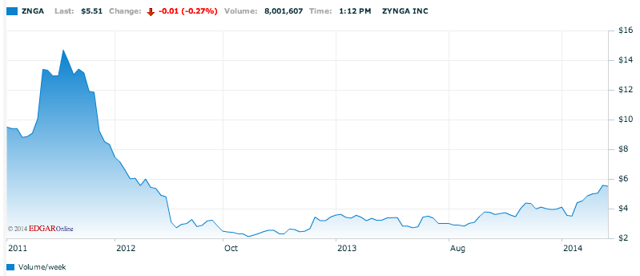 (Nasdaq.com)
If King is able to persuade its investors to buy at the top end of the proposed share price, KING stock will be at a 54 percent higher value than ZNGA. If the IPO is successful and the IPO is valued at $7.6 billion, King will be worth 1.6 times Zynga.
Another gaming titan Electronic Arts (NASDAQ:EA) also fares poorly in comparison. King could be worth about four-fifths of Electronics Arts post-IPO-rapidly catching up, largely due to a single game.
Summary
The addictive behavior of 97 million people worldwide, tapping on their mobile device, tablet, or laptop to try and match up 3 or more pieces of brightly-colored virtual candy on a daily basis, has resulted in King becoming one of the biggest gaming upstarts in history. While the IPO will likely be a short-term treat for the company, investors might take caution from Zynga's IPO excitement, apparent in the chart above, and bear in mind that KING could have a "sugar" crash in its future as well.
Disclosure: I have no positions in any stocks mentioned, but may initiate a long position in KING over the next 72 hours. I wrote this article myself, and it expresses my own opinions. I am not receiving compensation for it (other than from Seeking Alpha). I have no business relationship with any company whose stock is mentioned in this article.