Best Buy Co Inc. (NYSE:BBY) has been in an unwanted limelight since the beginning of 2014 when it reported a 0.9% decline in US same-store sales in January with overall revenues declining 2.6% during the holiday season. The news resulted in a greater than 30% drop in the company's shares that now trade near $26. Does that mean that Best Buy is a good bargain now considering its depressed price or is it wise for investors to stay away from it?
In this article, I will go through the company's latest performance and determine the reason behind its negative performance. Later, I will determine whether or not Best Buy has any future plans that may help the share price and in return offer investors a decent investment gain.
The Quarter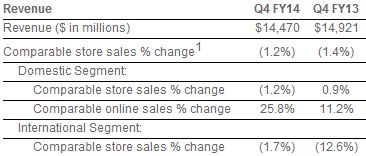 Source: Earnings Release
During the last quarter of 2014 Best Buy's revenue declined 3% to $14.5 billion with comparable store sales falling 120 bps from the same quarter a year ago. Highlights of the period included the decline in retail traffic, intense promotion, fewer holiday shopping days and severe weather that contributed to the revenue drop as industry wide sales in the consumer electronics category remained weak.
Domestic gross profit was 20% compared to 22.3% last year. This decline was primarily driven by a 125-bps incremental investment in structural and promotional pricing and a 40-basis point negative impact of the new credit card agreement that had a less than favourable outcome than the expired agreement due to changes in both the regulatory environment and overall consumer credit market.
Under such conditions, the top and bottom lines were destined to be obstructed especially when Best Buy had to keep their investment in promoting price efficiency for consumers. However, bottom line management such as lowering inventories helped conclusively bring a smaller hit to operating margin which declined by 120 bps. Since the credit card agreement and mobile warranty brought about the 100 bps decrease associated with operating margin, cost management efforts ensured minimal hit to margins which, excluding the above impact, would otherwise have fallen by only 20 bps.
The Price Investment had Multiple Favorable Outcomes
Thus, Best Buy was able to materially offset the price investments it had been making with cost savings and other operational improvements. The price advantage is important when it comes to retaining and attracting new customers and it did prove constructive as the adjusted domestic comparable store sales decline was limited to 0.6% when industry-wide sales and the company's store traffic fell.
GAAP diluted EPS was $0.88 compared to a loss a year ago. To accelerate the effort and to increase future prospects Best Buy has now entangled itself into a cost reduction program called Renew Blue together with venturing into providing solar energy solutions in order to boost sales.
Since Q3 last year, the program's cost reductions increased $260 million bringing the current total annualized cost reductions to $765 million ($570 million in SG&A and $195 million in cost of goods sold). The additional $260 million in cost reductions ($230 million in SG&A and $30 million in cost of goods sold) came from the optimization of the field and store operating model in the US and Canada. Additionally, structural changes to certain compensation and benefits programs as well as ongoing optimization of returns, replacements and damages have contributed towards the change that Best Buy plans to continue in the future.
While this may be something to cheer, let's not forget that the top line is critical, and unless improvement is experienced there it is less probable that the company will be able to sustain growth for investors. This is because there's a limit to achieving cost reduction after which all is left to growing top line demand. Even though Best Buy is moving into the solar energy market it might not be enough to improve the top line.
Solar Solutions is a Good Area to Explore but it is Still New and Uncertain
The company recently announced that it is partnering with energy company SolarCity (NASDAQ:SCTY) to provide customers with in-store estimates on solar savings. The move comes in support of positive facts in the solar industry. For example, solar was the second-largest source of new electricity generating capacity in 2013 coming second only to natural gas. Also, a survey of American homeowners in January found that while 62% of American homeowners are interested in solar power systems for their homes, less than half realize that solar power systems are much more affordable today than they were three years ago.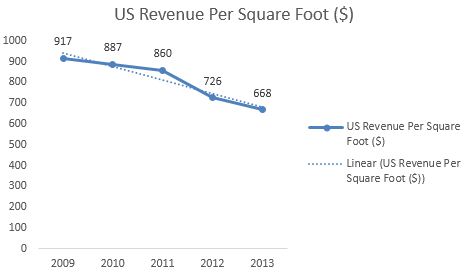 Source: Trefis
Knowledge of the benefits of solar energy along with the cost of solar power systems continuing to fall provided a good opportunity for Best Buy to dive in hoping to pick up the falling revenue per square foot it has experienced since 2009 (see graph above). Still, until results are published, I cannot see whether or not this is promising. I will not base my recommendation on a new and untested market.
Bottom Line
Best Buy has underperformed the industry in most every fundamental we analyzed. Therefore, not all of the blame can be put upon the industry. The company has set high targets as per its recently announced guidance but how they are going to achieve those targets remains a question. The plans may sound promising but if the company cannot capitalize on them then they are worth nothing. Also, investing your cash in potentially profitable plans should not be a move that you will be sorry for later. I think Best Buy's future is very uncertain at the moment. Therefore, I recommend investors to stay away from it and I offer it a sell rating.
Disclosure: I have no positions in any stocks mentioned, and no plans to initiate any positions within the next 72 hours. I wrote this article myself, and it expresses my own opinions. I am not receiving compensation for it (other than from Seeking Alpha). I have no business relationship with any company whose stock is mentioned in this article.