BPZ Resources (NYSE:BPZ) is an energy company that is engaged in oil and natural gas exploration and production in Peru, which the company believes, offers excellent opportunity for long term growth.
So far, only a fraction of its properties, just 0.04% of the total gross acreage, has been developed. Therefore, the company has significant room for growth in terms of net proved reserves, production, revenues and income.
Although the company's performance over the past few years has not been satisfactory, it appears on the verge of a turnaround. The markets have realized this and BPZ's shares have been up 65% this year. However, I believe that there is still room for a potential 40% upside for long term investors. For this, we'll have to dig a little deeper.
Indications of a turnaround
First, a little bit about the company. BPZ Resources was formed in 2001 but its predecessor, BPZ & Associates, has more than a decade of experience of working as an energy consultant, particularly in Peru. BPZ Resources currently has 16.1 million barrels of net proved oil reserves, all of which lie in the Corvina and Albacora fields in Peru's Block Z-1.
Although BPZ has attractive growth prospects, its past record is not in its favor. The company released its annual results just a couple of weeks ago in which it reported a significant drop in revenues and income.
Since 2011, the company's sales volume has gradually fallen from 1.37 million barrels in 2011 to just 0.5 million barrels in 2013. During this period, its production costs have risen from $36.82 per barrel in 2011 to $49.11 per barrel in 2013. To exacerbate the situation, the average realized sales prices have dropped from $101 per barrel in 2011 to $99.79 per barrel in 2013 on the back of weakness in pricing environment.
With a significant drop in sales volume in its previous fiscal year, BPZ reported a 59% drop in annual revenues to $50.7 million. The company's operating losses widened from $28.6 million in 2012 to $36.4 million in 2013.
However, the current decline in production has come due to the sale of 49% participating interest in the Block Z-1, the company's only producing area, to Pacific Rubiales (OTC:PEGFF). Moreover, BPZ also suffered from lower output from Corvina and Albacora fields.
A long term look over the last 5 years shows that BPZ has not made any improvements in its revenues and income. This is shown in the table below.
In Thousands, Except Per share amount

2009

2010

2011

2012

2013

Total Revenue

$52,454

$110,464

$143,740

$122,958

$50,729

Operating loss

-$42,488

-$60,792

-$11,522

-$28,607

-$36,414

Net loss

-$35,802

-$59,771

-$33,827

-$39,089

-$57,711

EPS

-$0.35

-$0.52

-$0.29

-$0.34

-$0.50
The table is far from encouraging. So where is the indication of the turnaround?
It's the BPZ's partnership with Pacific Rubiales. BPZ is simply too small to carry out the exploration and production of its acreage on its own. Despite the recent rally, the company's market cap is still just $365 million. BPZ's management has also pointed out that they will develop their acreage through joint venture. Therefore, the beginning of the joint venture, on its most promising and the only offshore property, is a big milestone for BPZ as this could be the beginning of a turnaround.
The company started a development drilling program at the Block Z-1 in the second half of the previous fiscal year and has forecast higher production in 2014. This could be huge for BPZ as the company has been struggling with declining output.
According to analysts' estimates compiled by Thomson Reuters, BPZ could become profitable by 2015 on the back of higher production which could drive a 350% increase in revenues. Moreover, if the current positive trends (discussed later) continue, then BPZ's management has said that it could post a quarterly profit (a rarity in BPZ's case) by as early as the first quarter of 2015.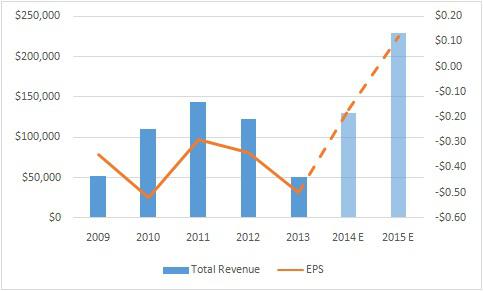 It is clear that the company's Block Z-1 underpins the company's turnaround. So what, and where, is this block?
Asset Base: Block Z-1
The Block Z-1 is one of the four blocks leased by the company. In all, BPZ Resources has 1 offshore and 3 onshore blocks in northwest Peru covering an area of, 2.2 million gross, or 1.9 million net acres. It has 51% working interest in the offshore Block Z-1, which covers an area of 0.6 million gross acres, and a 100% working interest in the three other blocks:
1. Block XIX, which covers an area of 0.5 million gross acres,
2. Block XXII, which is the largest block covering 0.9 million gross acres and
3. Block XXIII with 0.2 million gross acres.
BPZ also has some operations in Ecuador. The company owns a 10% non-operating net profit interest in an oil and gas property in southwest Ecuador.
As shown in the picture below, Block Z-1 is the only oil producing and the only offshore block. Since this block will drive the company's future growth, therefore it will be the main area of discussion.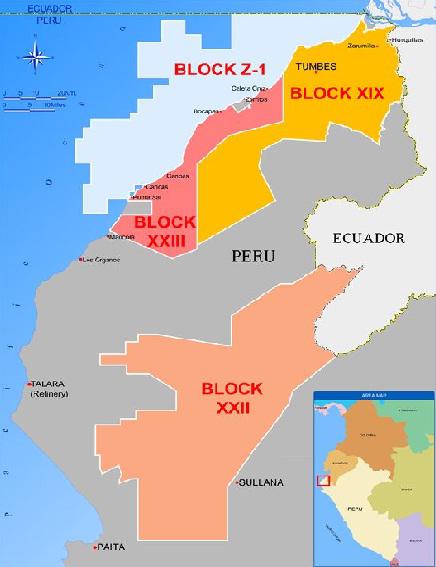 The Block Z-1 lies in the Tumbes Basin with average depths of 200 feet. The area was once operated by other energy firms between 1970s and 1980s. These firms performed drilling activities but did not find it feasible for production.
The operators left behind five drilling structures called Albacora, Barracuda, Corvina, Delfin and Piedra Redonda fields. With the exception of Barracuda, the other four structures had tested positive for economic quantities of hydrocarbons when exploratory wells were drilled at depths of between 6,000 to 12,000 feet.
However, thirty years later, with the improvements in E&P technology, the block appears ripe for production.
First, we'll discuss about Corvina. This field has 12.7 million barrels and Albacora field has 3.4 million barrels of net proved oil reserves. This covers BPZ's entire reserve base, and we haven't even considered Delfin and Piedra Redonda fields, let alone Block XIX, Block XXII and Block XXIII.

Of these reserves, just 3.2 million barrels are proved developed producing (NASDAQ:PDP) reserves, while the rest, 12.9 million barrels, are proved undeveloped (PUD) reserves. Most of the PUD locations lie within the Corvina field.
Corvina has an old platform, which was left by the previous operator, called CX-11. The company is currently using this platform for drilling and production in West Corvina. So far, BPZ has drilled 9 gross oil wells using this platform.
BPZ has now installed a new platform at Corvina, called CX-15, which is located just a mile south of CX-11. BPZ has recently drilled and completed 2 wells between December-2013 and January-2014 from this new platform. Moreover, last month, BPZ started drilling for the third well from here.
The company has witnessed a decline in output from its wells at Corvina, some of which can be attributed to mechanical problems. However, BPZ will drill five more wells at Corvina in the current year. With a more wells and a new platform now in place, investors should expect higher output from Corvina in the coming quarters.
Now let's turn towards Albacora, which is the smaller of the two oil producing fields at Block Z-1. Here, like Corvina, BPZ has used a platform which was abandoned by previous operators, called A-platform. This platform was constructed by Tenneco (NYSE:TEN) in the 1970s and was later used by Tenneco and Belco Oil and Gas.
In the last four months of 2013 BPZ started drilling, and completed one development at Albacora. The company will drill 2 development wells at Albacora this year. BPZ started drilling for one well earlier in March
Now, let's move towards Delfin, which could become the company's third oil producing field at Block Z-1 in the near future. BPZ has received permits to install a platform and start drilling in this field. Delfin looks promising as it is located close to Corvina and a previous operator's well has already tested the region positive for oil. The prospect could drive significant production growth in the coming years as it covers an area of around 3,000 acres, nearly twice as big as Corvina.
Furthermore, BPZ has also received exploration permits for Raya and Piedra Redonda in Block Z-1. Raya is a 7,500 acre prospect that lies to the north of Delfin and has potential for oil.
Evidence Of A Turnaround
By now, it is clear that BPZ has witnessed considerably higher levels of activity at Block Z-1 in final months of 2013 through the beginning of the current year, particularly at Corvina and Albacora. Therefore, by now, its output from Block Z-1 should have started to increase. Earlier in the article, I discussed the indication of a turnaround, but higher levels of output will prove that the company is, in fact, going on the right track towards a turnaround.
This was, I believe, the biggest positive in the recent quarterly results. BPZ has increased its production Block Z-1 by 75% from Q4-2013 to 4,850 barrels of gross oil per day in YTD-2014.
Moreover, the production levels have been increasing quickly. In the first few days of the current month, the company's gross production climbed to 6,850 barrels of oil per day. This is a huge improvement from average gross production of 2,725 barrels of oil per day in the final quarter of 2013. This jump in production is the direct result of the activity discussed in the previous section.
The company is planning to drill 8 development wells in the Block Z-1 in the current fiscal year. With more wells coming online through 2015, a new platform in place at Corvina and a new platform at Delfin, the company will likely continue posting increasing levels of output in the future. This will lead towards higher levels of revenues and income.
What About the Other Blocks?
Although BPZ is just focused about developing the Block Z-1 at the moment, for long term investors, the company is not just about this block. As mentioned earlier, BPZ has other properties as well that are also lucrative.
Besides Block Z-1, Block XXIII, has also witnessed exploration activity under the previous operators. It lies within the Mancora formation, which has already shown evidence of natural gas. BPZ started drilling the first 3 exploration wells in the beginning of 2014.
Block XIX is also located within Mancora formation and lies right next to Block Z-1. Some older wells in the region have shown evidence of oil and gas potential but the region requires additional drilling and seismic data to ascertain its true potential.
In terms of area, Block XXII is the biggest block with 912,000 gross acres. Unlike its other blocks that lie within Tumbes and Talara Basin, Block XXII lies within Lancones Basin of Cretaceous and includes the Muerto play. The region is mainly an exploratory area with little drilling and seismic activity. BPZ is currently waiting for a green signal from authorities following an environmental impact study. After that, the company says that it can begin drilling from as early as late-2014 or 2015.
However, it will be a while before BPZ actually starts producing from these areas as it is highly unlikely that it will move forward without a partner. Through the exploration activity on these blocks, BPZ will be able to gauge the reserves on its acreage. This could lead towards an increase in its net proved reserves. More importantly, the additional data on its acreage will improve BPZ's ability to attract a new partner.
Not Without Risks
BPZ sells all of its oil to Peru's national oil company Petroperu. The loss of this customer can have an adverse impact on the business. BPZ however, believes that it can easily find other buyers if Petroperu stops purchasing from BPZ.
The company also has relatively little experience of operating as an E&P company. It has less than four years of commercially operating the Block Z-1, which has been the backbone of its business.
Moreover, some of its wells at Block Z-1 have shown "solution gas drive behavior" which causes a big drop in output within the first year of operation. BPZ is now developing new wells which could also report a decline in output within the first year. If that happens, then markets might overreact which could lead towards a decline in share proves.
Investors should, however, note that this problem is of a short term nature as the output usually becomes stable in the following years. Moreover, BPZ has also taken some measures, such as re-injection of gas, which should cause a slowdown in the decline rate.
Final Thoughts
With the new developments, particularly those related to Block Z-1, BPZ Resources is in a good position for growth in the near term. With the ongoing development at Corvina and Albacora, the company will significantly increase its well count in the coming years which will likely drive its turnaround. Meanwhile, Delfin prospect could offer excellent opportunity for growth. Moreover, the exploratory work in Block XXIII and the expected drilling at Block XXII could give a boost to its net proved reserves and open doors to a new joint venture.
Investors should watch out for positive developments from Blocks XIX and XXIII, which could translate into a catalyst for an upside. Furthermore, additional production from the offshore wells at Block Z-1 and new developments from Delfine, particularly the deployment of the new platform could cause an increase in share prices. Moreover, its shares could continue going higher in anticipation of positive earnings by Q1-2015.
The company's shares have risen by 65% this year but are currently trading just 1.4 times their 2015 sales estimates. In these terms, the business has significant room for growth. If the company's shares were to trade on industry's average P/S ratio of 2, they would be priced at $4.16 per share, which shows an upside of 42% from the current price levels. Therefore, despite the rally, BPZ Resources is still attractive at these price levels.
Notes:
This article was written by Sarfaraz A. Khan, with valuable contribution from Gohar Yousuf, research assistant at Half Bridge Business Review. Neither Sarfaraz A. Khan, nor Gohar Yousuf have any positions in the stock(s) mentioned in this article.
Disclosure: I have no positions in any stocks mentioned, and no plans to initiate any positions within the next 72 hours.
Business relationship disclosure: This article expresses my own opinions and does not constitute investment advice. The article contains information that was obtained from company's official documents and/or other sources which I believed were reliable, but has not been independently verified. Therefore, I cannot guarantee its accuracy. I am not receiving compensation for it (other than from Seeking Alpha). I have no business relationship with any company whose stock is mentioned in this article.