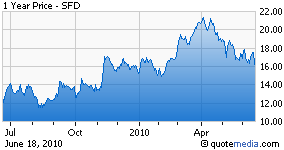 Smithfield Foods Inc. (NYSE:SFD), a leading processor and marketer of fresh pork and packaged meats products, posted improved fourth-quarter 2010 earnings results.
Virginia-based company, Smithfield, notified that net loss came in at 3 cents a share in the quarter compared to 57 cents delivered in the prior-year quarter. The Zacks Consensus Estimate for the quarter stood at a profit of 18 cents a share. Higher taxes applied on pre-tax loss favorably impacted the quarterly results. The fiscal 2010 net loss improved to 65 cents a share from $1.41 in the previous year. The Zacks Consensus Estimate for the fiscal 2010 was a net loss of 37 cents a share.
Due to the recovery in the global market conditions, it is anticipated that Smithfield should post healthy earnings in fiscal 2011.
For the quarter under review, total revenue grew to $2.9 billion, up 2% from the year-earlier quarter. However, sales for the fiscal 2010 declined 10% to $11.2 billion compared with $12.5 billion in the prior year, reflecting an extra week in the third quarter 2009 along with lower average unit selling prices, currency translation and planned volume reductions because of the Pork Group restructuring plan. The company continues to invest in strategic brands for improving its top line growth.
Revenues from the Pork business declined modestly to $2,433 million in the quarter compared with $2,455 million in the prior year quarter. Despite recessionary conditions in Western Europe, Smithfield's International business posted revenues of $317.3 million in the quarter compared with $257.2 million in the prior year quarter. Results benefited from a 26% annual growth in volume.
Revenues from Hog Production improved in the quarter to $742.9 million from $615.8 million in fourth quarter of 2009, due to a 23% increase in the live hog prices in the U.S. market. Revenues from the Others contracted to $28 million in the quarter compared with $64 million generated in the year-ago quarter.
The operating profit came in at $39 million and $63 million for the quarter and year, respectively, in sharp contrast to the operating loss of 92 million and $224 in the comparable period a year ago. All the segments reported year-over-year improvement in operating results. The company expects Hog Production to regain its lost momentum by returning to profitability, as Smithfield focused to maximize margins in the Pork segment. However, margins are expected to remain under pressure due to rising raw material costs.
During the quarter, Smithfield offered to acquire its joint venture partner's 51% stake in Butterball and its partner's related turkey production assets for about $200 million.
During the year, the company remained focused on improving its balance sheet's position by reducing its leverage, improving its liquidity position, extending debt maturities and eliminating covenants.