In this article, I would like to give a short insight about what to expect from upcoming BlackBerry's (NASDAQ:BBRY) Q4 FY 2014 earnings, with a focus on three key metrics: devices sold through, BES 10 installations and BBM active users. At the moment I'll refrain from mentioning anything about QNX.
I'll start looking at the metric "devices sold through", because of its importance and difficulties associated with the forecast. Although there are voices advocating BlackBerry to be a software company, I still consider hardware sales to be very important for BlackBerry's future, since demand for BlackBerry devices is a direct projection of company's reputation, which has suffered a lot during calendar year 2013.
Number of devices sold
Due to the changes in revenue recognition, it's not impossible to figure out how many smartphones BlackBerry has actually sold so far in the current fiscal year. After it became obvious that demand for BlackBerry smartphones was much lower than initially anticipated, the company was forced to switch from reporting smartphones shipped to smartphones sold through and sales recognized in a given quarter.
The data for the quarterly sell through is available for the last two quarters only and equals 5.9 million units for Q2 FY 2014 and 4.3 millions for Q3 FY 2014 respectfully.
| | | | |
| --- | --- | --- | --- |
| Quarter/ Smartphones sold through in millions | Total | BB 10 | BB 7 |
| Q3 FY 2014 | 4.3 | 1.1 | 3.2 |
| Q2 FY 2014 | 5.9 | 1.7 | 4.2 |
Sell through consists of the number of smartphones recognized in the reported quarter and those already recognized in previous quarters.
| | | |
| --- | --- | --- |
| Quarter/ Smartphones recognized in millions | Recognized in this quarter | Recognized in previous quarters |
| Q3 FY 2014 | 1.9 | 2.4 |
| Q2 FY 2014 | 3.7 | 2.2 |
I expect Q4 FY 2014 sell through to be in the 3.1- 5.5 million unit range, with BB 10 devices accounting for 25% to 66%. This assumption is based on three scenarios:
Negative scenario: John Chen's actions were not enough to convince customers that BlackBerry is here to stay, which in turn led to another 27% QoQ decline in the number of smartphones sold. BB 10 smartphones account for 26% (as in previous quarter) of those phones.
Base scenario: Demand for BlackBerry smartphones has bottomed out in Q3 and Blackberry has managed to sell the same number of devices in Q4. Sale price cuts for the BB 10 devices around the globe have led to an increased number of BB 10 devices sold, that now account for 50% of the total BlackBerry smartphones sold.
Positive scenario: With help of significant price cuts around the globe, together with a positive boost from Christmas shopping, BlackBerry managed to sell through as many devices as it did in Q2. Most of these units (66%) were BB 10 devices.
An overview of the possible outcomes of devices sold through in Q4 FY 2014:
| | | | | |
| --- | --- | --- | --- | --- |
| Change in quarterly sell through rate QoQ | Scenario | Smartphones sold in millions | BB 10 in millions | BB 7 in millions |
| -27% | Negative | 3.1 | 0.8 | 2.3 |
| 0% | Base | 4.3 | 2.2 | 2.2 |
| +27% | Positive | 5.5 | 3.6 | 1.9 |
BES 10 customer base
Penetration level for BES 10 services was consequently rising within the current fiscal year. However these installations were free upgrades and free trial installations rather than new paying customers.
All the information around BES 10 will be especially interesting in the upcoming quarterly report, since there is a chance that it will reveal (directly or indirectly) whether those "free trials" were actually converted into paying customers.
Since launching BES 10 earlier this year, the Company has provided its customers with free upgrades and free trial arrangements until the end of this calendar year. No material revenue has yet been recognized from BES 10 but the Company expects to see gradual revenue contributions beginning in fiscal 2015. (Source: the last earnings report)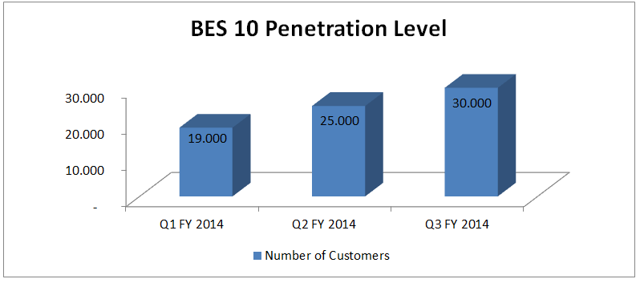 However there is an indication that the number announced will be around 28,000, since as of today this is what BlackBerry's official website says.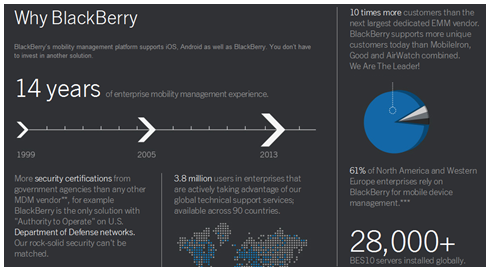 This information was brought online on December 3, 2013, according to WebArchive.org and might include some users who decided not to extend their free trial. I consider this information to be more up-to-date than reported 30.000 in Q3 FY 2014, because the latter includes information reported for the three months ending November 30, 2013.
Here is how I categorize possible outcomes for the BES 10 installations number.
Number of total BES 10 installations reported in Q4 FY 2014:
| | |
| --- | --- |
| Scenario | Number of BES10 Installations |
| negative | 25.000 |
| Base | 28.000 |
| positive | 30.000 |
BlackBerry Messenger active users
BlackBerry Messenger's current user growth rate is around 2.8 million users per month as stated by Business Week.
There is not really much to forecast here, since John Chen said it himself in one of his interviews at the end of February, so the number of current BBM users should be around 85 million.

Conclusion
If BlackBerry manages to achieve a devices sell through number of around 4.3 million units with roughly 50% attributed to BB 10 devices, while maintaining 28.000 BES 10 customers along with 85 million BBM active users, it would be a real first step towards turnaround.
Better results in one of these fields might result in a jump of the stock price to $10-$11, while negative results especially if there were a mass exodus from BES 10 after the expiration of the trial period, might lead to a massive sell off and send the stock to "pre-Chen's levels" of $6-$7.
Disclosure: I am long BBRY. I wrote this article myself, and it expresses my own opinions. I am not receiving compensation for it (other than from Seeking Alpha). I have no business relationship with any company whose stock is mentioned in this article.