The past couple months haven't been a time of great news releases for Chevron (NYSE:CVX) shareholders. First, they had to deal with a ruling of a higher-than-expected payout stemming from its lawsuit with Ecuador (although developments there are started to turn in Chevron's favor). Secondly, there was an explosion and five-day fire on a well pad in Greene County, Pennsylvania that killed a contractor. And thirdly, there is the fact that Chevron's net profits declined from $26.1 billion in 2012 to $21.4 billion by the end of 2013, for a profit decline of 18%.
However, it finally looks like Chevron shareholders have something to get excited about - the company recently announced a plan to boost production 20% through 2017 without any additional capital expenditures.
Here are the specifics:
Net production is expected to rise to 3.1 million boe/d in 2017 from 2.6 million boe/d in 2013 due to expansion of the Tengizchevroil (TCO) consortium, deepwater and shale oil production, and increased LNG.

Meanwhile, Chevron sees its outlays flattening in 2015-16 after spending peaked in 2013. Chevron's upstream capital and exploratory (C&E) program for 2014 is expected to be $35.8 billion, while C&E for 2015-16 also is expected settle into that range.
When you look at the way that Chevron is setting itself up for the long term, it's important to get the right expectations in place for your investment. Over the next twenty-four months, there's not going to be much of a spike in production. In other words, your return is going to consist of the dividend that you receive, and the dividend growth will be determined by the earnings per share growth of Chevron over that time frame. The earnings per share growth, in turn, will largely be the result of share buybacks and any favorable price increases in oil, liquefied natural gas, and other commodities.
Take a moment to look at Chevron's dividend growth rates over the past two decades.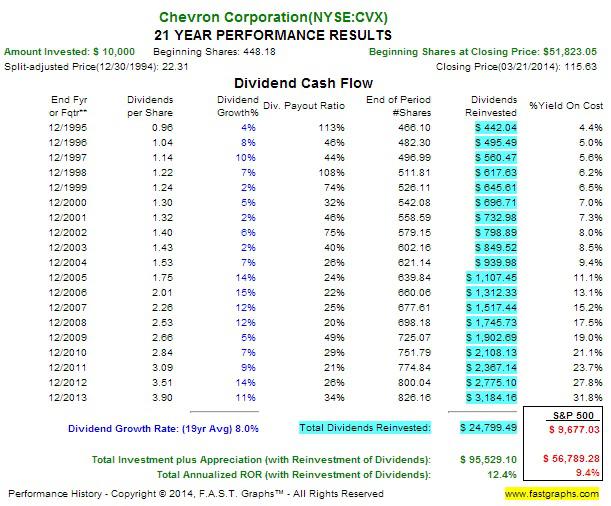 As you can see, the dividend growth rate falls into the nice 8% range, but the rate of growth itself is not a nice linear journey. You can see a lot of 5%, 6%, and 7% increases mixed in there with dividend growth rates in the mid-double digits. If Chevron management chooses to give shareholders dividend increases that track business performance over the next two years, then it's likely that you're going to be looking at dividend increases of 6-7%. However, if management gives investors dividend increases in anticipation of the production gains to come in 2017, then it is possible that the dividend growth rate could hover near the very satisfying 10% annual growth range.
But generally speaking, Chevron is setting itself up so that the dividend increases in 2017 and 2018 will be higher than the dividend increases in 2015 and 2016. For people who are serious when they say they are long-term investors, I think Chevron's dividend and profit growth is going to be doing quite well five years from now because the company is already generating immense cash flow in excess of the dividend (even with slower profit growth, the current dividend still only accounts for a third of every dollar Chevron makes in profit). Additionally, the expected growth in production from 2.6 million barrels of oil and oil equivalents per day to 3.1 million barrels of oil and equivalents has analysts predicting earnings per share of $16.95 five years from now. If Chevron maintains the same payout ratio of 37%, then Chevron's dividend will be around $6.27 per share five years from now, for total growth of 56.74% over the next five years.
On an annualized basis, that works out to about 9.41%. However, given that Chevron is an energy company, there will be some bumpiness in the way that the shareholders receive that 9-10% annual dividend growth for the next five years. The increases will probably be around the 7% range for the next couple years (unless management is willing to raise the payout ratio in anticipation of the coming production gains) and then shareholders will get double-digit dividend growth in 2017 and 2018 as the company will be seeing production gains entering the mix with buybacks and rising commodity prices to lift earnings per share. I know there hasn't been a lot of good news for Chevron, but if you look at the company's long-range plans to boost volume production to 3.1 barrels per day by 2017, the dividend future for shareholders should be quite nice.
Disclosure: I have no positions in any stocks mentioned, and no plans to initiate any positions within the next 72 hours. I wrote this article myself, and it expresses my own opinions. I am not receiving compensation for it (other than from Seeking Alpha). I have no business relationship with any company whose stock is mentioned in this article.