For a nice change of pace, the euro has surged to three-week highs and its best week in more than a year this week amid several successful bond auctions in Europe. All is well, then, and euro exchange traded funds are a buy, right? Well…
Jeanne Sahadi of CNN Money writes that the European Union has responded to its problems by implementing a variety of austerity measures to reign in deficit spending and lower debt. Each country's policies differ, but the common denominator is that all policies zero in on public spending.
Greece will try to decrease its annual deficit from 13.6% to 2.6% of GDP by 2014. "Wages and social benefits account for 75% of government spending."
Hungary promised to "cut public-sector wages by 15%, impose a new three-year tax on bank profits and freeze state spending."
Ireland plans to "reduce its annual deficit to a little over 5% by 2015, down from its current deficit of more than 12%."
Italy will cut $29 billion from its 2011-12 budget and plans to impose a three-year freeze on public sector wages, while replacing only 20% of public sector workers.
Portugal "is aiming to reduce its annual deficit to 4.6% of GDP for 2011, down from 7% today." It plans to increase VAT by 1-2.5% and implement a 5% pay cut for senior public sector workers.
France pledged to reduce its annual deficit to 3% of GDP by 2013 from 8% today. "The deficit would be reduced by 100 billion euros."
Germany, the strongest economic country in the eurozone, announced plans to get "the country's deficit to below 3% by 2013, down from 5% currently and will cut $99 billion in spending by 2014."
The United Kingdom, which has $1 trillion in debt, will release its emergency budget on June 22. Prime Minister David Cameron last week said that efforts to reduce debt would affect everyone for years and decades to come.
Finally, Spain "promised to reduce its annual deficit to 6% of GDP next year, down from 9.3% this year." Spain's promise comes at a time when it is "battling to convince skeptical investors that it can continue to service its mounting financial obligations," reports Landon Thomas of The New York Times.
On Tuesday, the Spanish government raised $6.4 billion, but had to pay a rate of 2.3% on the 12-month bills. Last month it paid 0.7% less.
The higher rate has investors concerned about Spain's ability to finance its debt. Some reports out of Germany speculate that Spain may be the first to tap into the European rescue fund that was set up after Greece got a bailout.
With all these measures in place, are euro ETFs a buy? The general consensus seems to be: hardly. For one, the funds are 8% off their long-term trend lines. For another, these steps to reign in debt and get everything under control are just the first steps. Europe has a long row to hoe before it can be considered "healthy" again.
(Click to enlarge)
CurrencyShares Euro Trust (NYSEARCA:FXE)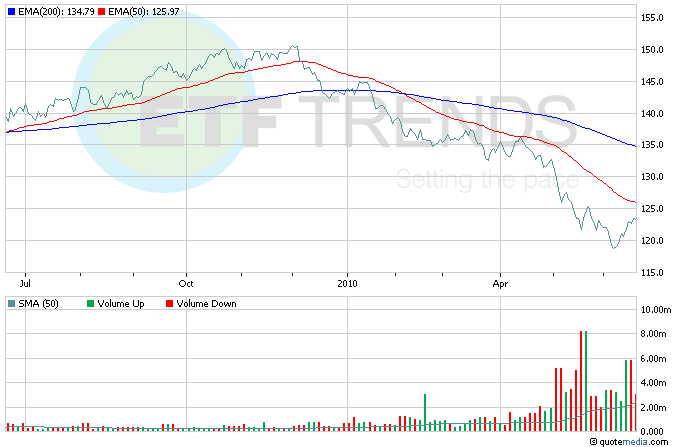 WisdomTree Dreyfus Euro (NYSEARCA:EU)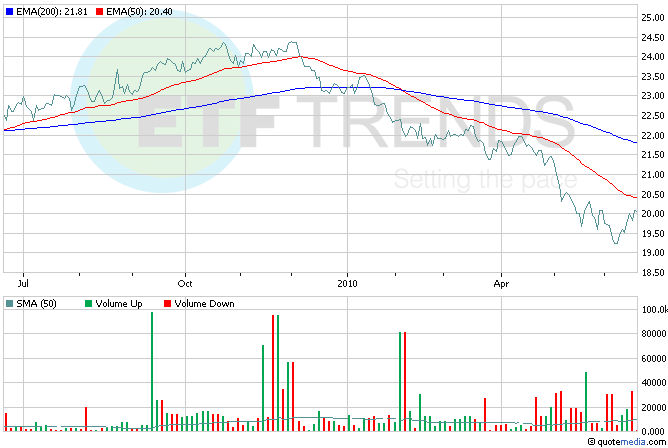 Disclaimer: Tom Lydon is a board member of Rydex|SGI.
Sumin Kim contributed to this article.