Improving Economy:
Home Depot (NYSE:HD) outperformed the market in 2013 with its stock gaining ~35%. Similar to other retailers, HD made nice gains in 2013 with no significant economic support. Despite a relatively flat economy and harsh weather conditions in Q4 2013, HD increased sales by 5.4% in 2013. Since the beginning of 2014, HD's stock is down about 4% after releasing a positive Q4 2013 earnings report and future outlook.
New data from The Economic Report, issued by The White House in March, indicates a stronger economy in 2014 and years following will be a catalyst for strong retail sales. Unemployment and household debts are at the lowest levels seen in years, and consumers are expected to have the highest spending ability in 2014 since the financial crisis.
Along with an increase of consumer spending, home sales are expected to grow at highest levels in 2014 since 2007. Home prices are still at attractive levels and coupled with greater consumer spending and relatively low interest rates, real estate will be a nice investment for 2014. Investing in HD is a great way to be exposed to real estate and retail in the coming years. HD has a great opportunity to maximize sales as spring arrives and consumers increase spending on home improvement items. Below is a graph showing the correlation between HD and the SPDR S&P Retail ETF (NYSEARCA:XRT) and the SPDR Dow Jones International Real Estate ETF (RWX) respectively.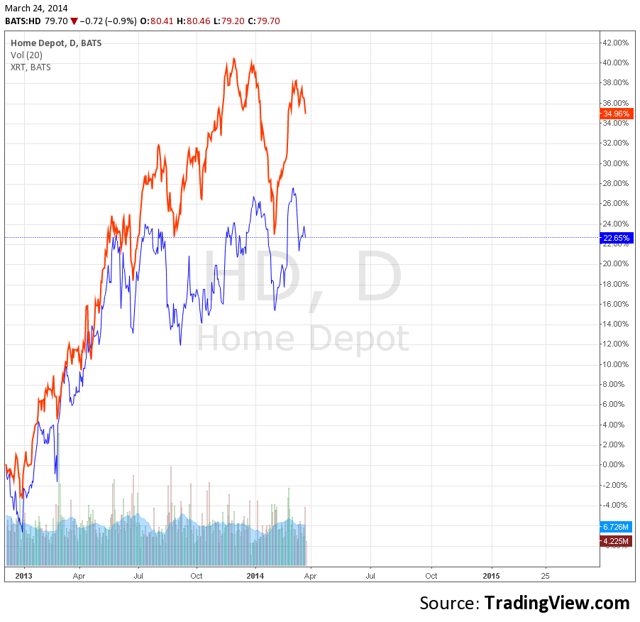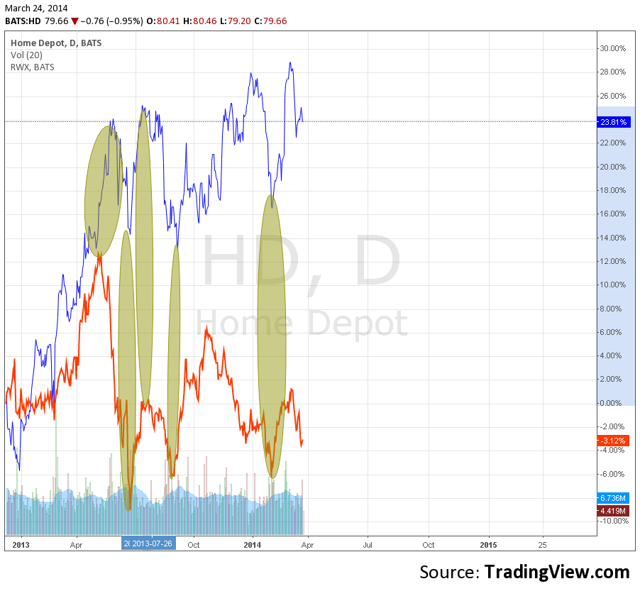 Notice when comparing the two graphs, HD has a higher correlation with retail than it does wit real estate. Comparing HD with real estate is mostly helpful when there are higher peaks and troughs in RWX. RWX is currently performing to macro economic news lead by Janet Yellen and the FED's recent public addresses. However, as home sales numbers start coming in RWX and real estate will start making higher gains. This along with more retail sales will send the stock higher.
Financials:
During 2013 HD increased sales by 5.4% and EPS by ~25%. Main reason for increased sales is due to a recovering 2013 economy even though HD suffered ~$100 million sales loss due to the harsh winter. HD also bought back more than $8 billion worth of shares. The company stated that it expects a 4.8% increase in sales in 2014 along with a 16% increase in EPS. HD also announced they plan to continue share repurchases totaling $5 billion in 2014. As mentioned by HD, these figures are very conservative considering the expectations for real estate and retail in 2014 and beyond. If retail and real estate perform in line with expectations, these figures will be much higher, sending the stock to new highs this year. The following is my expectation for HD for the upcoming years accounting for higher sales growth and slightly higher operating margins.
Note: Amounts in Millions except EPS and Stock Price
| | | | | |
| --- | --- | --- | --- | --- |
| HD | 2013 | 2014 | 2015 | 2016 |
| Total Sales | $78,812 | $83,462 | $88,470 | $93,778 |
| Operating Income | $9,166 | $10,015 | $10,616 | $11,253 |
| EPS | $3.76 | $4.40 | $4.86 | $5.38 |
| Stock Price | $80.98 | $89.45 | $102.22 | $114.49 |
These values are derived based on the assumption total sales increases by 5.7-6.1% every year and share repurchases continue to be around 4.4%. The value of the stock is derived by using a future PE ratio of 18-19. Based on my findings, these are still conservative figures but still provide an attractive investment and opportunity to be long retail and real estate. HD also pays a nice 2.36% dividend.
Technicals: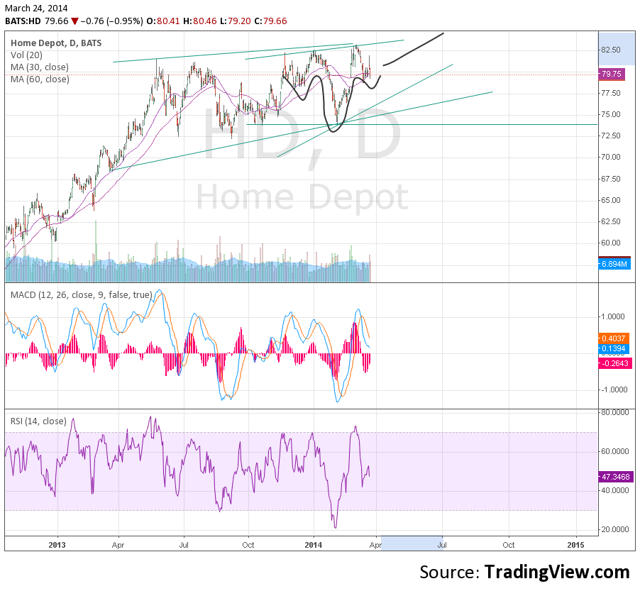 Analyzing the technicals shows the current stock price may be a good time to enter long. The stock has a wedge pattern as well as an upside down "head and shoulders". This pattern typically precedes larger gains. The stock is also showing signs of consolidation at current levels and is trading below any MA support levels. A short term break out may happen in the short term as early as this week depending on macro events.
Conclusion:
I am long retail and real estate in 2014 and years to come. Home Depot is a nice way to play both those industries and possibly beat the retail and real estate indices. HD offers a relatively safe investment when looking at risk to reward as liquidity ratios improved in 2013 and expect to be even better going forward. With a strong balance sheet, cash flows, sales growth and dividend yield, HD is a nice stock to have in your portfolio.
Disclosure: I have no positions in any stocks mentioned, but may initiate a long position in HD over the next 72 hours. I wrote this article myself, and it expresses my own opinions. I am not receiving compensation for it (other than from Seeking Alpha). I have no business relationship with any company whose stock is mentioned in this article.