A few months ago, we established a long position in an emerging micro-cap called OXiGENE Inc. (OXGN). This company operates in the biopharmaceutical industry, has a $55 million market cap and is listed on the NASDAQ. The chief reason that we initiated a long position is that we believe OXiGENE's ovarian cancer drug, ZYBRESTAT, has shown enough potential in clinical trials to warrant a partnership or buyout by a major pharmaceutical company in the coming months. The company's three pipeline developments are:
1. ZYBRESTAT Combination therapies for the treatment of ovarian cancer and anaplastic thyroid cancer (ATC)
2. ZYBRESTAT Single-Agent Therapy for neuroendocrine tumors with carcinoid syndrome
3. OXI4503 Single-Agent Therapy for refractory acute myelogenous leukemia (AML) and myelodysplastic syndrome (MDS)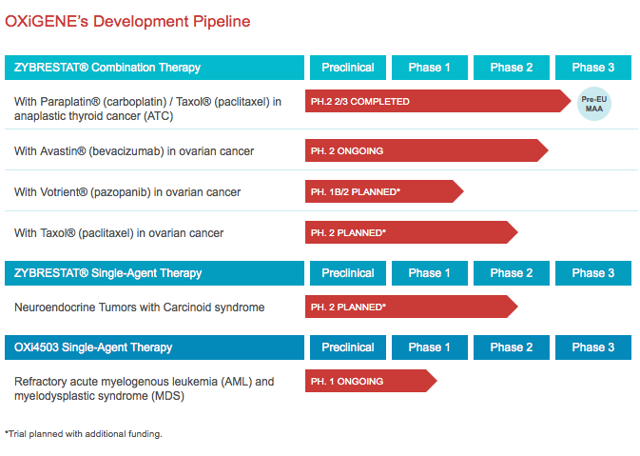 (Source: www.oxigene.com/product-development)
These clinical developments address large, underserved markets. For example, the global ovarian cancer drug market alone is worth more than $19 billion, which is expected to rise to $35 billion by 2018.
Countless hours of research and due diligence have convinced us that today's $3.48 share price doesn't reflect the company's true value. Shares could trade higher in the months to come as the company may consider strategic alternatives. This seems more likely due to the recent failure of Roche's (OTCQX:RHHBY) cancer drug, MetMab, which didn't meet the phase III study's primary endpoint, as there is more pressure on the company to explore other ways to enter the cancer drug market. With limited options, approaching OXiGENE with a buyout or partnership could be opportune.
Our previous biopharmaceutical picks worked out well
Our past recommendations demonstrate the great potential for undervalued biopharmaceutical plays. For instance, we happened to inform investors of the long opportunity in Synthetic Biologics (NYSEMKT:SYN) when it was trading at $.95. This company, just like OXiGENE last month, suffered from a secondary offering that saw its share price sharply decline by more than 30% in December. But with impressive drug candidates and outstanding management, the company managed to reverse this loss and propel the share price to 3-year highs of $3.60 last week, which represents more than a 3X return on our original investment. Synthetic is now one of the most closely followed stocks in the biopharmaceutical sector. Another company we recommended earlier this month was Aastrom Biosciences (ASTM) at $3.50. As of last week, shares traded at $6.49. While those who didn't realize these opportunities missed out on large returns, we believe that OXiGENE has similar potential.
High trading volatility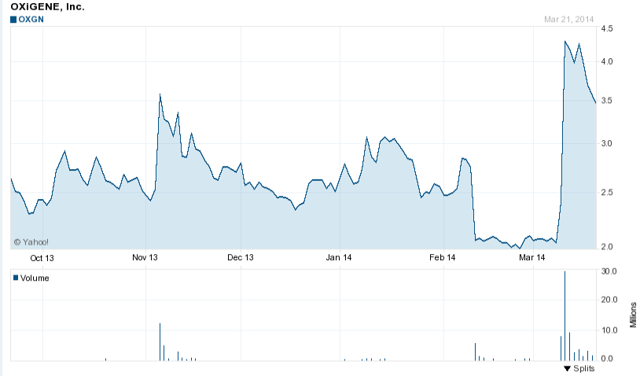 (Source: finance.yahoo.com)
It's difficult to tell whether this image represents a stock chart or earthquake data from the Richter Scale. We attribute the enormous volatility to a series of 'love-hate' events over the last several months. First, OXiGENE conducted a $12 million public offering on February 12. The share price subsequently plummeted 27% to $1.96, and then developed a coiling pattern around a support of $2.06. Second, to the surprise of Wall Street, the company later announced positive results from a Phase II study on their experimental ovarian cancer drug, ZYBRESTAT, on March 11. The share price rose 150% to a high of $6.00 in after-hours that day, only to decline by more than 80% to $3.48 seemingly under heavy manipulation. Nevertheless, this downtrend is typical in most micro-cap biotech stocks after positive Phase II and other clinical announcements because investors are quick to take profits and short positions accumulate. For example, Chelsea Therapeutics (NASDAQ:CHTP) rose 49% to $6.20 the day they announced that Northera was given accelerated FDA approval, but fell $1 to $5.20 over the next month. Another company is Opexa Therapeutics (NASDAQ:OPXA), which announced a Multiple Sclerosis trial enrollment update that popped shares by more than 50%. Unfortunately, for investors, those gains were obliterated after they announced a public offering the next day.
To investors who bought into OXiGENE in the $4-5 range, the decline in share price shouldn't raise an alarm as we believe that this will reverse going into the AACR Conference next month. The company is expected to present a more detailed analysis of ZYBRESTAT that will hopefully further illuminate the drug's effectiveness in treating ovarian cancer. According to Peter J. Langecker, Chief Executive Officer (CEO) of OXiGENE,
We believe that this is the first time that any VDA has shown a statistically significant benefit in a clinically meaningful and validated endpoint. We also believe that this is the watershed moment for our company.
This statement from the company's Q4 2013 earnings webcast certainly sparked a lot of excitement. We'll soon know whether or not that excitement is warranted.
Why ZYBRESTAT could be an important treatment for ovarian cancer
There are five main challenges to treating ovarian cancer that doctors and pharmaceutical companies would like to resolve:
The available treatment options are both limited and harmful depending on the condition of the patients
There's a lack of early detection tests which dramatically reduces the patient survival rate
Survival rates are reduced to as low as 30% due to a high risk of recurrence in post-stage 1 cancer patients
Current FDA-Approved anticancer drugs don't target the root cause of the disease (the tumor's vascular structure), leaving a greater likelihood of recurrence
Out of over 22,000 new cases in women this year, approximately 15,000 will die of the disease
While these challenges are significant, we believe that OXiGENE could be positioned to address them because its lead drug therapy is unique, advanced and effective in attacking the foundation of ovarian cancer. As we concluded from our research, this is an attribute that no cancer drug on the market can claim.
ZYBRESTAT as a Vascular Disrupting Agent (VDA)
As a VDA, ZYBRESTAT joins a new class of anti-cancer drugs that attack one of the root sources of ovarian cancer. Unlike angiogenesis inhibitors, which are designed to attack the growth of new blood vessels that allow tumors to develop, VDAs attack the established blood vessel network within a tumor, "thereby starving tumors of oxygen and essential nutrients," according to OXiGENE's website. This important component of VDAs gives doctors the means to address already established tumors rather than being limited to preventing metastasis (or tumor spreading).
ZYBRESTAT, or combretastatin A4 phosphate, has a dual-mode of action by which it targets both VE-cadherin, a junction protein that's pivotal for endothelial cell survival, and the associated beta-catenin/AKT signaling pathway. When activated in the endothelial cell, the drug leads to rapid collapse and necrosis of the tumor's vascular structure. Combretastatin also causes structural changes in the tumor-associated endothelial cell. In effect, the endothelial cell loses its flat shape and becomes round, which is visible in the cross-section of the solid tumor below: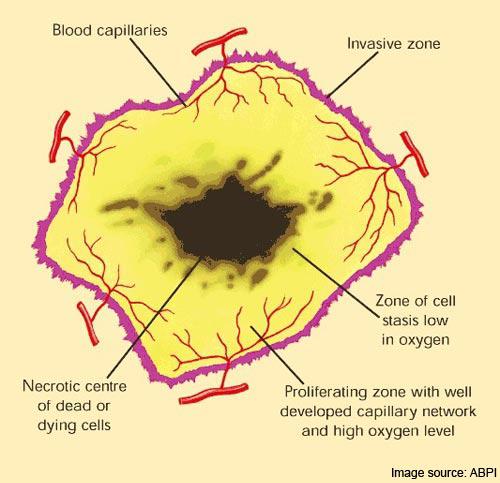 (Source: www.drugdevelopment-technology.com)
Scientists are encouraged by the necrotic centre of dead or dying cells as a result of low oxygen supply induced by ZYBRESTAT. Ideally, they want to see more necrosis within the cell, which means a reduction of the proliferating zone (the yellow area surrounding the black centre) where high oxygen levels enable the development of capillary networks. By not depriving this cell subsection of oxygen, ZYBRESTAT allows new tumors to form. This is a serious limitation of all NDAs since they can only target one important component of tumor survival, but fail to prevent metastasis along the rim of the tumor. In other words, the drug kills pre-existing tumors but allows others to form, which demonstrates that it isn't an effective monotherapy for ovarian cancer because it can only address half of the problem. This is the reason why OXiGENE is pursuing a ZYBRESTAT combination trial with Roche's angiogenesis inhibitor, Avastin.
The ZYBRESTAT/Avastin combination
According to Dr. Lengecker, "this is the first study to evaluate the combination of a vascular disrupting agent and an anti-angiogenesis agent in humans." This is important because the successful combination of angiogenesis and vascular disrupting agents could lead to a treatment that can target both already established and developing tumors. In layman's terms, the treatment could potentially stop the progression of ovarian cancer altogether. Let's talk more about the Phase II study that was recently completed on this combination in order to gain more insight.
Conducted by Gynecologic Oncology Group, the study enrolled 107 women with platinum-sensitive and resistant, recurrent ovarian cancer. Researchers randomized patient treatments of either Avastin alone, or the combination of ZYBRESTAT and Avastin to determine whether there is a statistically significant reduction of tumor regrowth or death (progression-free survival) in those patients treated with the drug combination compared to Avastin alone. This primary endpoint was met, as the combination of ZYBRESTAT and Avastin reportedly reduced the risk of tumor regrowth or death by 32%, which is statistically significant compared to Avastin alone. Neither of the treatments incorporated cytotoxic chemotherapy, which is important since it validates the legitimacy of OXiGENE's novel treatment for ovarian cancer. Furthermore, Dr. Lengecker had this to say about the study results:
We are very excited about these positive results and greatly appreciate all the patients who enrolled in this study and the support, resources and commitment of GOG and CTEP to conduct this important program. ZYBRESTAT is the first vascular disrupting agent to show a statistically significant progression-free survival benefit, and we are evaluating next steps to advance this combination to patients in need.
While we are encouraged by the CEO's optimism about the positive topline results and what this could potentially mean for the future treatment of ovarian cancer, we agree with Adam Feuerstein in that the company released only a small snippet of the crucial results from the Phase II study. From the FDA's perspective, the most important information is the median progression-free survival for the patients in the study, which is a statistic that OXiGENE didn't decide to release in their initial report. This, of course, doesn't suggest that the company is attempting to hide damaging information about the study, but it does mean that we can't fully endorse ZYBRESTAT until we know more.
As Mr. Feuerstein notes, "convincing FDA to approve a drug for ovarian cancer that doesn't help patients live longer is a real challenge." He displays the extent of this challenge by referencing how Roche's Avastin isn't approved in the U.S. despite its ability to reduce the risk of tumor regrowth or death by 52%. The sole reason that Roche didn't pursue FDA approval was that their Phase III study of the Avastin/chemotherapy combination failed to show a statistically increased progression-free survival among patients compared to chemotherapy alone. However, Roche currently markets the drug in Europe after regulators were convinced that the study results warranted approval. And given that Avastin generates $6 billion a year in sales, the pursuit of a more effective combination cancer therapy could prove lucrative for OXiGENE.
Where the company stands
As it stands prior to the full release of the ZYBRESTAT/Avastin Phase II data, investors should feel comforted by the fact that Avastin is already approved in Europe for the treatment of ovarian cancer. Thus, we believe that since the ZYBRESTAT/Avastin combination reduces the risk of tumor regrowth or death by 32% compared to Avastin alone, the European Medicines Agency (NYSEMKT:EMA) could likely approve it. As far as the topline results show, there should be no reason to warrant rejection of the therapy by the EMA, regardless of whether it fails to significantly increase the overall survival of ovarian cancer patients compared to Avastin alone. We affirm this stance based on the EMA's decision to approve Avastin despite the fact that the drug doesn't increase patient survival and fell under the scrutiny of members of the FDA advisory committee who claimed that it doesn't help women with ovarian cancer. In fact, they believe that the drug exposes women to dangerous side effects including hemorrhages, high blood pressure, and gastrointestinal perforations.
The difference between the side effects of Avastin alone, and the Avastin/ZYBRESTAT combination therapy is that the latter demonstrated a higher incidence of hypertension. However, this problem was effectively addressed through antihypertensive treatments and did not endanger the Phase II study (otherwise it would have been terminated), leading us to believe that the side effect variation between both therapies isn't significant enough to warrant EMA rejection of ZYBRESTAT/Avastin. Again, we will know more about the secondary endpoint results when the company releases them at the upcoming conference in early April.
On the other hand, a Seeking Alpha article written in May of 2013 by Vanessa Burns et. al titled "OXiGENE's Oncology Drugs Have Run Their Course," highlights important concerns about the company's uncertain pipeline and prospect of regulatory approval for ZYBRESTAT:
As a therapeutic class, VDAs have had limited success in clinical trials, and ZYBRESTAT is not an exception. OXiGENE's regulatory strategy in pursuing orphan indications backfired when it was unable to continue a clinical trial for ATC in the U.S. due to a small patient population. The prospect of regulatory approval in the EU is unclear and expected to come through no sooner than 2015.
These concerns should be revised due to the company's updated pipeline developments. Specifically, while it's true that single treatment VDAs have suffered from adversity in clinical trials, ZYBRESTAT proves to be an exception when combined with Avastin for the treatment of ovarian cancer (see Phase II topline results). It should be noted that Burns et al. also express concern about how VDAs show relative ineffectiveness as monotherapies in oncology; however, OXiGENE is pursuing an unprecedented VDA/angiogenesis combination therapy that demonstrates significantly greater efficacy in reducing the risk of tumor regrowth or death compared to some single treatment, non-VDAs (e.g., Avastin). As a result, we believe that the ZYBRESTAT/Avastin combination could be an effective therapy for ovarian cancer despite the fact that ZYBRESTAT isn't an effective monotherapy. As we explained above, NDAs are confined to attacking already established tumors, so it shouldn't be surprising that ZYBRESTAT isn't an effective therapy alone. Accordingly, the company has revised their pipeline development strategy as it's not pursuing ZYBRESTAT as a monotherapy for this disease at this point (see pipeline diagram above).
Concerning the NDA process for ZYBRESTAT/Avastin, the company hasn't released whether the overall patient survival was significantly increased by the treatment of the study, so we can't jump to any conclusion as to the likelihood of FDA approval assuming the additional need for a much larger Phase III study. However, recent developments surrounding the EMA status of other cancer drugs show promising signs for the company.
On March 21, Merck (NYSE:MRK) and Endocyte (NASDAQ:ECYT) announced that they received CHMP positive opinions for VYNFINIT (Vintafolide) and FOLCEPRI and NEOCEPRI in patients with platinum-resistant ovarian cancer. This result was based on the back of a Phase II trial. This bodes well for OXiGENE as it could seek EMA Conditional Marketing Authorization for their therapy without initiating a Phase III trial given that the early door to market in Europe is already cracked open. Also, Vintafolide has four significant limitations that ZYBRESTAT doesn't:
Vintafolide is a chemotherapy agent
It requires a companion diagnostic to identify eligible candidates
The drug is only applicable in approximately 26% of ovarian incidence
Progression-free survival is only reduced 25% compared to 32% when using ZYBRESTAT/Avastin.
In the event of EMA approval of OXiGENE's ZYBRESTAT/Avastin therapy for ovarian cancer (which would happen no later than 2015), we believe that the share price could rise dramatically as major pharmaceutical companies are trying to tap into this underserved market. Recall that the ZYBRESTAT/Avastin Phase II study showed that the Avastin single therapy is 32% less effective in reducing the risk of tumor regrowth or death than the ZYBRESTAT/Avastin combination therapy. Because the combination therapy targets tumor growth more effectively, we believe that doctors are more likely to endorse it over Avastin alone since it could significantly reduce the cancer recurrence rate. Said another way, we have concluded that ZYBRESTAT/Avastin is simply a superior cancer treatment than Avastin alone, and other than the higher incidence of hypertension in the former treatment (which isn't a serious issue), our research has provided us with no reason to suspect that doctors would prescribe the less effective treatment in Avastin. As a result, it's possible that Roche could lose sales of Avastin to this combination treatment in the years to come.
In order to demonstrate, consider the possibility that the company's therapy generates $50 million in revenue in its first year on the European market. After expenses ($8 million cash burn each year and drug related expenses) this would increase the market cap by as much as 100%, representing a base share price of around $7. As of Friday's close of $3.48, this represents more than a 100% upside. Also, it's important to note that ZYBRESTAT/Avastin is one of two therapies that are past Phase II trials. OXiGENE's ZYBRESTAT combination treatment for ATC is pre-EU MMA. If approved, this could also generate significant revenue for the company. Thus, the upside could potentially be much greater than 100% of Friday's close.
The company's primary treatment would be more appealing to major pharmaceutical companies if it shows that it significantly increases overall patient survival compared to Avastin alone because it would legitimize its chances of FDA approval--a feat that Roche has yet to accomplish for Avastin. Regardless, it would seem that the longer Roche waits to approach OXiGENE with a buyout offer, the more money they would be forced to cough up.
Weak financials
Another concern of Burns et. al is the company's weak financials: "Without a significant influx of cash, partnership, or acquisition, OXiGENE will be unable to sustain their clinical trials and research past Q1 2014." With a $12 public offering conducted on February 12, the company has stated that they won't need to raise additional cash any time soon. They now have approximately $25 million of cash on hand after exercising 2.9 million warrants, with a cash burn rate of around $8 million per year. This indicates that they have enough funds to last them roughly 3 years, which could easily be much less if they increase expenses by conducting drug manufacturing, distribution, and advertisement operations in the event that the company markets their drugs alone. Without a doubt, the high cash burn rate and the fact that the company has spent around $230 million to get this far with no tangible results are both of real concern to investors. Added to these unattractive financials is a macroscopic, discouraging perspective of how the company isn't positioned to advance its drug pipeline:
The company only has 9 employees
They lack the facilities and manpower to manufacture their drugs
Their current cash balance is neither sufficient to conduct Phase III drug trials nor the development of newer drug candidates
The company has only one facility and its lease expires June 30, 2014
Currently, they have no FDA or EMA-approved drug
Needless to say, the success of the company is contingent on EMA approval of ZYBRESTAT/Avastin and the NDA process. If it fails to market a cancer therapy in the near future either in the U.S. or Europe, the company could be forced to cease regular business operations and forfeit its promising pipeline.
Conclusion
Given their financial circumstances and the serious risks involved with 'lone-wolf' strategies, we think that OXiGENE could be waving the "for-sale" sign. While it's certainly possible that the company will attempt to market their drugs alone or with a Big Pharma partner, such tasks would require additional share dilution that could make life a living hell for investors, even more so than it already is. It's difficult to forget that the company once traded around $500 a share, and has now plummeted to the $3.40s after countless rounds of dilution and a series of negative clinical findings. We, however, are more inclined to believe that the company won't take this route and opt for what could create more shareholder value in the short term. More importantly, a buyout will also give their novel cancer therapies the best chance to help patients with this deadly disease. Now that is a cause that we want to invest in.
Disclosure: I am long OXGN, SYN. I wrote this article myself, and it expresses my own opinions. I am not receiving compensation for it (other than from Seeking Alpha). I have no business relationship with any company whose stock is mentioned in this article.
Editor's Note: This article covers one or more stocks trading at less than $1 per share and/or with less than a $100 million market cap. Please be aware of the risks associated with these stocks.