It looks as if there is no stop for Johnson & Johnson (NYSE:JNJ). The company's stock price made a new 52-week high and investors are buying the company's shares like there is no tomorrow. Many people are now wondering whether they missed the train and whether it is now too late to buy this company since it has rallied so much in the recent years.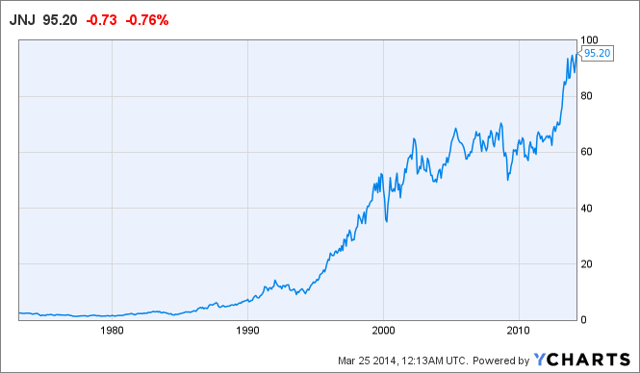 Even though the company's rally in the last few years is extraordinarily strong, it didn't come out of blue. After all, this is a company that continues to grow its revenues and earnings year after year at a time many drug companies are struggling with adding new revenue sources as their patents keep expiring. It is true that Johnson & Johnson had some mess-ups in the last few years; however, most of this seems to be behind us by now. The chart below shows the revenue growth of the company over the years. If we don't count a small period in early 2000s and the Great Recession of 2008, the company's revenue growth has been very consistent and predictable over the years.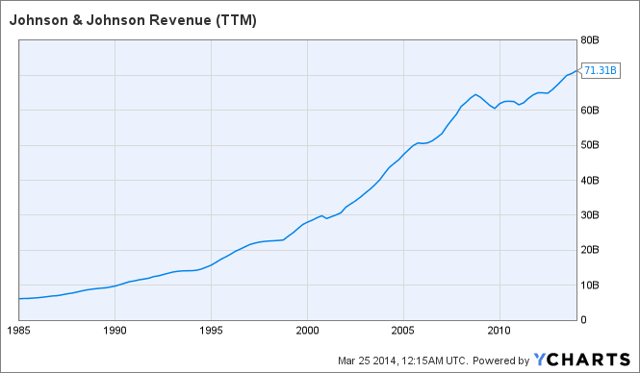 Moreover, the company has also been able to grow its earnings over the years. In mid-to-late 1990s, JNJ passed $1 per share for the first time and the investors did not have to wait for less than a decade for the company to pass $2 per share. By 2006, the company was earning more than $3 per share and in the next few years, $4 per share was breached. While the lawsuit drama of the last couple years hurt the company's net income for a short term, things are back on track as the company is at just 2 cents short of $5 per share as of the last 12 months (normalized earnings per diluted share). This is pretty impressive.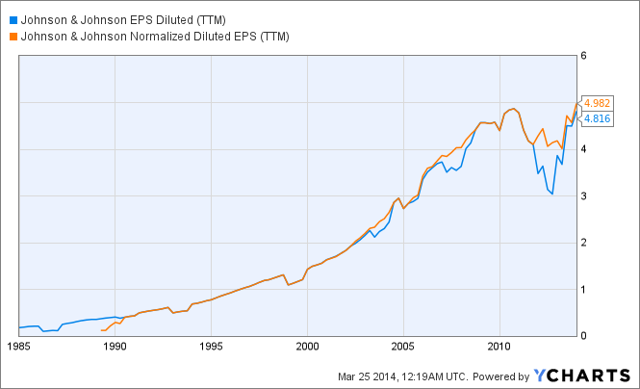 After peaking at a little above 72%, the company's gross margin declined for about 6 years in a row until it found a bottom below 68%. In the last year, there has been improvements on the company's gross margins and we saw an improving trend for the first time since 2006. In the last twelve months, JNJ's gross margin was nearly 69% and there is still plenty of room to run up if the current trend upholds.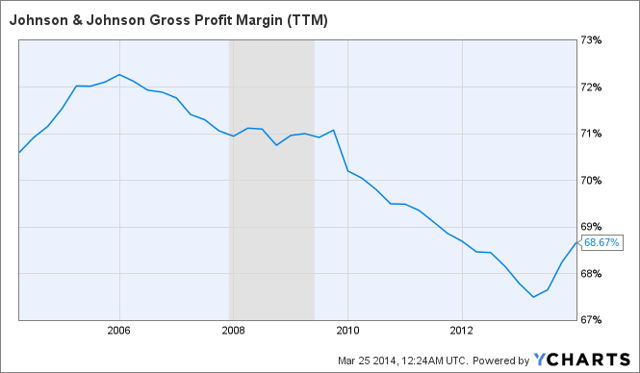 Meanwhile, the company's operating margins continued to fluctuate up and down in the last decade. In the mid 2000s, the company's operating margin found its peak at 27% after which it quickly fell to 22% due to the Great Recession. After the recession, the company's operations become more efficient and the margins climbed back to where they were prior to the recession. In the recent years, the operating margins started to decline again but they seemed to have found a bottom at 23.50%. Currently, JNJ's operating margin of 25.77% is only about 1.25% away from its peak and the trend is upwards.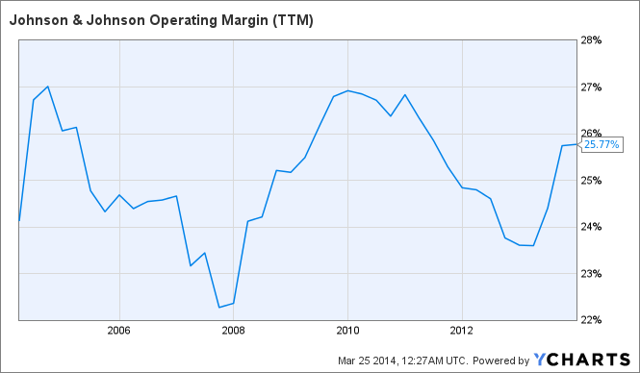 Speaking of operations, it would be wise to also look at the cash JNJ generates from its operations to have a better idea about the company's profitability. In the last 12 months, JNJ generated $17.41 billion of cash from its operations which is very close to the peak of $17.95 billion for the company. Notice that the company now generates far more cash from its operations than it did prior to the Great Recession, and the trend is still looking upwards. Of course, I don't need to say that this can't be bad at all for the investors. Will JNJ be able to generate more than $18 billion from operations next year? If the current trend upholds, it is very possible.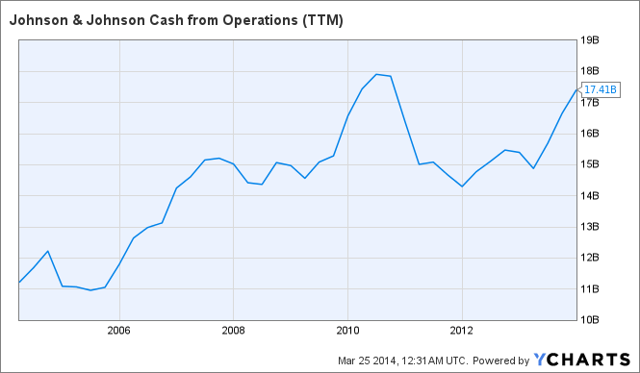 And of course, at the end of the day, it's all about net profits. This is another metric that is recovering for JNJ. Historically, JNJ enjoyed a profit margin of 20% which fell to just short of 18% during the Great Recession and to 13% a couple years ago; however, recovery is underway and we are currently looking at a net profit margin is 19.40%. There is still room to go up since we saw the company's profit margin approach to values as high as 22% before, and there is very little reason why it can't be achieved again.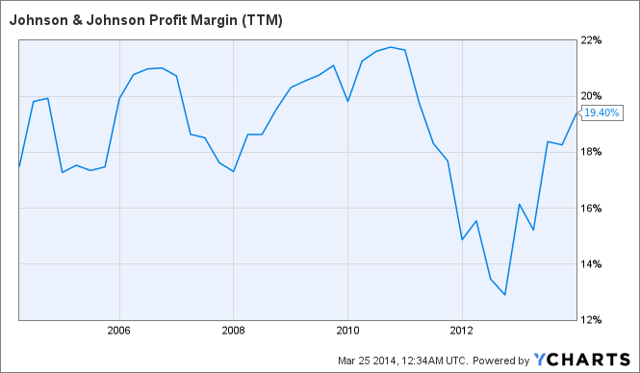 If the company grows its revenues by 5% in the next 3 years (which is pretty modest and in line with the past trends), it will be looking at $74.87 billion for this year, $78.61 billion for 2015 and $82.54 billion in 2016. If we look at continued improvements in gross margins (at 69%), we will see gross profits at $51.66 billion, $54.24 billion and $56.95 billion in the next 3 years. If JNJ's profit margin keeps up with historical averages, the company will be earning $14.97 billion, $15.72 billion and $16.51 billion in the next 3 years. If the profit margins improve to where they were in 2010, we will be looking at net profits of $16.47 billion, $17.29 billion and $18.16 billion in the next 3 years. If the company is able to reduce its diluted share count by an average of 1% per year, we will be looking at 2.70 billion diluted shares by 2016. Basically, the company's per share profits should range between $6.12 and $6.73, which should give us forward P/Es of 14 and 16. This is not bad for a large pharmaceutical company that continues to grow its revenues year after year.
Historically speaking, JNJ's trailing P/E ratio and normalized P/E ratio usually ranged between 20 and 25 while the company's price to operating cash flow ratio tended to be near 20 and its price to free cash flow ratio tended to be near 25. Today, all of these ratios are below historical averages, which tells us that despite the strong rally of the last couple years, the company is still not expensive.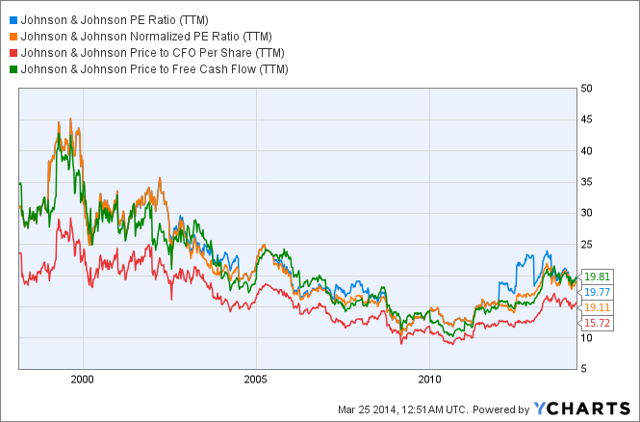 JNJ PE Ratio (TTM) data by YCharts
Disclosure: I am long JNJ. I wrote this article myself, and it expresses my own opinions. I am not receiving compensation for it (other than from Seeking Alpha). I have no business relationship with any company whose stock is mentioned in this article.