On April 7, the 180 day lockup period, following the October 8, 2013 IPO of LDR Holding Corp. (NASDAQ:LDRH) will come to an end, allowing the spinal medical device firm's significant pre-IPO shareholders to sell their outstanding shares.
These shareholders include venture capital firms and financial holding firms; LDRH's executives and directors will also be able to sell their shares at the time of the lockup expiration. The sudden boost to the supply of LDRH shares available on the market after the unlocking will likely cause a temporary decrease in the price of shares, and may lead to a short opportunity for aggressive investors.
The firm's IPO landed within the expected price range at $15 per share, and the stock has been growing steadily ever since. LDRH has seen particularly strong gains in February and March, reaching as high as $40.39 per share; the stock closed at $36.10 per share on March 21.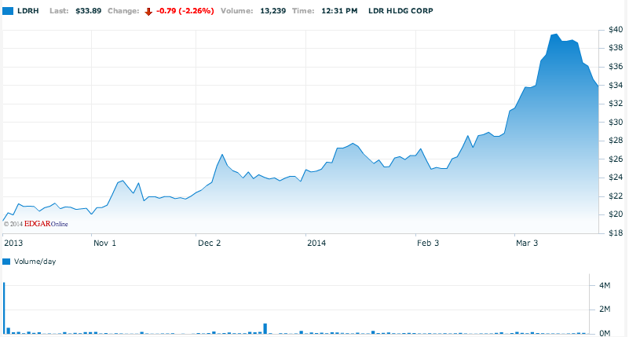 (Nasdaq.com)
Share Unlocking
Approximately 17.7 million shares of LDRH will be unlocked for sale on April 7, a massive increase over the 5.0 million shares sold in the firm's IPO. The venture capital firms that hold many of these shares will likely choose to sell at least some of their stakes in LDRH in order to raise capital and return funds to their investors, while prices are still flying high.
Significant shareholders include Paris Orleans SCA with 3.7 million shares; Austin Ventures VIII LP with 3.2 million shares; Telegraph Hill Partners, with 3.1 million shares; and PTV Sciences with 2.0 million shares. The firm's directors and executives may also likely choose to sell some of their shares given the high current prices and fact that they have had no opportunity to sell their shares during the past six months.
Business Summary
LDRH is a medical device firm best known for designing and commercializing two spinal treatment platforms, the Mobi non-fusion and VerteBRIDGE fusion platforms, designed for treatments in both the lumbar and cervical spine. VerteBRIDGE products have been applied in more than 30,000 device implantations since the platform was launched in 2007. The Mobi-C device recently entered the American market after some 17,000 procedures globally, and has quickly gained traction with the American spinal care community, leading in large part to the firm's impressive fourth quarter earnings report and stock gains. For additional business information, see our previous article.
Competition
LDRH's platforms face competition from numerous other companies focused on the spine market. Large competitors include Medtronic Spine and Biologics (NYSE:MDT), Johnson and Johnson (NYSE:JNJ), Stryker (NYSE:SYK), Nuvasive (NASDAQ:NUVA), and Globus Medical (NYSE:GMED). LDRH also competes with smaller firms including Alphatec Spine (NASDAQ:ATEC), Integra, and Zimmer.
Disclosure: I am short LDRH. I wrote this article myself, and it expresses my own opinions. I am not receiving compensation for it (other than from Seeking Alpha). I have no business relationship with any company whose stock is mentioned in this article.