The series now moves on to the sixth sector, as this week's circular will identify "Blue Light Specials" that can be found in the Industrials Sector of the stock market.
3. Energy
4. Financials
5. Health Care
6. Industrials
7. Information Technology
8. Materials
9. Telecommunications
10. Utilities
Sector #6 - Industrials
Investopedia defines the Industrials Sector as:
A category of stocks that relate to producing goods used in construction and manufacturing. This sector includes companies involved with aerospace and defense, industrial machinery, tools, lumber production, construction, cement and metal fabrication.

Performance in the industrial goods sector is largely driven by supply and demand for building construction - residential, commercial and industrial - as well as the demand for manufactured products. When the economy contracts and consumers save more and spend less, activity in this sector drops because companies will postpone expansion and produce fewer goods.

The performance of the industrial goods sector closely follows the performance of the S&P 500.
The Industrials Sector is a significant portion of the CCC List, as it represents 74 of the 488 members (15%) of the list. Some of the types of businesses included in this sector are conglomerates, industrial equipment, business services, office supplies, electronics, aerospace & defense, transportation, railroads, airlines, and machinery.
Even with a larger base of stocks to chose from, and a diversified mix businesses types in the sector, it was still fairly difficult to find attractive candidates for this week's list. While there are some trading near fair value, it was difficult to find any steep discounts at the current time.
However, I was still able to find 5 companies that are worth considering for further due diligence. Information below was collected from Yahoo Finance and David Fish's CCC List.
| | | | | | | | | |
| --- | --- | --- | --- | --- | --- | --- | --- | --- |
| Company | Symbol | Sub-Industry | Price | P/E | Dividend | Yield | 5YR DGR | 10YR DGR |
| AOS Smith Corp. | (NYSE:AOS) | Industrial Equipment | $45.46 | 24.8 | $0.60 | 1.32% | 13.30% | 9.10% |
| Cummins Inc. | (NYSE:CMI) | Machinery | $144.35 | 18.2 | $2.50 | 1.73% | 30.30% | 22.30% |
| CSX Corp. | (NYSE:CSX) | Railroad | $28.76 | 15.7 | $0.60 | 2.09% | 18.10% | 24.40% |
| Lockheed Martin Corp. | (NYSE:LMT) | Aerospace/Defense | $157.40 | 17.2 | $5.32 | 3.38% | 21.20% | 23.50% |
| Robert Half International, Inc. | (NYSE:RHI) | Business Services | $42.47 | 23.2 | $0.72 | 1.70% | 7.80% | NA |
A.O. Smith Corp. (AOS) manufactures and sells water heaters and boilers to residential and commercial markets in North America, China, Europe, India, and the Middle East. The company offers natural gas, propane, solar tank, gas tankless, and electric water heaters that are used in residences, restaurants, hotels, laundries, car washes and small business. It also offers boilers for space heating applications in hospitals, schools, hotels, and other large commercial buildings. The company is headquartered in Milwaukee, Wisconsin.
A.O. Smith is a member of the Dividend Contenders List, having raised its dividend for the last 21 years with an average increase over the last 5 years of 13.8%. This trend continued in January as the company announced a 25% increase, which provides the current payout of $0.15 per quarter.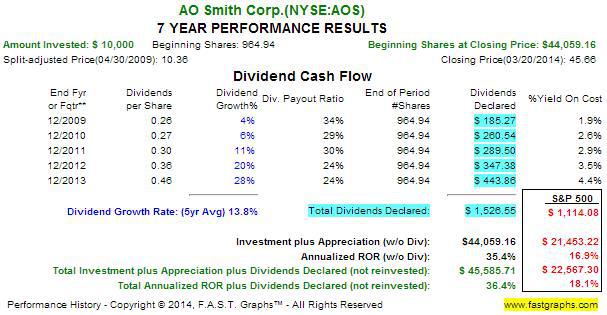 AO Smith has rewarded shareholders with an outstanding return of 36.4% annually since 2009. These capital gains were powered by consistent earnings growth, with the company increasing earnings by 27.6% over the same period.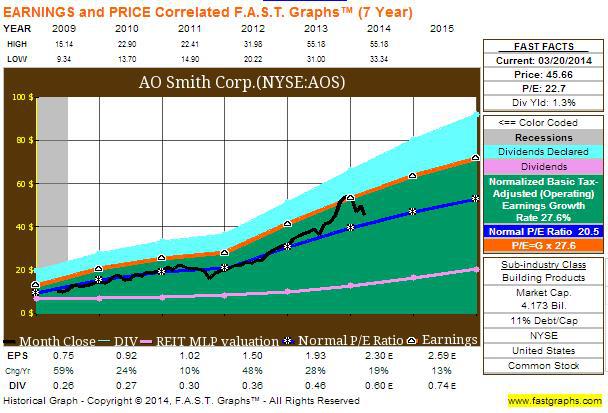 Analysts project similar growth rates ahead, as they are forecasting earnings growth of 23% per year for the next 5 years. The company has a net cash position of $294M and is forecasting operating cash flow of around $240M in 2014. With the company trading at a market cap of just $4.2B, the strong cash flow should allow for continued dividend increases and share buybacks.
Cummins Inc. (CMI) designs, manufactures, distributes, and services diesel and natural gas engines and engine-related component products. The company operates in four segments: Engine, Components, Power Generation, and Distribution. It sells its products to original equipment manufacturers, distributors, and other customers worldwide. Cummins was founded in 1919 and is headquartered in Columbus, Indiana.
Cummins is a member of the Dividend Challengers List as it has raised its dividend for 8 consecutive years. The company last raised its dividend by 25% in July of 2013 and has a 5 year CAGR of the dividend of 30.3%.
Cummins is a great example of how high dividend growth can lead to large gains over the course of time. While the yield at purchase was a pedestrian 2.5%, a 23.4% average increase in the dividend payout over the decade resulted in an 18.4% yield on cost at the end of the period. With dividends reinvested, this number jumps to 21.2% with an annualized rate of return of 29.2%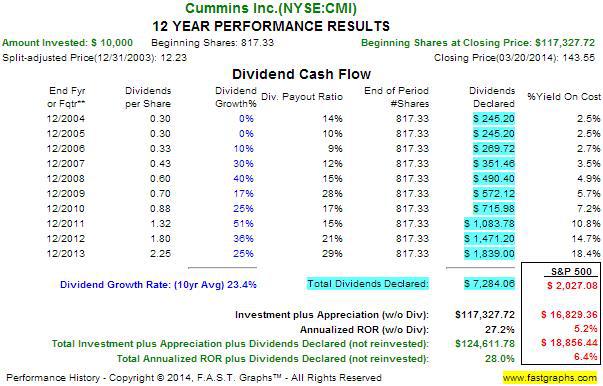 Cummins has an excellent track record of strong earnings growth, especially when considering it resides in a generally cyclical type of product space. While the company struggled along with the rest of the economy during the 2008-2009 recession, earnings have rebounded strongly and are projected to reach over $10 per share in 2015.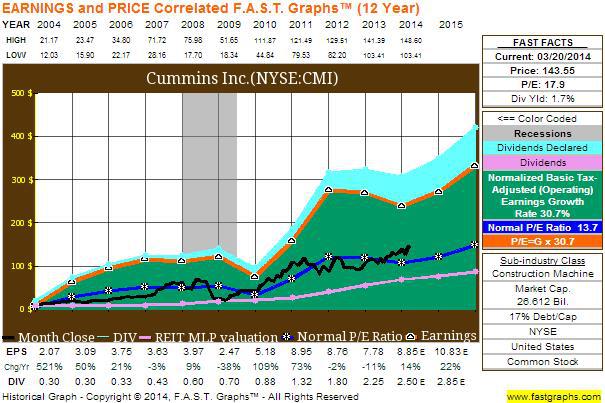 After a downturn in earnings in 2013, analysts are projecting the company to return to greater than double digit growth over the next 5 years.
CSX Corp. (CSX) provides rail-based transportation services in the United States and Canada. It offers traditional rail services and transports intermodal containers and trailers. The company transports crushed stone, sand and gravel, metal, phosphate, fertilizer, food, consumer, agricultural, automotive, paper, and chemical products. It also transports coal, coke, and iron ore to electricity-generating power plants, steel manufacturers, industrial plants, and deep-water port facilities. The company operates approximately 21,000 route mile rail across 23 states east of the Mississippi River and the Canadian provinces of Ontario and Quebec. The company was founded in 1978 and is based in Jacksonville, Florida.
CSX is a member of the Dividend Challenger List, having raised its dividend for 9 consecutive years, with an average increase over the last decade of 25.9%. The company has paid $0.15 for each of the last four dividend payouts, so it is expected to increase the rate with the next dividend announcement.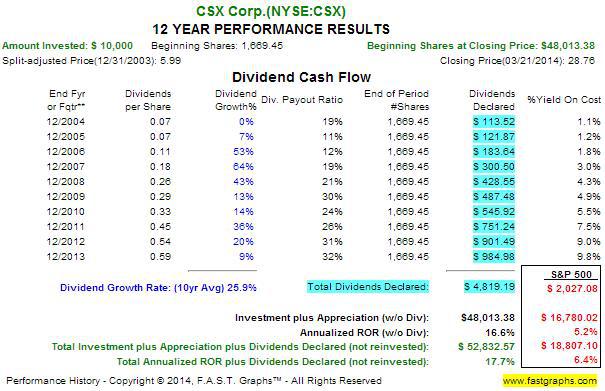 As you can see below, the company has been a consistent grower of earnings, as it has provided a 16.2% annual increase since 2004. The dividend growth rate has been higher than earnings growth, as the company has grown the payout ratio from the teens to around thirty percent over the period.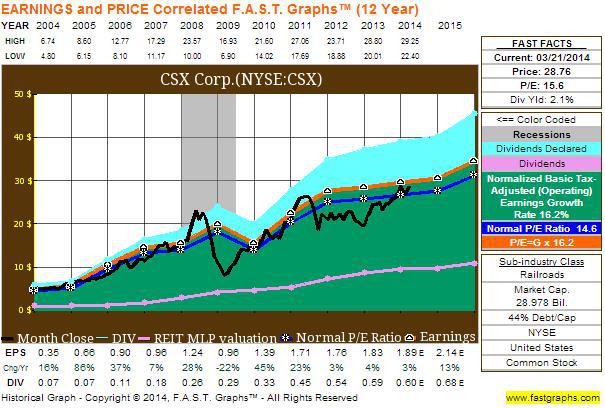 During the 2013 Q4 earnings conference call, the EVP and CFO Fredrik Eliasson stated:
Going forward, CSX remains committed to a dividend payout range of 30% to 35% of trailing 12-month earnings, and this will be reviewed annually after the first quarter.
With earnings for the last twelve months at $1.83, I would expect a smaller increase of 6-8% with the upcoming announcement to around $0.64 per share. As analysts are projecting earnings growth to pick back up again to double digit growth over the next 5 years, the future growth in the dividend could be expected to return to double digit increases as well.
Lockheed Martin Corp. (LMT) is a security and aerospace company engaged in the research, design, development, manufacture, integration, and sustainment of advanced technology systems, products, and services for defense, civil, and commercial applications in the United States and internationally. The company operates in five segments: Aeronautics, Information Systems and Global Solutions, Missiles and Fire Control, Mission Systems and Training, and Space Systems. The company was founded in 1909 and is headquartered in Bethesda, Maryland.
Lockheed Martin is a member of the Dividend Contenders List, having raised its dividend for the last 11 years. Over the last ten years, the company has raised its payout at an average annual rate of 24%, with the most recent increase of 15.7% in November of 2013.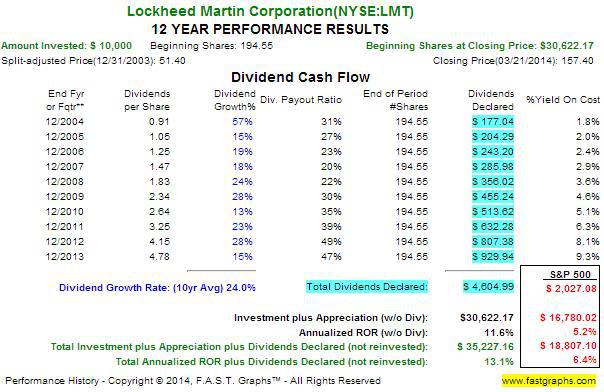 Similar to Cummins and CSX above, Lockheed is another example of how high dividend growth rates can really juice returns over a longer holding period. With a yield of just 1.8% at the beginning of the period, the stock would not seem attractive to dividend growth investors, as many require yields of greater than 3% for investment. However with a growth rate of 24% over the decade, an investor was able to build a yield on cost of over 9% by the end of the period. If dividends were reinvested, this number jumps to an impressive 12.1%. Compounding sure is a wonderful thing.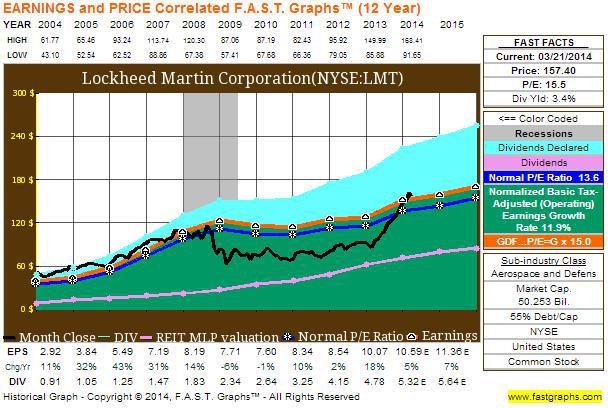 In looking at the earnings growth above, Lockheed has shown strong growth over the period, especially when considering the constant threats of budget cuts to the military by Congress. Other than the slight decline in 2009 and 2010 coming out of the recession, the company more than tripled earnings during the period, from $2.92 in 2004 to an estimated $10.59 for 2014. Analysts expect mid-single digits earnings growth over the next 5 years. The stock appears to be fairly valued here, but with a current yield of 3.4%, should still provide decent total returns going forward.
Robert Half International, Inc. (RHI) provides staffing and risk consulting services in North & South America, Europe, Asia, and Australia. The company operates through three segments: Temporary and Consultant Staffing, Permanent Placement Staffing, and Risk Consulting and Internal Audit Services. The company markets is staffing services to clients, as well as to employment candidates. The company was founded in 1948 and is headquartered in Menlo Park, California.
Robert Half is a member of the Dividend Contenders List, having raised its dividend for the last 11 consecutive years with an average increase over the last 5 years of 7.8% and its most recent increase of 12.5% from $0.16 to $0.18 per share with the February 2014 payout.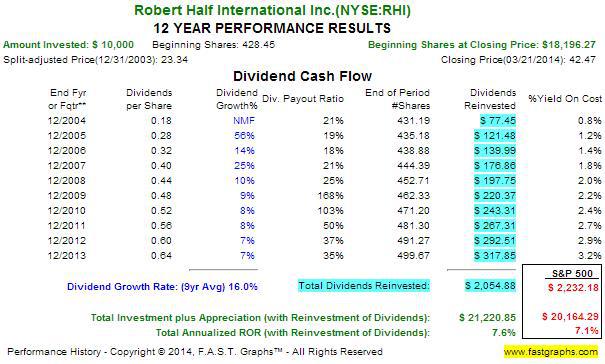 Robert Half doesn't have quite the yield or dividend growth rate history of some of the others, but the company is projected to grow at a much higher rate going forward. As a staffing company, the business took a big hit to earnings as the unemployment rate skyrocketed during the recession and companies laid off workers. However, once the recession ended and re-hiring of workers commenced, earnings for the company have been on an uptrend.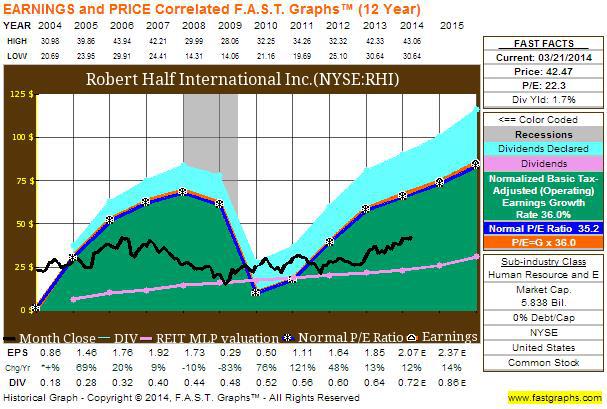 Although the stock currently trades at a fairly high multiple of 22.3, this seems to be a fair price to pay as analysts project earnings growth of 15-20% annually over the next 5 years. The company has a pristine balance sheet with near zero debt and $280M in cash. In addition to the dividend yield of 1.7%, the company also has an aggressive stock buyback program, through which it has decreased the number of shares outstanding by about 12% since 2007.
Summary
As was the case with the Healthcare Sector, Mr. Market was a bit stingy with providing many discounts in the Industrial Sector. While I was able to find 5 companies that are trading at attractive valuations, I wouldn't consider any of them grossly undervalued at current prices. However, the companies have all shown a strong history of earnings and dividend growth that are expected to continue moving forward. I hope the stocks presented provide some good candidates for further due diligence for your portfolio.
Part seven of the series will be coming soon, and will highlight five "Blue Light Specials" in the Information Technology Sector of the market.
Disclosure: I am long CMI, LMT. I wrote this article myself, and it expresses my own opinions. I am not receiving compensation for it (other than from Seeking Alpha). I have no business relationship with any company whose stock is mentioned in this article.
Additional disclosure: I am a Civil Engineer by trade and am not a professional investment adviser or financial analyst. This article is not an endorsement for the stocks mentioned. Please perform your own due diligence before you decide to trade any securities or other products.