Capstone Turbine (NASDAQ:CPST) has had a great run this year with an over 100% rise in 2014. This rise, however, is not merited and it could give up those gains once investors realize it's worth only about a fourth of its current share price.
Much of the air has been let out of the fuel cell bubble, with stocks like Ballard Power (NASDAQ:BLDP), Plug Power (NASDAQ:PLUG), and FuelCell Energy (NASDAQ:FCEL) dropping 30-50% from their peak in early March. CPST rose with the fuel cell mania, but has only so far dropped 10% from its peak. This makes the timing ripe for this juicy shorting opportunity.

Capstone Turbine is just a small company that builds and sells its only product, microturbines, which is an expensive energy generator. Microturbines only appeal to specific, niche companies because they are more expensive than diesel and natural gas generators. Capstone's highly promotional management claims it will have mass adoption type of growth, but a look into the fundamentals of microturbines tells a different story.
A Market Cap Not Fit For The Type Of Company
Capstone is a small, niche business and isn't meant to have a monstrous market cap of $700M. CPST is currently priced at FY2015 EV/EBITDA of 142x. PLUG's FY 2015 EV/EBITDA when at $11 per share was at 80x. This is also when the street consensus assumes PLUG's revenue growth is around 80% YoY, but CPST's is only 27%.
CPST deserves some premium because of the chance that microturbines surge in popularity in the coming years. But for a small company with a questionable growth trajectory that is struggling to attain profitability, that premium would only value it at an EV/Sales of 1 for next year's consensus sales estimate. This values CPST at about $200M, even taking into account the best possible scenario. That puts CPST's share value today at only $0.66.
It didn't make sense for CPST to rapidly grow in market cap in tandem with the fuel cell stocks. The reason for the fuel cell craze is because new markets are opening for fuel cells. Fuel cells are now used for new applications to power cars, forklifts and other vehicles, that they weren't technologically advanced enough to be used for before.
Microturbines can be used to power oil and gas drilling far from the electric grid, or as a backup energy source for buildings like a hospital or food manufacturer. However, those are industries that aren't growing except with GDP. Unlike fuel cells, there aren't any new markets developing for microturbines. Capstone finds most of its growth by taking away market share from the diesel and natural gas generator industry.
The High Cost Of Microturbines Prevents Mass Adoption
Capstone is looking to sell microturbines to take the place of natural gas and diesel gas generators for major companies. However, it is fighting an uphill battle because natural gas and diesel generators are cheaper than microturbines, and will get even cheaper as time goes on. There is much more R&D spent to improve natural gas and diesel generators than on microturbines.
Natural gas and diesel are common products, and are sold all over the world by many different companies. GE (NYSE:GE), Cummins (NYSE:CMI), and Caterpillar (NYSE:CAT) are the biggest manufacturers. However, there is only one manufacturer of microturbines - Capstone. There are many companies that sell natural gas and diesel generators, it's easy to find them on the Internet.
A 100kW Natural Gas/Propane generator found here goes for around $33K or $0.32/W.
A 200kW diesel gas generator found here go for around $42.5K or $0.21/W.
Capstone's microturbines cost: C200 ASP = $0.98/W, C65 ASP = $1.09/W, C30 = $1.54W
The ASPs can be found in Capstone's latest 10-K:

Even though Capstone sold more units in FY2013 than FY2012, it charged more per megawatt.
Advantages And Disadvantages Of Microturbines
This article explains that the advantages of microturbines are they have low emissions and low maintenance. The biggest disadvantage is the high cost. This higher cost will put a ceiling on the amount of microturbines sold, as firms that are concerned about their bottom line will avoid them.
From the article:
The biggest challenge is probably the cost. For large scale acceptance the cost must eventually be in the range of the reciprocating engines, i.e., 400-600 $/kW. It does not help that microturbines in quantities of single units are already at 1100 $/kW and less, much lower in costs than photovoltaics, wind turbines and fuel cells. With its inherent simplicity with fewer parts and electronics instead of mechanical devices, the economy of scale is faster for microturbines. At annual volumes of 100,000 units, microturbines should have costs equal to or better than those of reciprocating engines.

The only problem is how to get to those volumes. The answer is to sell microturbines initially for applications where their unique features bring extra value, or for applications difficult or even impossible for other technologies.
The last paragraph of the quote makes sense, and is why there is a market for micro-turbines but it is a small, niche market.
However, I don't believe the article's claim that microturbines will have costs equal to or better than the reciprocating engines if the volumes are on a massive scale. If that was the case, then a company like Caterpillar, with its massive customer base of the biggest industrial companies in the world, would start mass producing and selling microturbines, or would acquire or partner with Capstone. On Yahoo finance, Caterpillar's business summary says:
"Caterpillar Inc. manufactures and sells construction and mining equipment, diesel and natural gas engines, industrial gas turbines, and diesel-electric locomotives worldwide. "
Caterpillar doesn't sell microturbines and has never shown any interest in them. There are barely any microturbine developers or resellers. United Technologies (NYSE:UTX), a major seller of power equipment, stopped being a meaningful reseller for Capstone starting in 2005.
Here is a list of microturbine companies. The only two companies on that list that produce microturbines are Capstone and a small Italian company called Turbec.
Compare that to the amount of Fuel Cell developers there are shown on this list. I counted 40. It's clear which technology has more growth potential by looking at the amount of developers each has.
Why Are Microturbines Bought?
If microturbines are so much more expensive, why are they bought at all? For one thing, there's the factor of good salesmanship and relationship-building by Capstone's marketing team. However, the fundamental reasons for buying a microturbine are for lower emissions, and slightly less maintenance is required.
Microturbines can work for a company that is more concerned about the environment and/or wants less maintenance work. Some companies don't mind spending extra for that. But for companies that are concerned about saving money and don't mind a little extra maintenance work or more emissions, then microturbines are not the most cost-effective way to go.
As a backup generator it really doesn't make sense to get a microturbine. A backup generator will only be used if the electric grid shuts off for some reason. Most of the time a backup generator sits idle so it doesn't need maintenance and won't give off emissions. Places like hospitals and office buildings that want a backup form of energy in case the grid goes out usually use diesel generators.
With only random sales here and there, Capstone will never get the big orders and momentum to make the revenue needed for its current market cap.
Another drawback to microturbines, is a company like an oil driller that needs constant energy flow might not buy a microturbine because of the scarcity. There is only one major microturbine company, Capstone. Capstone doesn't have the inventory for a quick replacement, it builds its microturbines primarily on demand. By contrast, if an oil company is drilling in the middle of the desert, and one of its diesel generators or natural gas generators breaks down, it can easily order another one. GE or Caterpillar can deliver it by plane the same day.
Capstone's Struggle To Reach Profitability
Last quarter, FY3Q14, Capstone's gross margin reached 20%, up from 14% the previous three quarters. Unfortunately for Capstone, it still lost money.
The company's stated goal since its FY3Q13 quarter is to eventually reach 35% gross margin. However, this is clearly a tough task.
Gross margins stayed constant at 14% throughout the past year with the dramatic improvement in FY3Q14 to 20%.
However, out of the 6% improvement only 2% was from the improvement of cost reductions. This is with the largest quarterly revenue in the company's history. That shows that achieving further cost reduction for Capstone is difficult.
Let's take a look at Capstone's operating model target slides from its past earnings presentations.
From FY3Q13 presentation slide: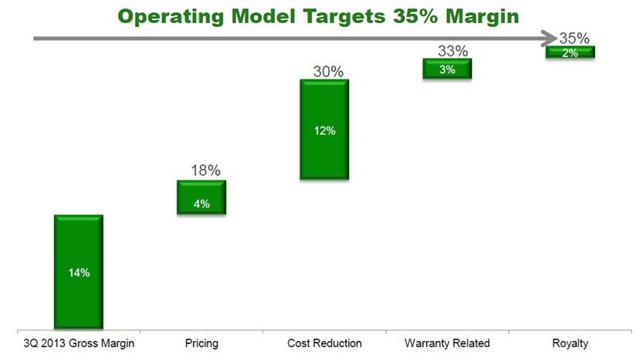 As shown above, the FY3Q13 gross margin was 14%. By improving the other four areas by the given amounts is how Capstone hopes to reach 35% gross margin.
However, the next three quarters have the exact same gross margin as FY3Q13, without any improvements in any areas. Now let's look at the latest quarter, FY3Q14.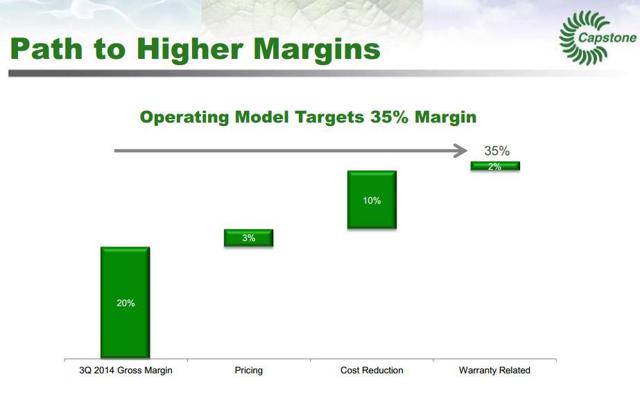 BAM! In this latest quarter Capstone achieved great improvement with 20% gross margin. It got the additional 6% by a permanent reduction in royalty expense (2%), increase in pricing (1%), lower direct materials cost (2%), and a lower warranty expense (1%). Cost reduction is where the company has the most ground to cover to reach the 35% - it needs an extra 10% there. Management doesn't say how it will be able to bring down its costs further, and I'm skeptical that it will be able to. If they can, it would require a LOT more sales to get its materials cheaper via economies of scale. Gas microturbines are not new, they have been around for over 100 years. Cost reductions through innovation is thus unlikely.
Capstone's Management Is Very Promotional And Sometimes Underdelivers
Serial stock pumpers. Capstone puts out a lot of press releases. It often puts out a press release when it makes a new sale, even if it's a small one. In my opinion, only game-changing sales merit a press release. The smaller ones can just be mentioned in the quarterly earnings call.
However, these PRs did have the desired effect as each one boosted the stock further. That's partially how we got to the massively overvalued stock that we have today.
The following are the past press releases this year touting a sale:
1/07/14 Capstone Turbine received an order for a C1000 to be used in a CCHP application at a resort in Hawaii. ($1.39) Stock rises 3%
1/09/14 Capstone announces orders totaling 6.4MW. ($1.45) Stock rises 8%.
1/17/14 Capstone notes multiple orders for customers in the Permian Basin. ($1.59) Stock rises 9%
3/04/14 Capstone announces orders totaling 2.6MW from Regatta Solutions. ($1.62) Stock rises 16%.
3/12/14 Capstone receives follow-on orders for 50 C65 microturbines from Horizon Power Systems; no terms disclosed. ($2.18) Stock rises 6%.
A Look At Capstone's Revenue Projections
What has been consistent with Capstone is its previous year's backlog is usually the same as the next year's revenue. Although for the last two years the revenue has been slightly less than the backlog.
From its FY3Q14 slides, the following is its historical backlog: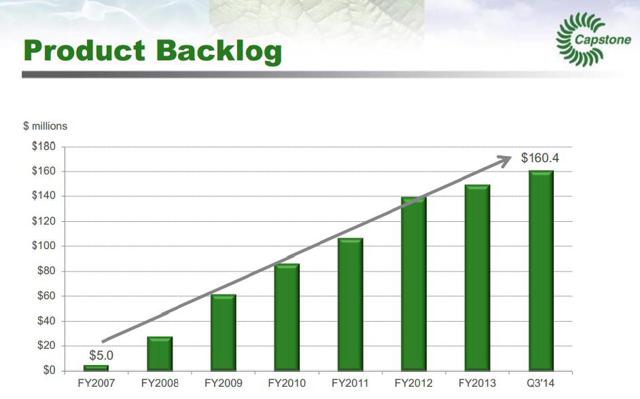 And here is Capstone's historical and projected revenue:

Comparing the revenues to the previous year's backlog, fiscal years 2011 and 2012 revenues were about the same as the previous year's backlog, and 2013 and 2014 revenues were a little less than the previous year's backlog.
FY2015 projected revenue of $177.67M looks overly ambitious. So far, backlog as of FY3Q14 is only $160.4M. This means that the backlog will have to increase by $17.3M in FY4Q14 over FY3Q14 in order to match the $177.67M expected revenues in FY 2015. And since revenues are tracking slightly below the previous year's backlog, Capstone will probably need its backlog to be above $180M by FY4Q14 to have a chance of hitting its FY2015 targets. That's quite an increase in backlog. I'm not sure if Capstone will be able to hit that or not, but I'd bet not.
It would be no surprise if management misses its targets. It has missed its revenue estimates the last 11 out of 12 quarters as shown below: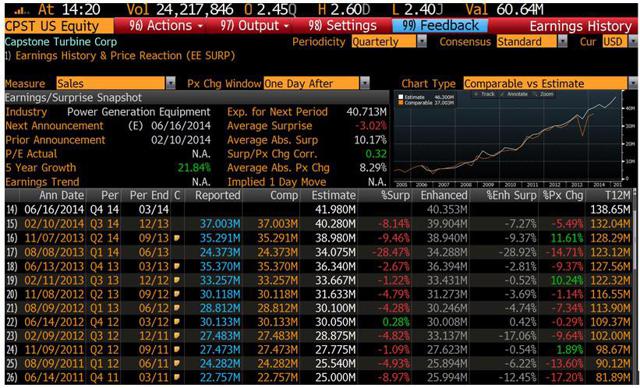 Russian/US Tension Could Hurt Sales
More than 10% of Capstone's sales come from BPC, their Russian distributor. Companies in Russia might be hesitant to buy this specialized product from an American company as the two countries are on edge at the moment. This will at the very least dampen Russian sales this year a bit.
Is Capstone Really A Green Company?
You'll have to decide for yourself if this question has to do with valuation. Capstone considers itself a green energy company, and many investors buy CPST because they believe it as well. Its logo is green and it calls its energy "clean-and-green". But is it really green? Its microturbines mainly run on natural gas. How is that any more green than a natural gas generator? Capstone claims to have lower emissions, but natural gas generators and diesel generators are constantly improving in that aspect. For example, this natural gas generator boasts smoke-free output and meets the most demanding federal and state emissions guidelines in the US.
Disclosure: I am short CPST. I wrote this article myself, and it expresses my own opinions. I am not receiving compensation for it (other than from Seeking Alpha). I have no business relationship with any company whose stock is mentioned in this article.