As Sina's (NASDAQ:SINA) social media subsidiary Sina Weibo prepares for its U.S. IPO, investors have become increasingly interested in this microblogging service. Based on the feedbacks I collected on my previous article "Did Tencent Just Let Sina Dunk Over Its Head?", I am using this article to address a popular question among U.S. investors - Is Tencent's (OTCPK:OTCPK:TCEHY) Weixin a competitor of Sina Weibo?
First of all, Sina Weibo clearly does not view Weixin as a direct competitor. In Weibo's 137K-word IPO prospectus, Weixin was only mentioned once: "Social media platforms, such as Weibo, combine microblogging and social networking features and are public in nature ... On the other hand, social networks and messengers, such as Tencent Qzone and Weixin, connect users by allowing friends and families to communicate and interact within a primarily private network." (Source: Weibo Corporation's IPO prospectus). The prospectus also puts Weibo and Weixin into two opposite squares of a matrix (Figure 1, source: Weibo Corporation's IPO prospectus).
Figure 1: Weibo Does Not View Weixin as a Direct Competitor (Source: Weibo's IPO prospectus)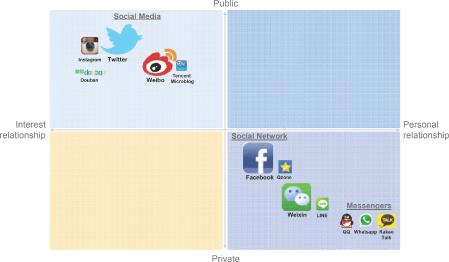 Sina Weibo's opinion is insightful: it defines itself (and Twitter) as a Social Media instead of Social Network, and distinguished itself from social networks (Weixin, Facebook) based on whether the content being consumed is public or private, and whether users' activities are driven by interests or relationships. This "Social Media vs. Social Network" theory has clearly defined Weibo's target market in a sophisticated way. It will alleviate many investors' concerns over whether Weibo can defend its own territory.
I prefer to view the "Weixin vs. Weibo" topic from a different angle: There are two ways for an Internet user to make social interactions with others: mobile and non-mobile. On the mobile side, if a user has just taken an interesting photo using his/her smartphone and wants to share it with friends or families, both Weixin and Weibo have this feature. On this occasion, Weixin and Weibo are direct competitors. What they are competing for is the opportunity (given by the user) to spread a photo, a story, an event, a book, or a joke on their own platforms, thereby enriching their platforms' consumable content and monetization opportunities, at the expense of the other platform.
On the non-mobile side, Sina Weibo's website (weibo.com) has much more features than Weixin's website (wx.qq.com). This is the major difference between Weibo and Weixin, and the root of the theory that these two services are not comparable. I think the non-mobile side is indeed where Weibo has a big advantage over Weixin in terms of user experience. However, considering the fact that most of today's social networking activities take place on mobile phones, Weixin's disadvantage on the non-mobile side does not have significant impact on its competitive position.
In conclusion, whether Weixin and Weibo are competitors depends on the angles from which we view their relationships. I believe U.S. investors will embrace Sina Weibo's "Media vs. Network" theory and make it a successful IPO. The battle between Weibo and Weixin continues after the IPO, where both services (apps) compete to stay on users' smartphone screens.
Disclosure: I have no positions in any stocks mentioned, and no plans to initiate any positions within the next 72 hours. I wrote this article myself, and it expresses my own opinions. I am not receiving compensation for it (other than from Seeking Alpha). I have no business relationship with any company whose stock is mentioned in this article.