Because of supply and demand dynamics, natural gas prices continue to be volatile in 2014. Speaking of natural gas prices, companies in the exploration and production industry expect 2014 natural gas prices to remain relatively flat compared to 2013. However, crude oil prices were fairly stable throughout 2013. Oil continues to be more precious than natural gas. Consequently, companies operating in this industry have been shifting their focus to the growing field of oil production. To make a shift toward liquid plays, companies are investing billions to acquire assets while disposing of non-core assets to stay consistent with their business strategies. The shift in strategy has worked for companies in 2013 as liquid plays offer much better volume and margins.
In this article, I picked Occidental Petroleum (NYSE:OXY) to see where it stands during changing circumstances compared with ConocoPhillips (NYSE:COP). Further, I will try to determine which company offers better returns for investors in these rapidly changing business environments. I will keep my focus on their ability to sustain returns by looking at business plans, financial situations and future prospects. That way, I can point out whether either of these stocks is good to buy or hold.
Where Does Occidental Petroleum Stand?
Occidental Petroleum operates in three business segments: Oil and Gas, Chemical, and Midstream and Marketing. The company's three business segments generate strong growth. However, it is focusing more on domestic liquid production because of higher margins and volumes there. Therefore, its focus of investment is toward generating growth from liquid plays. Last year, the company grew its domestic oil production by 11,000 barrels per day. The company is strongly working on replacing and adding reserves. Its reserve replacement ratio for liquids was at 195%, reflecting its focus on oil drilling instead of gas. Its reserve replacement ratio in the United States was high at 190%. All this led the company to have an all-time high 3.5 billion barrels of reserves.
Further, Occidental shows strong discipline in allocating and working on growth opportunities. The company is improving its capital efficiency by lowering development and operational costs, which further enhances its potential to expand investments. The company's incurred total costs for reserve additions were at $7.7 billion. It improved its capital efficiency by 24% domestically, primarily from the Permian Basin, with 25% from California and 25% from other domestic assets. It is also divesting its assets with a strategy to focus more on liquid plays. Recently, it completed a sale of a portion of its stake in the General Partner of Plains All-American Pipeline for about $1.4 billion.
In 2014, Occidental plans to improve its production and reserves and plans to invest around $10 billion to do this. The focus of the investment will be growing oil production in California and in the Permian Basin along with looking for opportunities in key international assets, mainly in Qatar and Oman, and on the Al Hosn Gas Project. Its domestic oil production, with strong investments, should grow from 266,000 barrels a day to between 280,000 and 295,000 barrels a day in 2014, a 9% increase. I believe, with a focus toward liquid plays, it will generate double-digit growth in earnings and cash flows.
Investment in higher margins liquid plays led the company to generate strong growth in earnings per share. Its earnings per share were at $7.32 compared with $5.67 in the past year. This growth further allowed the company to generate massive cash flow growth. Operating cash flows increased from $11.3 billion in 2012 to $12.9 billion in 2013. Capital expenditures remained low over the past year at $9 billion from strong capital efficiency. Consequently, free cash flows came up at $3.8 billion. Here, its dividend payments look completely safe as free cash flows are providing cover to dividend payments of $1.5 billion. The company has a strong liquidity position as free cash flows are also covering debt repayments of $690 million in the past year. Further, it has a bank credit facility of $2 billion expiring in 2016, but no amounts have been drawn yet under this credit facility, and up to $1 billion of the credit facility is available as letters of credit.
Where Does ConocoPhillips Stand?
ConocoPhillips is one of the world's largest E&P companies. Its diverse portfolio includes lower-risk legacy assets in North America, Australia, Europe, Asia and many other regions. The company has resource-rich shale and oil sands assets. It is also investing heavily in higher margin liquid plays and reducing its focus on North American conventional natural gas. Recently, it brought three projects online. Therefore, with the shift toward higher liquid-rich resources, at the end of 2013, liquid accounted for roughly 56% of its total production. Recent investments in liquid plays, especially the oil sands in Canada and the Lower 48 unconventionals, contributed to production levels and reserves. The shift in focus led the company to generate $9.2 billion in earnings compared with $8.4 billion in 2012.
Further, its cash flows are in a strong position to support capital expenditures. However, its cash flows are not stronger than Occidental's are. Its operating cash flows are providing cover to capital expenditures but not to dividend payments. Therefore, it has to depend on debt either to make dividend payments or to cover capital requirements. In the last year, the company generated $16 billion in operating cash flows, which provide support to capital investments of $15.5 billion. Consequently, its free cash flows are less than its dividend payments of $3.3 billion. Consequently, its dividend growth remained slow compared with Occidental Petroleum. ConocoPhillips has managed to increase dividends by only 46% in the past five years. On the other hand, COP stock gained momentum with the shift in strategy. Nevertheless, its cash flows are getting strong growth from the cash generated from non-core assets. In the past year, it raised $10 billion from dispositions.
Which Is a Better Buy Investment?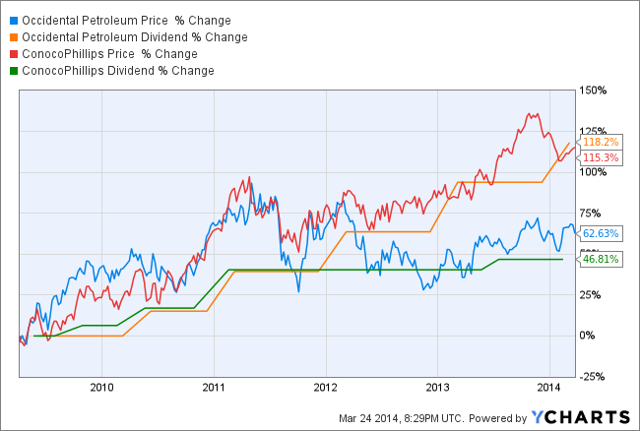 | | | | |
| --- | --- | --- | --- |
| | COP | OXY | Industry Average |
| Price/Earnings TTM | 10.4 | 12.8 | 32.5 |
| Price/Book | 1.6 | 1.7 | 1.9 |
| Price/Sales TTM | 1.4 | 2.9 | 2.7 |
| Rev Growth (3 Yr Avg) | -33.6 | 10.3 | -12.1 |
| Net Income Growth (3 Yr Avg) | -6.9 | 9.2 | -15.9 |
| Operating Margin % TTM | 25.8 | 36.5 | 18.8 |
| Net Margin % TTM | 15.7 | 22.9 | 7.9 |
Source: Morningstar.com
Both companies are investing heavily to combat the changing business environment. Both companies are shifting their focus to higher-volume and higher-margin liquid assets to enhance their profitability, both of which have been working for them so far. However, if I were to choose one among them, I would go with Occidental Petroleum with its strong cash-generating potential. With a good strategy and a strong asset portfolio, Occidental generated double-digit growth in dividends over the years. Recently, it increased its dividends from $0.64/share to $0.72/share. I believe Occidental can keep this trend moving. However, regarding share price appreciation, its stock has not done as well as it should have over the past two years, which might be from concerns related to commodity prices.
Though OXY looks a bit pricey over COP, it still presents an attractive opportunity to initiate a position to generate big profits. Occidental has been well set to generate higher growth in earnings and dividends over ConocoPhillips. On the other end, ConocoPhillips' dividend growth remained slow compared with Occidental Petroleum. ConocoPhillips has managed to increase dividends by only 46% in the past five years. As COP is looking to invest around $16 billion in this year, I am not expecting any big movement in its dividends. Its earnings growth rate is also slow over the other player.
Disclosure: I have no positions in any stocks mentioned, and no plans to initiate any positions within the next 72 hours. I wrote this article myself, and it expresses my own opinions. I am not receiving compensation for it (other than from Seeking Alpha). I have no business relationship with any company whose stock is mentioned in this article.