Editors' Note, March 31, 2014: This article has been updated from its original publication to correct an error.
In my last two articles on Cliffs Natural Resources (NYSE: CLF) - Cliffs Natural Resources: Proxy Battle Could Equal Massive Gains For Shareholders and Cliffs Natural Resources Has Immediate Upside Potential, - I mostly discussed what might happen if the company implements a plan proposed by Casablanca Capital. In this article, I will focus primarily on forecasting the Company's 2014 earnings assuming the plan by Casablanca is not implemented and the plans outlined by the current CEO and board of directors are implemented.
There are many changes taking place at Cliffs. In fact, there are so many that I believe articulating them in a standard essay format would be asinine and counterproductive. Therefore, I have listed the important recent changes to the company below:
The Chromite project has been indefinitely suspended
Cliffs is reducing its 2014 Chromite spending by $45 million
It's cutting 2014 capital spending by over 50%
Has idled underperforming assets, paid down debts, increased liquidity and set further cost reduction targets in 2014 SG&A and exploration expenses
All cash generated over and above capital spending and dividend payments during 2014 will be used to lower debt position
CEO initiated a reorganization that will delay the senior executive team and provide a direct reporting line from operations management to the CEO
Growing quality premium has begun to emerge for higher-grade iron ore products
Company lowered the capital deployed for tailings and water management in 2014
Company is attempting to maximize its free cash flow and reduce its net debt
Will only spend minimum required capital until plan is developed to extract highest value from Bloom Lake
Wabush Scully mine is now idle
Wabush idle will result in $100 million in cash costs in 2014
Company believes cost improvement efficiencies implemented in 2013 will materialize in 2014
Second shift of workers has been brought back at the Toney Fork thermal coal mine in West Virginia
The company is using the January YTD iron ore price of $128 as a proxy for the full year average price - not an internal outlook on iron ore pricing for the year
Earnings forecast
(Note that these forecasts are based on my best attempt to calculate the net income of this company with the resources available to me. No one should use these projections to justify buying or selling this stock. Check the accuracy of the data and financial calculations yourself before doing anything with the conclusions presented in this article.)
The company gave a 2014 outlook on page 20 of its February 2014 presentation for its segments as well as its consolidated expectations. These expectations were based on the average January 31, 2014, year-to-date 62% Fe seaborne iron ore fines price (C.F.R. China) of $128.
Let's take a look at how much iron ore futures prices have changed since then: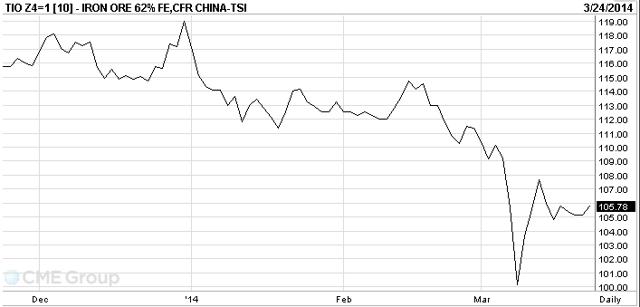 Click to enlarge
*Above is a graph of Iron Ore 62% Fe, CFR China (TSI) December 2014 futures chart from CME Group Futures Quotes.
From the futures chart above we can clearly see how much iron ore prices have fallen since January. Let's use Cliffs' projections, which are available on the company's investor relations website, and update the new iron ore prices into their projections.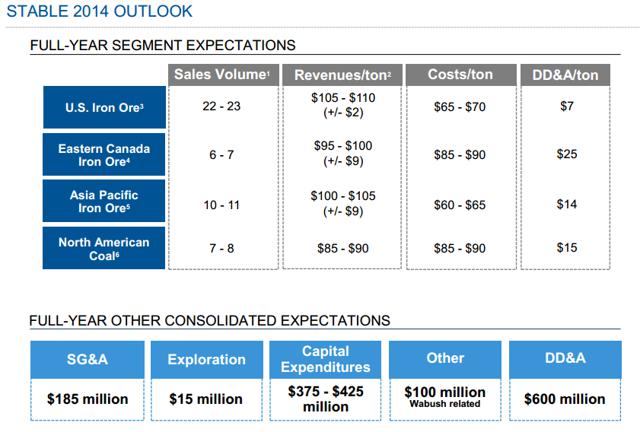 Click to enlarge
*Above is a screenshot of Cliffs' full-year segment expectations and consolidated expectations for 2014 using the $128 proxy price noted above taken from its February presentation.
*Above is an adjusted diagram showing how recent changes in the price of iron ore severely lower the company's projected profitability.
Prices were calculated using the price of December 2014 Iron Ore 62% Fe, CFR China futures contracts at 3:30 AM Central Time on 03/25/2014 - $105.78 and the price sensitivity forecasts for a $10 change in the price of one metric ton of CFR 62% iron ore provided on the company's presentation. I chose to use a December contract because I believe it will more accurately forecast the average cost of iron ore for 2014 than a recent contract. For the record, the April contract was slightly higher at $109.92 for one ton of iron ore.
Company segment expectations, calculated by me using information from the February 2014 presentation:

Click to enlarge
Company segment expectations, calculated by me using information from February 2014 presentation and current Fe futures prices:

Click to enlarge
Adding the other consolidated expenses that were not in per-unit form such as selling, general and administrative expenses, exploration expenses, capital expenditures and other expenses to the expected contribution margin gives a forecasted free cash flow of $-335.75 million for 2014.
The projected revenue based on these numbers is about $3.2 billion, which is about a 43% drop from 2013.
Bankruptcy Concerns
The value is slightly distorted as three months of operations have already been conducted with prices more favorable than the price I used for the forecasts above. For that reason, let's assume Cliffs will lose $400 million or a little over $2.5 per share for 2014. This kind of loss could raise bankruptcy concerns. However, unless credit lines are revoked, Cliffs should be able to continue operations in 2014 since at the time of the release of its annual report the company had a $1.7 billion borrowing capacity (page 92 of most recent 10-K filing). This does raise concerns for bankruptcy down the road. If Cliffs' debt receives a junk-rating and the iron ore market does not improve, anything could happen. Both a long-term outlook for the iron ore market and what could cause Cliffs to receive a junk bond rating would be appropriate topics for separate articles. I will not get into those factors within this article.
Long-term outlook
For Cliffs Natural Resources and many other mining companies, the next twelve months may be extremely turbulent. With the unwinding of commodity financing currently taking place in China, it is tough to predict if/when the iron ore market will bounce back. Cliff's has done a fine job lowering its expenses, but if prices continue falling and it is unable to find a new stream of revenue, its future could be grim to say the least. However, if Chinese iron supply levels reach healthy levels and the iron ore industry does bounce back, there could be significant upside in this stock. It all basically comes down to the price of iron ore.
Conclusion
Things don't look good for Cliffs if the price of iron ore doesn't bounce back within the next few years. However, if they do, we could see an upside greater than the current downside risk. Therefore, I will reiterate my buy recommendation with a stop-loss provision around $15 per share.
Disclosure: I am long CLF. I wrote this article myself, and it expresses my own opinions. I am not receiving compensation for it (other than from Seeking Alpha). I have no business relationship with any company whose stock is mentioned in this article.