Annaly Capital (NYSE:NLY) shareholders caught a sweet reward for their patience last Friday, when the company declared its latest dividend. That is because after several sequential quarters of decreases in dividend payouts, Annaly kept the dividend payout steady this quarter. Because of the good news, the stock was able to recover losses taken over the previous two days.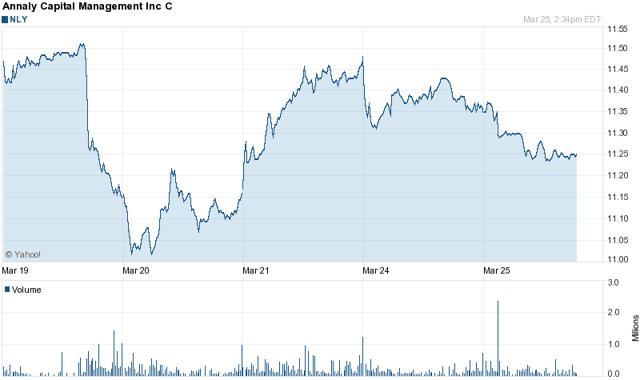 5-Day Chart for NLY at Yahoo Finance
The dividend declaration was super news for shareholders of the mortgage REIT on Friday, and it sent the shares higher by 2.8% on the day. It's because the dividend had been dwindling quarter after quarter, and so the simple steadying of the payout shored up shareholder value. But are we sure of that?
| | | |
| --- | --- | --- |
| Dividend Announcement Date | Dividend Amount | NLY Price Change |
| 3/20/14 | $0.30 | +2.8% |
| 12/16/13 | $0.30 | -1.2% |
| 9/19/13 | $0.35 | -2.3% |
| 6/19/13 | $0.40 | -2.8% |
| 3/20/13 | $0.45 | +0.7% |
The quarterly dividend payout peaked in 2009 at $0.75, and has been steadily declining ever since. The shares have tended to move at dividend declaration, but they have not appreciated on a dividend declaration since last March. Not coincidentally, that was also the last time Annaly Capital kept its dividend payout amount steady against the prior-quarter payout. Last year, on that date, the stock rose 0.7%, and this year, it was up 2.8% on the day. In between, on dividend payout reduction declarations, the stock fell each time.
Unfortunately, last March's action was not followed by another level payout or an increase. Instead, the dividend was reduced each period until this March. Though this is not a March-exclusive event either, so June would not have to follow the trend from last year, either. The payout has been held steady at other periods and has declined in other March declarations, but investors bid the shares higher on Friday on what seems to be hope that the dividend might steady, or even rise from here. I'm sorry, but that's a faulty assumption.
| | | | |
| --- | --- | --- | --- |
| Security | 5 Days Through 3/25 | YTD | TTM |
| Annaly Capital | -2.0% | +12.1% | -30.2% |
| SPDR S&P 500 (NYSEARCA:SPY) | -0.3% | +0.9% | +20.2% |
| Market Vectors Mortgage REIT (NYSEARCA:MORT) | -1.9% | +9.6% | -17.1% |
| American Capital Agency (NASDAQ:AGNC) | -2.7% | +14.2% | -30.8% |
| Two Harbors Investment (NYSE:TWO) | -1.8% | +12.0% | -24.4% |
NLY has edged lower over the days since Friday's declaration, along with broader market decline. To smooth out the price action around the dive that preceded the declaration and the burst higher after it, we looked at the last five days of trading. NLY has underperformed the market over that period, while doing better than most of its mortgage REIT peers until today's close (down 1.5% today). We suppose that its relative outperformance was because of the dividend news. However, be sure to note that the dividend did not really lift the shares versus the market, nor versus its peers as time has progressed. Though NLY is outperforming the market year-to-date.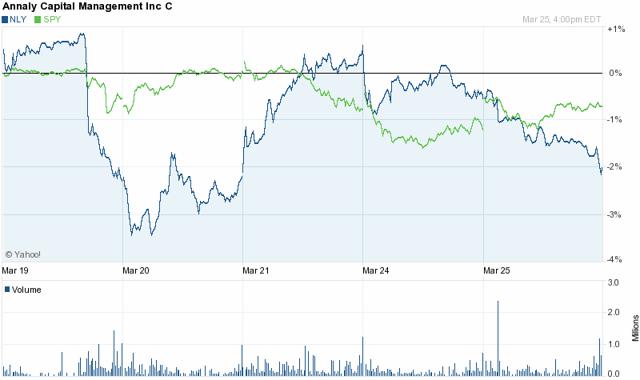 5-Day Chart of NLY vs. SPY at Yahoo
In Conclusion
Based on past evidence, though the dividend declaration was reassuring, it should not matter much to NLY for much longer. That is because it is not a determinant of future dividend payouts. Instead, NLY investors will want to keep a keen eye on the health of the U.S. economy, American housing and on interest rates for better guidance. We refer you to our last article on Annaly, "The One Thing Annaly & mREIT Holders Had Better Watch Closely", for a better guide.
Disclosure: I have no positions in any stocks mentioned, and no plans to initiate any positions within the next 72 hours. I wrote this article myself, and it expresses my own opinions. I am not receiving compensation for it (other than from Seeking Alpha). I have no business relationship with any company whose stock is mentioned in this article.