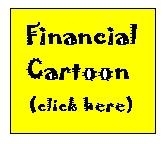 Outlook: After the S&P 500 Index ("Index") took a 13.7% "header" from late-April to early June based on Euro fears and topped off with the Gulf oil spill, the Index has rebounded 6.4% and has now crossed over to positive territory YTD. (Financial cartoon link [1].)
The question for investors at this junction is: Is this "hiccup" market rally sustainable?
Encouraging Indicators: Based on two contrarian indicators it seems as though in the near-term it may well be. Both the VIX and the S&P share volume are typically inversely related to the S&P 500 Index. The combination of the two seems to indicate at least for the near-term a continuation of the market's advance.
Watch the Bouncing Ball: However, the irony with reference to these inversely related indicators is they can become contrarian if sustained for an extended period of time. A rising stock market on low volume and low volatility can signal investor complacency—a sort of "calm before the storm" that can signal a change in the market's direction.
While this is a "ball" we ought to keep our "eye on", we're still pretty early in its decline of both the VIX and share volume to dub it as flashing a contrarian warning. (See: Contrarian Indicators Offer Near-Term Support for S&P 500 (6/18/10) as well as Declining Swap Spreads Are Very Bullish (6/15/10))
Recommendation: I continue to like large-cap, dividend paying stocks at this juncture. I own and recommend the ETF, SPDR S&P Dividend ETF (SDY: 47.89; 6/18/10), for like-minded investors as offering an inexpensive, diversified way to participate in a high-quality portfolio of dividend paying companies while capturing any further advance in the potential near-term support for the S&P 500.
CEF Weekly Review: The 13 closed-end fund (CEF) types on average posted a 1.5% increase for the week ending 6/18/10. The high-low spread was +3.5% vs. +2.7% the previous week. On an aggregate, unweighted basis the weekly average price change for the 500 plus CEFs was up 1.1%.
The PowerShares CEF Income Composite (NYSEARCA:PCEF), an ETF that invests in taxable income CEFs, increased 0.9% for the week. The S&P 500 advanced 2.4% for the week and has now turned positive YTD (0.2%).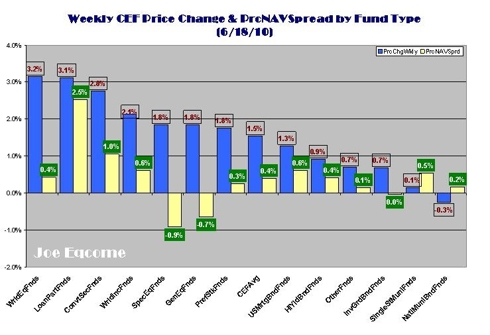 (Click here [2] for YTD CEF Performance. The table is based on a smaller CEF sample size as all the data fields are not available for the CEF universe.)
The Eqcome CEF Fear Index eased again for the week. The average price increase was 1.1% versus a 0.8% increase in the NAV. The CBOE Volatility Index (VIX), which typically moves inversely with the stock market—but is mostly a measurement of volatility based on stock options' premiums—dropped 16.8% breaking to 23.95 as the VIX continues its slide from its mid-May peak of 45.79.
The S&P 500 average daily trading volume declined 13.6% for the week to 4.637 billion shares. The anemically low volume on what was a quadruple witching week when the S&P 500 advanced 2.4% should be carefully monitored along with the sliding VIX for indications of shifting investor sentiment.
CEF Weekly Fund Type Performance: With investor anxieties on a temporary holiday, CEF fund type performance continued its orientation toward equity-oriented funds types. WrldEqFnds was again for the second week in a row the best performer advancing 3.2%.

The PrcNAVSprds [*] typically move in the direction of stock prices. For the second week in a row SpecEqFnds' and GenEqFnds' NAVs advanced greater than prices. On the other side of the spectrum, LoanPartFnds price advance 3.1% while NAV nudged 0.6%.
Weekly CEF Winners and Losers: One of the CEFs with the greatest positive spread was Pimco Income Strategy Fund II (NYSE:PFN). PFN share price advanced 10.4% while its NAV increased a more modest 1.8%. This generated a positive PrcNAVSprd of 8.6%.
PFN invests in floating rate loans and currently trades at a 10.6% premium with at an annualized month yield of 7.2%. The stock price on a short-term basis may have gotten ahead of itself—although, there are a number of Pimco sponsored CEFs that trade at excessive premiums for an extended period of time.
The CEF having one of the greatest negative PrcNAVSprd for the week was Central GoldTrust (NYSEMKT:GLU). With gold advancing to it unadjusted high of $1,257.2 per ounce it is curious to see this gold related stock performing so poorly. The Gold ETF (NYSEARCA:GLD) was up 2.3% for the week. Yet GTU's stock price sank 4.4% while its NAV advanced 3.1% generating a PrcNAVSprd of -7.5%
Some of the reason for this poor showing by GTU may be a function of its pricing of a follow-on offering of 5.7 million shares for a capital raise of approximately $280 million. The stock saw heavy trading activity trading of over a million shares on becoming effective the 16th.
For those looking to gold as a safe haven in what appears to some as an increasingly unstable environment, this may be an attractive entry point along with the companion investments of canned food and ammunition.
However, the floating of additional stock at the peak price of a commodity-- to what is a retail marketplace--should given investors a moment of pause to consider if this is a movie we've seen before—think housing.
Economic & Earnings Outlook: (Click here [3] for next week's economic calendar; click here [4] for earnings announcements and estimates.)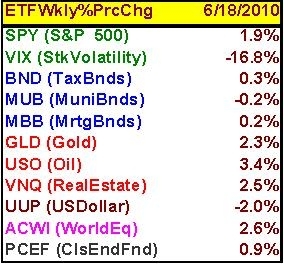 ETFs: For a more detailed EFT performance by sectors, click here [5].
Insider Trading: The Horejsi Group (Horejsi) added to its position in Boulder Growth & Income Fund (NYSE:BIF) and Boulder Total Return Fund (BTF) this week. In the case of BIF, an additional 65,094 shares were acquired at a cost of $354,997. In the case of BFT it was a more modest 2,955 shares for a capital expenditure of $64,143. Horejsi owns 33.1% and 24.2%, respectively of the CEFs.
There was additional insider buying at Apollo Investment Corp (NASDAQ:AINV) during the month. The CFO acquired 10,000 shares at a per share cost of $9.98. Previously during the month, a director of AINV acquired 2,000 shares.
There was also some insider buying by directors at two Blackrock muni funds: Blackrock MuniYield Fund (NYSE:MYD) and Blackrock Maryland Muni Bond Trust (NYSEMKT:BZM). There was a small seller in the Nuveen Premium Income Muni Fund (NPI) (1,500 shares) by the chief administrative officer.
(Click here for a hyperlink to the Joe Eqcome's CEF Weekly Insider Report.)
CEF Distribution Announcements This Week: The following is a link to a table of CEF distribution announcements this week as well as the previous week's with yet expired ex-dividend dates. The list is not intended to be inclusive. (Click here for Joe Eqcome's Weekly CEF Distribution Announcements.)
Significant CEF Corporate Events: The Denali Fund Inc. (DNY) announced that it has amended and extended its cash tender offer for up to 400 of its outstanding Series "A" auction preferred shares ("APS Shares"). The amended offer increases the purchase price to 80% of the liquidation preference of $25,000 per share (or, $20,000 per share) and extends the expiration date of the offer until 5:00 P.M. EDT.
Kayne Anderson MLP Investment Company (NYSE:KYN) announced that it recently completed two private placements of unregistered common stock to members of senior management of Inergy Holdings, L.P. ("NRGP") and Magellan Midstream Partners, L.P. ("MMP"). The Company issued a total of 1.5 million shares at an average 5% discounted price of $23.90 per share. Simultaneously, KYN purchased $26.3 million of NRGP common units and $9.9 million of MMP common units owned by such members of senior management. In addition, the Company purchased $8.8 million of unregistered NRGP common units owned by members of NRGP senior management with cash at a 6% discount.
CEF Focus Stock for the Week: None, gone to the beach.

---
[*] All things being equal, price and NAV should move in tandem. A price movement greater than the NAV generates a positive PrcNAVSprd and may be interpreted as negative on a near-term basis and indicate that the stock is overvalued relative to its NAV which in theory is the stock's intrinsic value. The opposite would be true for a negative PrcNAVSprd.
---
[1] here
[2] here
[3] here
[4] here
[5] here
[6] here

Disclosure: Author owns a diversified portfolio of CEFs that include BIF, PCEF as well as SDY.