Last week's FOMC press conference was a recent reminder of how beholden income investors are to Fed policy. Market action for high-yielding stocks was similar to May 2013, in which rising long bond rates exposed the duration risk inherent to income investing. Simply stated: higher risk-free rates make current yields less attractive. Since many high-yield assets are held by retail investors, 2013 duration selling morphed into panic selling. By the end of the year, bargains were prevalent in areas such as closed end funds (CEFs), preferreds, high-dividend ETFs, etc. The one area where the rebound has remained muted is in various CEFs. In many cases it would make sense to switch from an ETF to a related CEF.
This article will limit itself to the utilities ETF (NYSEARCA:XLU), and its related CEFs, but is valid for many of the other higher-yielding ETFs. The crux of the argument is that at current discounts, it makes sense for long-only XLU investors to substitute into CEFs for a higher yield, as well a better capital gains potential. Long/short investors can play the spread between the two with a positive carry. It is furthermore a defensive move, as the XLU is priced to perfection versus its heavily discounted CEFs and remains more vulnerable to a changing rate environment. For example, the Yellen comments drove down the XLU almost 3% in half a trading day last week. Last year's initial rise in the UST 10-year rate led to a 12% drop in the XLU.
Below is a list of utility CEFs and how they match up versus the XLU.

Note that all of them have positive carry versus the XLU. Also, only two have managed distributions, meaning that yields will not be propped up by returns of capital when earnings are insufficient.
The meat of the matter is the performance of the CEFs versus ETFs during and subsequent to the rate scare. The following chart shows the XLU versus an evenly weighted index of utility CEFs. I screened out GUT , UTG and MFD because of the premiums/low discounts. The lower chart is the 10-year rate: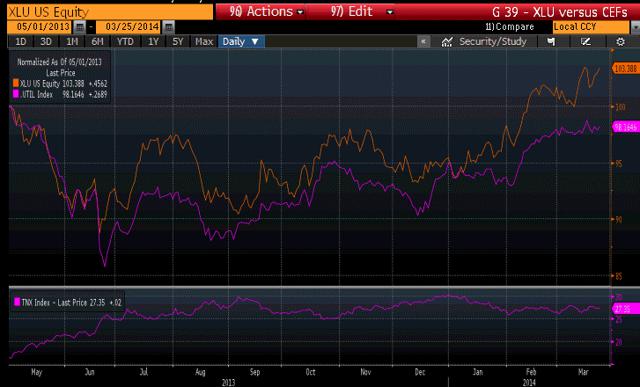 As the 10-year yield made its move up, both XLU and the CEFs sold off hard. When long-term rates topped out, XLU recovered its losses and went on to new highs, whereas the CEFs have not reached their May 2013 levels.
Below is a chart showing the dollar difference between the two based on a $100 investment on 05/01/2013. At this point we are talking over $5, which does not include the better total return profile of the CEFs due to the higher yields.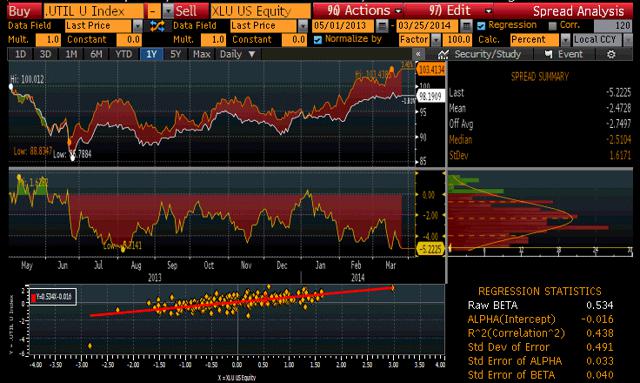 I fully expect the $5 gap to be to be bridged by either the XLU decreasing, in reaction to longer rates increasing like in 2013, or by the CEFs catching up in a yield-seeking environment. We saw this happen already once in January. The long/short investor can profit from both scenarios. The long-only investor can find a better risk rewards profile moving to the ETFs. Furthermore, the NAV discounts are close to all-time lows. All three CEFs (NYSE:BUI), (NYSEMKT:GLU), and (NYSE:DPG) traded flat or at premium to NAV in 2012.
Risks:
Leverage risk: GLU and DPG use 36% and 26% leverage respectively. At the apex of last year's duration selling the leverage did no cause a higher discount than we are seeing now. BUI sells calls on its portfolio to increase yield. BUI is my favorite pick of the three due to its more defensive nature.
Concentration risk: the CEFs hold different equities than XLU. Overall they are more diversified than XLU, and have branched out into utility-like companies in industries such as pipelines and telecoms. CEFs contain foreign companies as well.
Liquidity risk: the CEFs trade with less volume. I included the 30 day averages in the above table.
Conclusion: many high-yielding sector ETFs have rebounded from the duration sell-off of 2013 and are at new highs. Their related CEFs have lagged significantly. Long-only investors can substitute one for another to improve the risk and yield profiles of their portfolios. Long/short investors can spread trade the differential with a positive carry. This article discusses the utility sector, but other sectors have similar discrepancies between their ETFs and CEFs.
Disclosure: I am short XLU. I wrote this article myself, and it expresses my own opinions. I am not receiving compensation for it (other than from Seeking Alpha). I have no business relationship with any company whose stock is mentioned in this article.
Editor's Note: This article covers one or more stocks trading at less than $1 per share and/or with less than a $100 million market cap. Please be aware of the risks associated with these stocks.