DirecTV (DTV) has been delivering a healthy financial performance in the recent past. The company's consolidated revenues, churn rate and ARPU have been improving in recent quarters. The company's U.S. operations have been displaying robust growth and have been generating solid cash flows. The company's Latin American [LA] operations have attractive growth potential, as the pay-TV penetration rate has been low; however, currency movements remain a risk for the segment's result in the future. Moreover, the company has been aggressively undertaking share buybacks, which are likely to fuel its EPS growth and magnify ROE in the near future.
The U.S. pay-TV industry is facing intense competition from cable companies, satellite operators and Telco's. Despite the intense competition in the industry, the nation's largest pay-TV service provider, DTV, managed to move ahead with its strategic growth initiatives in efforts to grow its revenues and expand margins.
The company's U.S. operations remain its main revenue source, as they contribute approximately 78% towards total revenues, while LA contributes 21%. As the pay-TV penetration rate in LA will improve in the future, it will portend well for the company's performance. The following chart shows segment wise revenue breakdown for the company.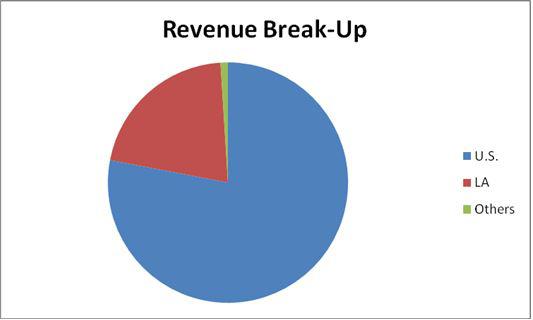 Source: Company Report and Calculations
DTV Leading the U.S Pay-TV Industry
DTV is the premium video on demand service provider in the U.S. In the matured U.S market, DTV observed net subscriber additions of 169,000 in 2013, slightly below 2012 net additions of 199,000; however, the decrease in subscriber additions was offset by improving ARPU. DTV experienced a 5.4% year-on-year ARPU gain in 2013; increased prices on programming packages, high service fees and enhanced warranty costs resulted in higher ARPU.
In 2013, a 7% year-on-year increase in OPBDA was backed by high revenues combined with lower subscriber acquisition cost. However, the price increases, which resulted in high OPBDA, could negatively affect the subscriber base in the near future, as the competition in the industry remains tough. DTV-US, with escalating ARPU and OPBDA trends, largely support the cash flow base of the company. The following chart shows DTV-US' encouraging YoY ARPU trend.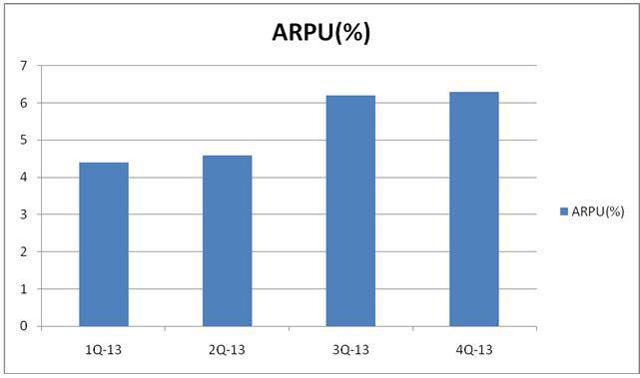 Source: Company's Quarterly Earnings Reports
The following chart shows the churn rate for DTV-US.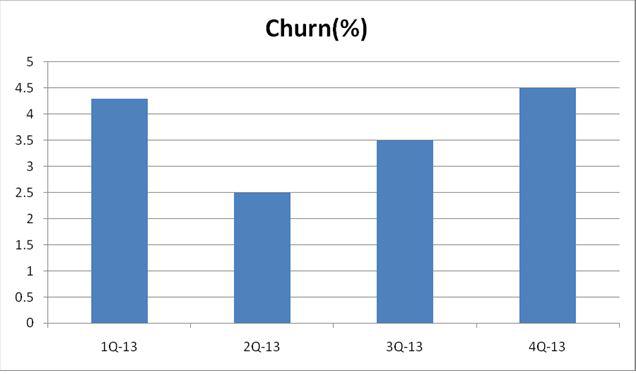 Net subscriber additions for the company's U.S. segment are shown in the chart below: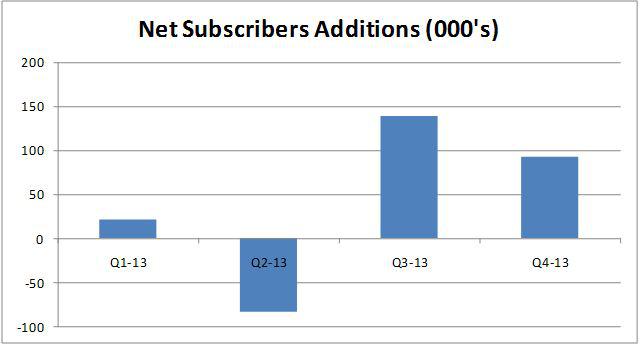 Source: Company's Quarterly Report
Latin American Operations - Exciting Part of DTV
With churn rate and EBITDA margins moving in the right direction, the company's LA operations remain an important growth driver for the company. DTV-LA has attractive growth prospects as the pay-TV penetration has been low in LA. In the near future, as the penetration rate in the LA markets will increase, it will expand DTV's subscriber base and revenues. Digital TV penetration in Latin America, according to a report published by Digital TV research, is expected to increase from less than one-third of homes at the end of 2012 to almost 45% by the end of 2013, and reach 84% by 2018. I believe DTV is on track to benefit from the growing penetration rate and reap high margins from LA in the near future. However, currency movements remain a headwind for DTV-LA's revenues and earnings growth in the near future. The following chart shows EBITDA margins for DTV-LA.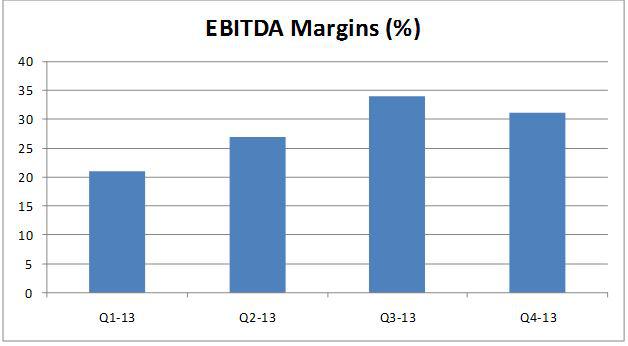 Source: Company's Quarterly Earnings Report
The following chart shows that DTV-LA is observing gradual improvement in the churn rate.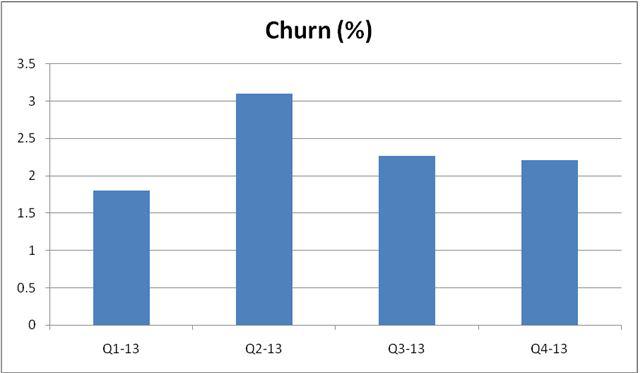 Source: Company's Quarterly Earnings Report
DTV & DISH Rivalry Teamed Up
To survive a tough industry environment, DTV needs to keep up with technological changes to support its top line growth and improve bottom line results. With the recent introduction of a technology to deliver customized ads to viewers, local broadcasters have dominated the ad market; to deal with this dominance, DTV and DISH Network (NASDAQ:DISH) have teamed up to cover a slice of the $3.4 billion political ad market. This deal will give a material boost to revenues of both companies; however, both have not yet declared projected revenue figures from the venture. I believe, due to the deal, DTV will be able to improve its revenues growth, expand margins, strengthen cash flows and will be able be able to address competition from local broadcasters.
Healthy Share Buybacks
Over the past few years, DTV has been conducting aggressive share buybacks. The company has spent more than $9 billion in share buybacks in 2012 and 2013. DTV recently announced, in a press release, a buyback of $3.5 billion shares in 2014, which represents approximately 9% of its current market cap. Also, the company has a solid cash flow base to support its share buybacks. The share buyback will improve the earnings per share growth, magnify its ROE and boost investor confidence.
Conclusion
Despite tough competition in the industry, DTV remains the leading company with improving ARPU and EBITDA margins. The company's U.S. operations remain solid and generate strong cash flows. DTV's LA operations are likely to benefit from growing pay-TV penetration rate in the region; however, adverse currency movements remain a risk. Also, the healthy share buyback initiatives by the company are likely to portend well for the stock. I am bullish on the stock due to the abovementioned factors.
Disclosure: I have no positions in any stocks mentioned, and no plans to initiate any positions within the next 72 hours. I wrote this article myself, and it expresses my own opinions. I am not receiving compensation for it (other than from Seeking Alpha). I have no business relationship with any company whose stock is mentioned in this article.