By Todd Shriber & Tom Lydon
Diversified Europe exchange traded funds are taking breathers even as U.S. stocks ascend to new highs. For example, the Vanguard FTSE Europe ETF (NYSEARCA:VGK) is nearly 3% in the past month while the S&P 500 is higher by 1% over the same time.
Do not blame the recent retrenchment in Europe ETFs entirely on downtrodden emerging markets. VGK's one-month loss is nearly triple that of the iShares MSCI Emerging Markets ETF (NYSEARCA:EEM). Investors are still believers in the Europe recovery story, indicating the recent pullback could be a buying opportunity.
For example, VGK and the iShares MSCI EMU ETF (BATS:EZU) are two of the top ETFs in terms of 2014 inflows. That shows investors' preference for broad exposure to Europe via ETFs is, well, broad. Broad because VGK is heavy on non-Eurozone members the U.K. and Switzerland while EZU is comprised only of countries that use the common currency.
The good news is European stocks were not expensive relative to their U.S. counterparts before their run higher and European shares still trade at discounts to U.S. peers. BlackRock Head of International Product Management Dodd Kittsley said in a recent note:
As previously mentioned, we think Eurozone equities are inexpensive right now. If you look at the price to book ratio of the Eurozone versus the U.S. compared to the long term average, you can see there is much value to be had overseas.
Within European equity markets, steadier hands such as the U.K., Switzerland and Germany, the Eurozone's largest economy, look pricey compared to peripheral European markets, but that is the price to be paid for reducing perceived risk.
European small-caps still offer something of a value proposition as the group looks to restore earnings growth that still remains far below that of previous peaks. Investors are betting on that recovery as evidenced by sentiment toward the WisdomTree Europe SmallCap Dividend Fund (NYSEARCA:DFE). Not only was DFE the best-performing Europe ETF in 2013, the ETF is up another 7.2% this year and recently crossed the $1 billion in assets under management mark.
Many analysts predict that the European profit cycle still has room to expand, with European indices focused on small-caps still posting earnings about 60% below previous peaks, according to WisdomTree research. Jeremy Schwartz, WisdomTree Director of Research, and Christopher Gannatti, WisdomTree Associate Director of Research writes:
At WisdomTree, we believe that small caps have the potential to offer an interesting complement to many existing regional equity allocations - a phenomenon that is especially true for Europe today.
DFE is conservatively positioned as 48% of its combined weight is allocated to the U.K., Sweden and Switzerland. That ETF and funds such as EZU stand to benefit from the European Central Bank's efforts to jump-start economic growth. Kittsley said:
As the Federal Reserve scales back its easy money program here in the U.S., the European Central Bank (ECB) is holding its key interest rate steady at 0.25% as the recovery strengthens. The market generally expects the ECB to keep its rates low for longer, as deflation remains a concern in the area. The countries hit hardest by the debt crisis still have much progress to make before returning to normal, and a low-for-longer rate stance by the ECB makes European equities especially attractive at this time.
EZU is levered to a cyclical recovery in Europe as almost 27% of it's allocated to industrial and consumer discretionary names. Those sectors combine for over 42% of DFE.
iShares MSCI EMU ETF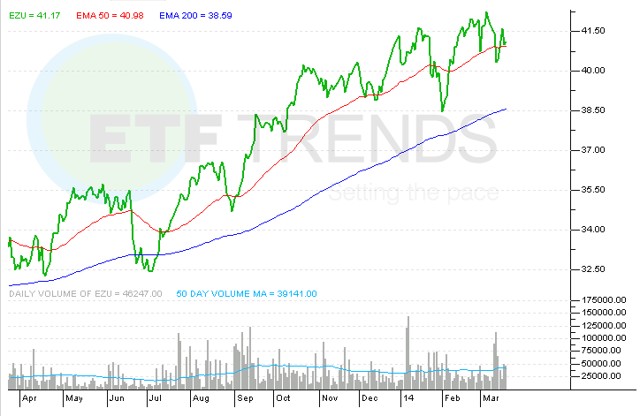 Tom Lydon's clients own shares of EEM.
Disclosure: I am long EEM. I wrote this article myself, and it expresses my own opinions. I am not receiving compensation for it. I have no business relationship with any company whose stock is mentioned in this article.