HighPower Technology (NASDAQ:HPJ) is a developer, manufacturer and marketer of nickel-metal hydride (Ni-MH) and lithium-ion rechargeable batteries based in Shenzhen, China. The company's rechargeable batteries are used in a wide range of applications such as mobile devices, computer tablets, electric bikes, energy storage systems, power tools, and electric vehicles. Back in October of 2013 I published my first article on HPJ, HighPower Tech: Battery Maker Charged Up to Double in 2014, after spotting a substantial rise in the stock price on a big spike in volume. In the 6 months since my first article, the stock has done exactly that: doubled. This morning the company announced excellent Q4 and full-year 2013 earnings powered by growth in its rechargeable lithium-ion battery business. As a result of the Q4 earnings and several other bullish catalysts described below, I am raising my initial 12-month price target of $5 to $6.40 in 2014. That is ~28% above the current price (~$5 as I write this). If the stock hits $6.40 in 2014, that would be an annualized gain of ~37% from today.
In my initial article I summarized my opinion of HPJ:
The company expects to be profitable for full year 2013, and could easily earn $0.25/share next year. With a conservative P/E of 20, the stock could easily trade to $5/share in 2014 - about a 100% gain from Friday's close. Considering the robust growth predicted for the lithium-ion global market, the risk here is that my estimates are too low. HPJ could easily be a 3 to 4 bagger in 2014.
Indeed, the company hit my 12-month $5 price target in only 6 months. Ironically, the 52-week high of $6.40 is my new price target for 2014.
I started the company as a Speculative STRONG BUY with the "speculative" adjective added due to its small market cap (under $100 million), the general overall risk profile of small China based companies, and the potential start-up risks associated with the company's new advanced and automated state-of-the-art manufacturing facility. However, since that time earnings have improved faster than expected and so has the stock price. That, combined with the recent announcement of the company's first large-scale EV battery order (which I covered in this article), led me to drop the "Speculative" part of the rating and just issue a STRONG BUY on HighPower Technology in my last piece on the company.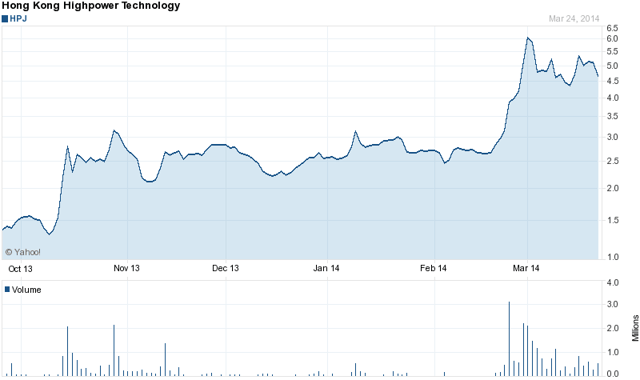 Q4 Earnings
The Q4 earnings results were outstanding. Net income came in at $0.09/share - up 125% YOY. That blew away the Q4 estimate I made in my first article ($0.04/share). For the full year, the company was not only solidly profitable, but delivered net income of $0.11/share. Net sales increased 24.7% to $38.4 million in Q4 of 2013 versus the fourth quarter of 2012. For the year, net sales increased 17.9% YOY to $132.8 million.
The best news is that the company's torrid growth in lithium-ion battery sales continues:
Lithium battery net sales were up 79.2% in Q4 of 2013 over Q4 of 2012.
Total lithium battery pieces sold increased 31.0% with a 54.4% increase in volume per ampere hour.
For the year, total lithium battery sales were up 52.6% with a 49.6% growth in volume per amp hour.
In addition, gross margins are expanding. Gross margins were 22.5% in Q4, up 170 basis points over Q4 of 2012 and 390 basis points sequentially. Margins are likely to continue to increase as volume picks up in the new automated state-of-the-art manufacturing facility, and should be especially strong in 2015.
Chairman and CEO George Pan commented on the results:
We are excited to end the year on such an exceptional note having once again achieved record revenues in our lithium battery segment and overall record revenues for HighPower. Our lithium battery business, including the increased capacity from our newly opened facility in Huizhou, and our recently announced first major order in the electrical vehicle market, gives us tremendous momentum and increased brand recognition, positioning us well for a strong 2014.
He went on to point out that growth in several key end markets - mobile and portable devices, and electric vehicles - show no signs of slowing.
Henry Sun, HighPower's CFO, said the company delivered strong revenue growth, healthy gross margins, improved management efficiencies, and profitability for full-year 2013. And he believes these trends will continue:
In 2014, we expect these positive trends to continue, which we believe will translate into strong top and bottom line growth for the full year.
Completion of the new manufacturing facility means 2014 capital expenditures will be lower than in fiscal 2013. As a result, the percentage of operating expenses as a percentage of sales is expected to be lower in fiscal 2014.
Battery Recycling - A Key Differentiator
In the earnings release and subsequent Q4 conference call, CEO Pan discussed HPJ's pioneering efforts in the battery recycling space and reported that a new recycling facility is planned to come online in Q2. Pan said some existing large customers, as well as potential customers in the pipeline, are attracted to the company's recycling initiatives, which he says is a key differentiator to win additional business in the future. The trend toward battery recycling makes sense from both a business and environmental perspective. Pan predicts increasing amounts of complex energy storage systems and electric vehicle batteries will need to be disposed of in the coming years. During the conference call, HPJ reported an independent market study predicting the battery recycling market could be $2 billion by 2022.
More Conference Call Highlights
Other highlights from the Q4 conference call include:
The company spent ~$20 million on cap-ex in 2013, most of which went toward equipment for the new manufacturing facility. Cap-ex in 2014 will be substantially lower: in the range of $5-10 million.
The new manufacturing facility began delivering product in Q4. HPJ expects the new facility will ramp up to full production capacity by the second half of the year.
HPJ expects the new manufacturing facility will deliver $20 million of products in 2014.
HPJ said the new facility has 4x the company's existing capacity.
Worldwide Lithium-Ion Battery Demand Outlook
According to UK based independent analyst Roskill, EV demand is going to go parabolic over the next few years: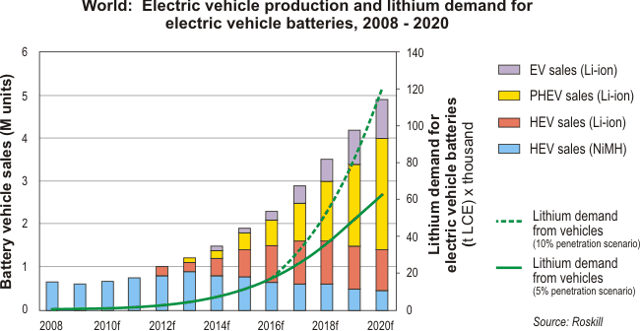 In addition to the well-publicized growth in rechargeable lithium-ion battery demand from EV manufacturers like Tesla (NASDAQ:TSLA), Alex Walsh, CEO of the Lithium Exploration Group (OTCPK:LEXG), says back-up power for wind and solar will also boost worldwide demand for lithium-ion batteries. According to a recent market report by Transparency Market Research, the lithium-ion battery market is expected to reach $33 billion in 2019, up from $11.7 billion in 2012 for a CAGR of 14.4%.
HighPower is in an excellent position to take advantage of the explosive growth in the lithium battery market. Not only because it has new manufacturing capacity to easily absorb increasing volume, but also because HPJ is a technological leader in the battery space.
HighPower Tech - A Battery Technology Leader
For its size, it is surprising to see that HPJ is a technology leader in the lithium-ion battery space. The company has over 100 patents related to battery technology and manufacturing. Many of these patents are related to legacy "old style" Ni-MH battery technology. Yet that is a very profitable business for HPJ so its strong patent protection of its Ni-MH technology is very important. Going forward, the company's patents in lithium batteries will be increasingly valuable. In particular, patents 52, 57, 58, and 61 are specific to lithium battery technology. Also, it should be noted the company plans to continue healthy funding (~4% of annual sales) for its R&D efforts with a focus on intellectual property.
HighPower's Chief Scientist of Lithium Battery, Mr. Peter Cheng, delivered a presentation on Advanced Lithium Battery Technologies and Development on March 11, 2014. While I have not been able to obtain a copy of the presentation, it is nevertheless impressive that an HPJ employee presented at such a prestigious conference. Mr. Cheng has over 10 years of extensive experience in lithium battery technologies ranging from materials research to battery application developments. Before joining HighPower, Cheng was Research Director at one of the largest lithium battery companies in China. He directed application projects with customers including Apple (NASDAQ:AAPL), Motorola (NYSE:MSI), Samsung (OTC:SSNLF), and Nokia (NYSE:NOK).
Also, it is important to note that HPJ has a key focus on safety and joined the UL's Standards Technical Panel ("STP") 1642 in 2013. This consensus body develops and maintains UL product safety standards on Household and Commercial Batteries. HighPower's Chief Technology Officer, Mr. Wenliang Li, said HPJ is one of the very few global battery manufacturers that are members of UL STP 1642.
2014 Guidance
On the Q4 conference call, the company announced its 2014 guidance:
Revenues: $150-170 million
Net income: $4-5 million
I was actually able to call in and ask a question. The company told me the new facility (phase 1) will have a full capacity of ~$40 million in 2015. In response to a later question, HPJ reported the new campus has additional space and they plan two more phases of development as volumes dictate.
Summary & Conclusion
HPJ has several strong catalysts going forward. In earlier articles I reported on a few of these, including:
Exposure to the fast growing rechargeable lithium-ion battery market.
A new state-of-the-art automated manufacturing facility.
Its first large scale EV battery order.
Expanding gross margins and management efficiencies.
To these catalysts I can now add the company's excellent 2013 Q4 sales and earnings that were significantly above my estimate. This bodes well heading into fiscal 2014. A new catalyst is the company's growing presence in the battery recycling market - a new recycling facility is slated to come online in Q2. In addition, another catalyst is the company's comments that 2014 cap-ex will drop 50% (or more) as compared to fiscal 2013.
From a stock price perspective, the midpoint of HPJ's fiscal 2014 revenue guidance ($160 million) would be up 20% over 2013. However, net income is predicted to grow much faster. The midpoint of HPJ's 2014 net income guidance is $4.5 million, up 300% over 2013. Based on the number of current shares outstanding (13,874,574 fully diluted), this equates to $0.32/share. With a very reasonable P/E=20 put on those earnings, HPJ is a $6.40 stock. At the high end of earnings guidance, a P/E=20 equates to a $7.20/share stock price.
Like my previous $5 12-month price target, I believe my current $6.40/share price target is quite conservative for two reasons:
It is based on a P/E of 20, which is quite conservative for such a fast growing small company in an excellent high growth market such as rechargeable lithium-ion batteries.
Another large EV battery order is very likely and would potentially cause another significant spike up in the stock price similar to the one experienced in late February and early March (see stock chart above).
If the company were simply to repeat Q4 earnings ($0.09/share) throughout 2014, that would equate to $0.36/share for fiscal 2014 - which is merely the high-end of the company's guidance. Bottom line: I believe the company's guidance to be very conservative. As such, I expect HPJ will increase guidance as we move through 2014.
Ironically, the company's 52-week high and highest level reached in 2014 is exactly my new 2014 price target of $6.40. I expect the company will easily exceed that level in 2014 because I expect to raise my 2014 EPS estimate as we wind through the year.
Yet who would complain if the stock only rose to $6.40 in 2014? That would be an annualized gain of about 37% from its current stock price.
HPJ is a STRONG BUY.
I will end with the following table taken from HPJ's Q4 and full year 2013 results.
HIGHPOWER INTERNATIONAL, INC. AND SUBSIDIARIES
CONSOLIDATED STATEMENTS OF OPERATIONS AND COMPREHENSIVE INCOME (LOSS)
(Stated in US Dollars except Number of Shares)
Three months ended
December 31,
For the year ended
December 31,
2013
2012
2013
2012
Net sales
38,419,856
30,800,194
132,849,822
112,648,705
Cost of sales
(29,776,440)
(24,384,461)
(106,465,780)
(88,942,281)
Gross profit
8,643,416
6,415,733
26,384,042
23,706,424
Research and development expenses
(1,726,327)
(1,345,764)
(5,711,269)
(4,611,054)
Selling and distribution expenses
(1,801,801)
(1,442,921)
(6,188,176)
(5,347,692)
General and administrative expenses, including share-based compensation
(3,716,995)
(3,164,804)
(12,092,708)
(11,478,541)
Loss on exchange rate difference
(178,259)
(142,139)
(552,669)
(220,597)
Gain on derivative instruments
58,906
490,059
326,222
730,591
Total operation expenses
(7,364,476)
(5,605,569)
(24,218,600)
(20,927,293)
Income from operations
1,278,940
810,164
2,165,442
2,779,131
Other income
561,845
226,359
1,538,518
630,842
Interest expenses
(501,037)
(327,842)
(1,647,155)
(705,218)
Income before taxes
1,339,748
708,681
2,056,805
2,704,755
Income taxes expense
(138,664)
(189,127)
(718,016)
(1,132,340)
Net income
1,201,084
519,554
1,338,789
1,572,415
Less: net loss attributable to non-controlling interest
(7,497)
(46,207)
(112,429)
(144,607)
Net income attributable to the Company
1,208,581
565,761
1,451,218
1,717,022
Comprehensive income
Net income
1,201,084
519,554
1,338,789
1,572,415
Foreign currency translation gain
291,457
307,048
822,600
532,918
Comprehensive income
1,492,541
826,602
2,161,389
2,105,333
Less: comprehensive loss attributable to non-controlling interest
1,796
(39,922)
(88,824)
(146,932)
Comprehensive income attributable to the Company
1,490,745
866,524
2,250,213
2,252,265
Earnings per share of common stock attributable to the Company
- Basic
0.09
0.04
0.11
0.13
- Diluted
0.09
0.04
0.11
0.13
Weighted average common shares outstanding
- Basic
13,863,306
13,582,106
13,671,169
13,582,106
- Diluted
13,874,574
13,582,106
13,687,698
13,582,106
Disclosure: I am long HPJ. I wrote this article myself, and it expresses my own opinions. I am not receiving compensation for it (other than from Seeking Alpha). I have no business relationship with any company whose stock is mentioned in this article.
Additional disclosure: I am an engineer, not a CFA. The information and data presented in this article was obtained from company documents and/or sources believed to be reliable, but has not been independently verified. Therefore, the author cannot guarantee its accuracy. Please do your own research and contact a qualified investment advisor. I am not responsible for investment decisions you make. Thanks for reading and good luck!
Editor's Note: This article covers a stock trading at less than $1 per share and/or with less than a $100 million market cap. Please be aware of the risks associated with these stocks.
Editor's Note: This article covers one or more stocks trading at less than $1 per share and/or with less than a $100 million market cap. Please be aware of the risks associated with these stocks.