I agree that making iPhone 6 like a Note 3 is a bad idea. However, I think it will be very beneficial to Apple (NASDAQ:AAPL) if it also comes up with a separate phablet product. I was lucky enough to borrow a doctor friend's Note 3 and I understood why 2013 was the year of the phablets.
My brother-in-law's sister, Cheng, has a Galaxy Mega with 6.3-inch screen. Hands-on experience on my part convinced me that a phablet is a pocket-worthy productivity tool that is also great for viewing HD videos and playing games.
Apple CEO Tim Cook should no longer ignore that there's a ready market for large-screen phones. 2013 was the Year of the Android Phablet. An iPhablet has the potential to reinvigorate Apple's high-end smartphone business. The aftermarket sell-off after the January 27 earnings report showed the stock market really disliked that Apple's 51 million iPhone sales were below industry predictions.
Samsung (OTC:SSNLF) restarted this phablet fad with the Galaxy Note, and it paid off very well for the company. The Galaxy Note 3 was one of the biggest selling handsets last year. The success of the Note 3 made phablet, along with selfie and FOMO (fear of missing out), 2013's newest additions to the English dictionary. Phablets, popular among professionals and office workers, are cannibalizing 7-inch tablet sales because a 5.5-inch phablet can fit a Dockers pants pocket or a small ladies bag.
iPhablet Can Slow Down Samsung
Samsung took the lion's share of the estimated 20 million high-margin phablets sold in 2013. Apple got blindsided by this - if only the company listened to the pulse of the market, it could have sold more than 51 million iPhones last quarter. The Galaxy Note 3 sold 5 million units within a month of launch. Apple ignored Samsung's foray into phablets last year - I hope it doesn't repeat the same mistake again.
Juniper Research is predicting a 120 million unit sales for phablets by 2018. However, ABI research is already projecting a 150 million unit sales for phablets for 2014. The disparity between these two research firms' numbers only confirms that phablets are going to be a huge revenue avenue for phone makers.
Apple should not miss this boat again. It is not only Samsung that's profiting from phablets: HTC (OTC:HTCKF) has the One Mega, Huawei has Ascend Mate, Nokia (NYSE:NOK) has the 1520 and 1620, Sony (NYSE:SNE) has its Xperia Z Ultra and a cheaper Xperia T2 Ultra.
iPhone 6 Should Not Become A Phablet
Apple is still king of the high-end smartphone market. Joining the phablet trend may help Apple retain its crown against fast-rising Samsung. However, I believe that it is better for Apple to make the iPhone 6 retain the same dimension of the iPhone 5C so as not to alienate old iPhone users.
Apple can just make the iPhablet with a 5.5 inches to 6 inches dimension. It is also better that the iPhablet comes with a stylus. The rumored release of native Microsoft Office for the iPad benefits an iPhablet with a stylus. Microsoft (NASDAQ:MSFT) may not port a full native Office app for Android OS, so an iPhablet can be a good competition to the Galaxy Note 3.
Samsung's Galaxy S4 and other phablet models like the Galaxy Mega and Note 3 are reasons why it is stealing U.S. customers from the iPhone. A great Apple iPhablet, even if it only sells 5 million in a year, still helps slow down Samsung's mission to unseat the iPhone's grip on the high-end market.
Conclusion
Apple should give Samsung a dose of its own imitation-is-easy-path-to success medicine. Yes, this article's main thesis calls for Apple to copycat the success of Samsung's phablet. I bet that phablet sales can generate more sales than an Apple can ever get from a set-top box deal with Comcast (NASDAQ:CMCSA). Let Netflix (NASDAQ:NFLX) and Amazon (NASDAQ:AMZN) wallow in that low-margin business for the time being.
Making great phones is what Apple is good at. A great iPhablet should not be hard for Tim Cook to deliver this year. More resources and research should be put into making an iPhablet version of the iPhone.
Yes, I admit that streaming media business offers long-term potential but again, the low margin business model of Amazon Prime and Netflix runs counter to Apple's long history of high-margin profitability.
A phablet is a high-margin product that already offers an immediate revenue stream better than a set-top box can offer now. A iPhablet Pro with top features and stylus is perfect for corporate users. A cheaper $399 variant of the iPhablet will appeal to emerging markets and ordinary consumers. The phablet market size is estimated to be at $46 billion for 2014.
Apple is a strong buy. If Microsoft really releases a native version of its Office suite for the iPad on March 27, I'll liquidate most of my Intel (NASDAQ:INTC) position. I'll use the money instead to either buy more AAPL shares and/or call options.
Based on fundamentals and business moat, Apple is the best undervalued tech company for long-term investors. Apple produces the biggest net income among its peers and commands the most loyal of customers.
However, Apple's accomplishments are looked down upon by Mr. Market. APPL has a low P/E, low P/S, low EV/R, low EV/EBITDA, low P/B, low D/E ratios…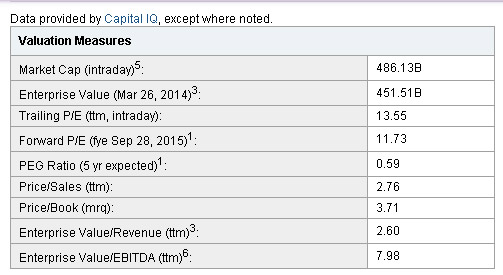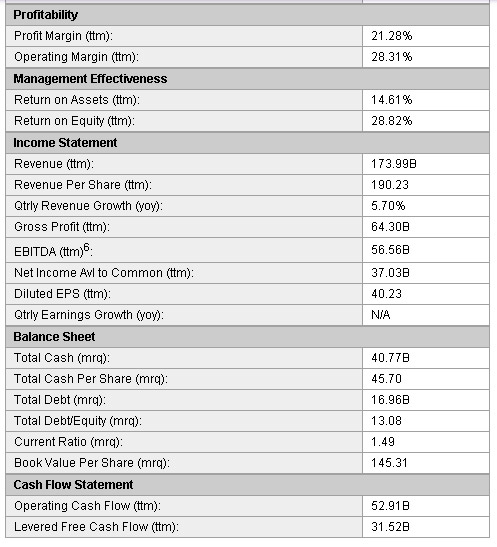 Disclosure: I am long AAPL. I wrote this article myself, and it expresses my own opinions. I am not receiving compensation for it (other than from Seeking Alpha). I have no business relationship with any company whose stock is mentioned in this article.