Energy
Crude oil rallied 4.6% this week, breaking above the key $75.50 resistance level which had been keeping a lid on prices for two weeks. Oil has been benefitting from stability in the financial markets. News out of Europe has so far failed to worsen, and thus traders are reevaluating whether risk assets, including oil, are oversold. Prices are currently holding above both the 50% retracement of the entire correction, $75.69, as well as the 200-day EMA, $76.04.
Click to enlarge images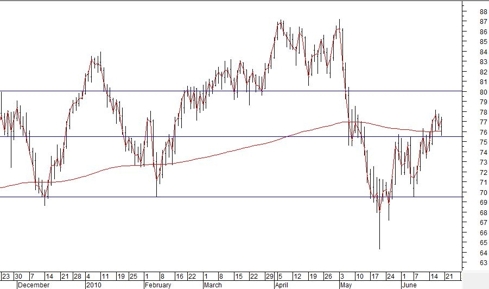 On the fundamental front, the EIA reported that crude oil inventories rose 1.7 million barrels, gasoline inventories fell 0.6 million barrels, distillate inventories rose 1.8 million barrels, and total petroleum inventories rose 4.4 million barrels. The numbers were largely in line with expectations and the 5-year average. US petroleum inventories are now 6.6% above the 5-year average, the same as last week. Of note is the fact that US crude oil production rose 1.1% week-over-week. Year-to-date, production is up 3.5% year-over-year, but it should be noted that it is much too early to see an impact from the Gulf of Mexico drilling moratorium on output levels.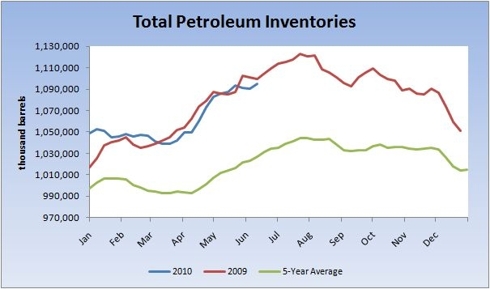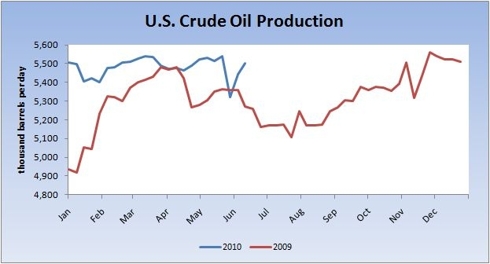 Going forward, former resistance has become support, and thus the $75.50 level bears watching on the downside. Below that is the $73.26 level. On the upside, $78.13 and $80 may act as potential resistance.
Natural gas rose almost 5% on the week, as prices finally climbed through the $5.00 mark. The driver of the latest move has been hotter-than-normal temperatures enveloping much of the country, which has increased cooling demand (about 23% of the nation's electricity is generated using NG). There have also been rumors of a hedge fund being forced to cover extremely large positions, sending the market artificially higher. While it is certainly plausible that large speculators got caught on the wrong side of the latest rally, it is unlikely that any individual hedge fund is the cause of the rally.
With regard to inventories, on Thursday, the EIA reported that natural gas storage for the week ending 6/11 rose by 87bcf. This was in the range of analysts' estimates which were typically between 81 and 92. Importantly, the year-over-year surplus became a deficit, as the build was far short of last year's 114 bcf. Inventories are now 14bcf below a year ago, though they are still at very comfortable levels.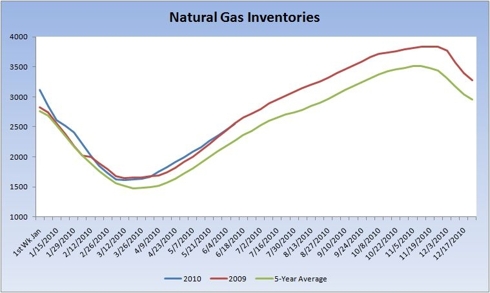 Looking to next week, the weather maps still look red with hotter-than-normal temperatures forecast. Preliminary estimates for next week's storage report point to a build between 75 and 90. It will be extremely difficult for natural gas prices to rally much above the recent $5.194 highs. The weather-adjusted balances are exceedingly bearish and barring a sharp pullback in drilling activity, prices will stay pressured. That said, a break of $5.194 exposes $5.50, while on the downside, $5.00 and $4.65 provide support.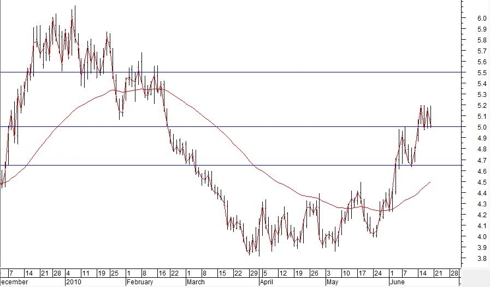 Metals
Gold is up 2.2% on the week. The yellow metal busted through $1250 resistance in Friday's session, once again hitting new all-time highs. Clearly, it was not the euro or equities which drove gold prices this week, for the euro has been quite firm and equities have been rallying for the most part. Instead, investors continue to pile into gold ETFs at a record pace, acting on a belief that sovereign debt will a problem for a long time to come and that the purchasing power of fiat currencies will be severely reduced. In turn, as gold rises, momentum traders pile on and a self-fulfilling type of move develops. On the upside, there are no reliable technical levels to watch at this point. On the downside, support levels can be found at $1250 former resistance, the rising trendline currently near $1210, followed by horizontal support at $1166.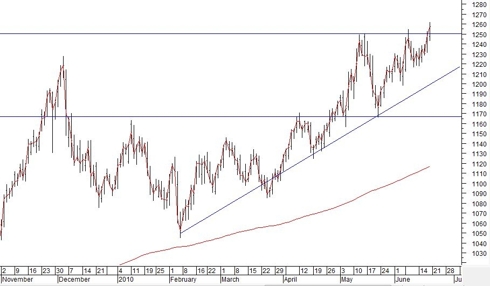 Taking a look at gold ETF flows for the week, holdings increased 296,200 troy ounces (8.4 metric tons).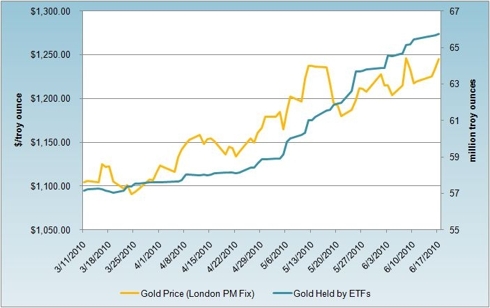 The gold/silver ratio decreased to 65.56 from 66.66 last week. The ratio is near the year ago levels of 65.66.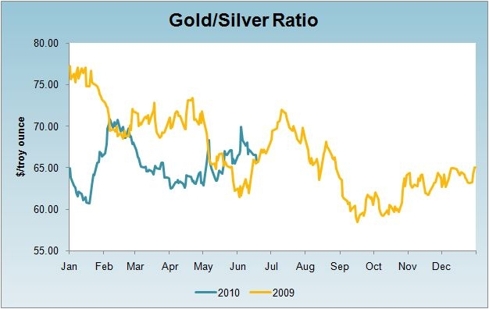 In contrast to the other commodities mentioned, copper ended the week lower by 0.7%. Inventories in exchange warehouses fell by 20,967 tons from the prior week, but are still 293,566 tons above the year ago level. Taking a look at technicals for COMEX copper, the next major support level is at $2.65/pound. On the upside, $3.00 provides resistance, followed by $3.07, the 200-day EMA.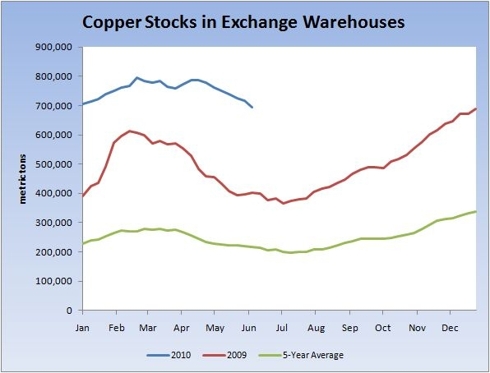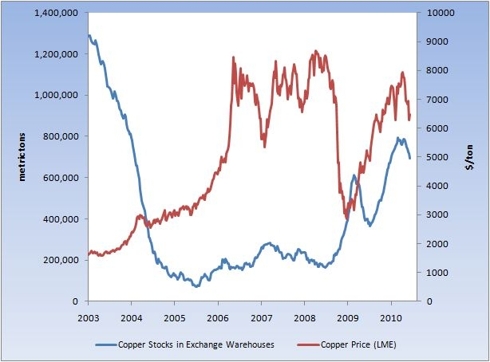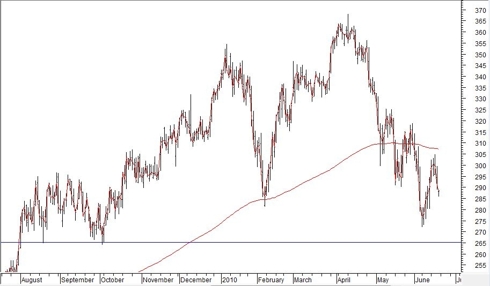 Disclosure: Author is short UNG from $8.70