A Look At Solazyme's Performance
Renewable oils and bioproducts company, Solazyme (SZYM), announced a proposed offering of convertible notes and common stock on March 25 after the market close. Solazyme is a developer and manufacturer of novel tailored oils and algae meal products. The company is currently specializing in the markets of chemicals, fuels, food, and personal care.
Upon release of the latest offering announcement, the company's stock fell to $12.48 from $13.09 in the after-hours session. The initial impact of the offering announcement was later offset by the unveiling of a second press release detailing the launch of a new product line named Encapso. Solazyme ended the after-hours session down 2.6% at $12.75 on relatively light volume of 17,984 shares.
Despite the latest price dip on the prospect of near-term dilution, Solazyme had been seeing its share price rise in a relatively short amount of time. As noted in the chart below, the company's shares have grown over 30% in the last 3 months. This latest rise had reached an almost 50% climb just a few days prior. Leading the way for this sharp ascension was the prior announcement that the company had initialized commercial production at its first large-scale facility in Iowa.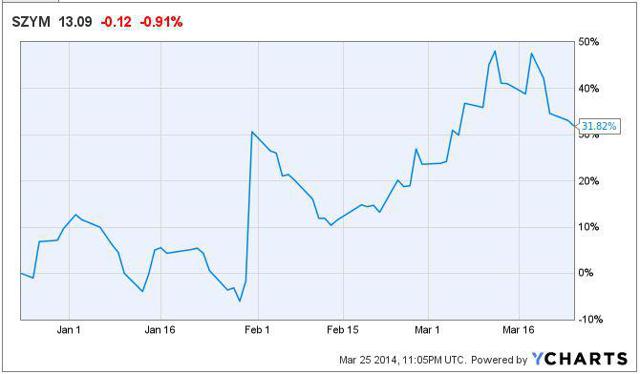 A Look At The Proposed Offering
According to the latest announcement, Solazyme expects to offer up to $115 million of convertible senior subordinated notes due 2019. It also anticipates offering up to 5.75 million shares of common stock. Using the last closing price of $13.09 during the regular trading session as of March 25, this would suggest that the company could raise up to $190 million with an immediate dilutive effect of roughly 8% of the current outstanding shares. Assuming on the fully exercised conversions of these convertible notes, the company also could introduce up to 8.8 million shares over the coming years.
While much of this is dependent on the actual pricing which is yet to be determined, the offering stands to reinforce the company's balance sheet as it enters into a critical phase of growth. With $168 million in cash and short-term investments and a quarterly cash burn of approximately $18 million as of December 2013, Solazyme already appears to be sufficiently positioned to become cash flow positive as it ramps up its first large-scale commercial facilities over the next few quarters. Nevertheless, this neglects the possibility of additional growth.
For those investors following Solazyme over a lengthy period of time, the prospect of raising additional capital should not be alarming. Having already initiated commercial production, the company stands at the crossroads of planning for additional manufacturing capacity and refining the initial commercial production. With the average 100,000 MT facility costing around $150 million, Solazyme's balance sheet remains far from fortified when we consider the additional 200,000 MT it expects to build out with partner Bunge (BG) and the 80,000 MT of capacity still to be upgraded at the facility owned by partner Archer-Daniels-Midland Company (ADM).
While secured financing and partner-contributed capital is sure to play an assisting role in the development of these additional facilities, Solazyme will still need to contribute a worthy share. At the same time, Solazyme's balance sheet remains one of the keys to its competitive strength. This is best illustrated when compared to its supposed peers in the advanced biofuel space as shown in the tables below. The clear divergence of Solazyme from companies like Amyris (AMRS), Gevo (GEVO), and Kior (KIOR) has only been made more apparent by the ability to raise and utilize capital in an efficient manner.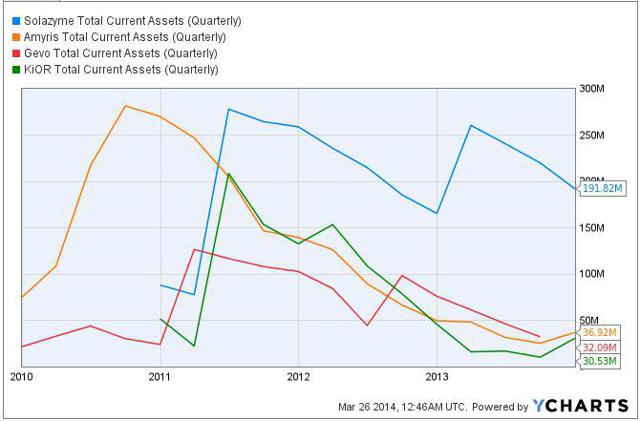 (Solazyme's cash balance has helped to differentiate the company.)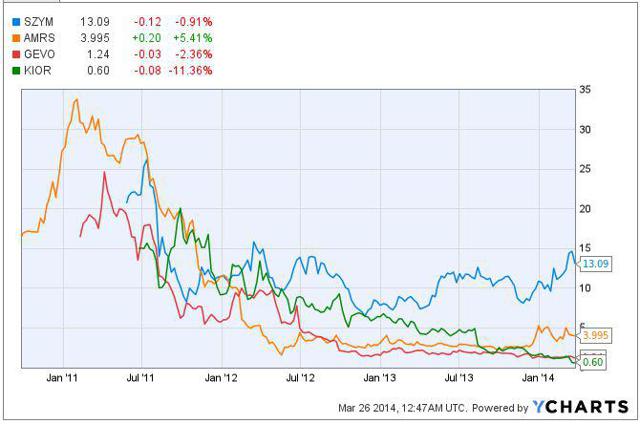 A Look At Encapso
Released nearly two hours after the first press release, Solazyme also announced the launch of its new product line called Encapso. Encapso marks the company's entry into the rapidly growing market of oil & gas drilling fluids. While I was able to touch up on the possibilities of what the Encapso product line could be in my article found here, the actual function of the company's new line appears to hold much more potential than I imagined.
As anticipated, Encapso revolves around a biodegradable encapsulated oil product with the purpose of a targeted delivery. However, the function of the company's new product is to serve as a high-grade lubricant delivered precisely at the point of friction where it is most needed. According to the company's most updated prospectus found here, Encapso is described in the following manner:
"We have recently introduced our first high-performance lubricant to oil field service customers within the oil and gas drilling market. Encapso™ is a microalgae cell filled with biodegradable oil and natural emulsifiers that is designed to act as a targeted friction inhibitor when used in drilling fluid. The product can be proactively added as a dry dispersible powder into drilling fluid mud systems to help enable faster, easier and cleaner drilling."
We see here that the company appears to utilize the whole microalgae cell and that it is possible to add the product into existing drilling fluid formulations. This does limit the idea of Encapso being utilized as a co-product, but does reinforce the idea that few manufacturing process changes (if any) are needed for its production. However, the more impressive feat lies in the product's trial results.
According to the same press release, the use of Encapso to the mud system allowed for an increased rate of drilling penetration. Based on the first hand experience of Philip Johnson, a senior drilling engineer for a major exploration company, Encapso increased the penetration rate from 2 ft/hr. to 40 ft/hr. This represents a 1900% increase in productivity. If we were to assume a theoretical 40-foot segment at the critical "curve" of a horizontal well, this would result in an operation time savings of 19 hours.
Such time savings could prove to be critical when it comes to cost savings. According to Chief Oil & Gas LLC, the average horizontal well takes approximately 18-25 days from start to finish in terms of drilling. Additionally, the entire procedure of taking the well to market can take up to 3-4 months when you include the rest of the process. These additional procedures could include fracture stimulation and connecting the well to a pipeline. With the ability of Encapso to affect nearly 30% of the completed well's timeline, such increases to productivity could prove to offer a lucrative value proposition to Big Oil & Gas.
A Look At The Company's Financials
Solazyme currently trades with a market capitalization of $905 million at the closing price of $13.09 as of March 25. If the proposed offering were to be fully exercised and executed at this share price, the company would have approximately $357 million in cash and short-term investments based on the quarter ending in December 2013. For all of 2013, Solazyme utilized $74.8 million for operating activities and another $20.3 million for investing activities.
As a result, we see that the company will have added nearly two more years of operations if the cash outflow were to continue at its existing rate. Nevertheless, it is reasonable to expect that the use of cash will increase as Solazyme invests into additional manufacturing capacity. Some of this will ultimately be offset by the accelerating ramp in revenue expected to increase throughout the coming years. Solazyme has stated that it will take approximately 12 to 18 months for a completed facility to reach its nameplate capacity.
With nearly 120,000 MT of capacity coming online between the company's plants in Moema and Clinton, investors can expect a nearly 6500% increase in production capability. While Solazyme only produced $39.8 million in revenue for all of 2013, investors should anticipate for this amount to dramatically increase over the coming two years. Presuming upon a $2,000/MT average selling price as targeted by the company, the existing capacity being brought online could uplift the company's annual revenue to nearly $280 million within 18 months. It is also worth mentioning that the company's initial sales in Iowa resulted in average selling prices of $2,600/MT.
Final Thoughts
Solazyme appears to be raising capital for future growth opportunities. The company stated that the net proceeds would be used to "fund capital expenditures, working capital, and general corporate purposes." Regardless of the company's intentions, the funds significantly bolster a leading balance sheet already facing aggressive capital outlays in the near future. The move should enable Solazyme to pursue an aggressive manufacturing capacity expansion rather than waiting on the cash flows of its latest facility additions.
As I previously stated in my last article, it remains advantageous for long-term investors to identify ideal entry points during future share price dips. The time for accumulation appears to be far from over despite the latest share price rally. While short-term weakness may soon lie ahead as I previously suggested, the long-term outlook continues to strengthen. This is only reiterated by the announcement of the Encapso product line.
Upon completing its latest offering, Solazyme will be much better equipped at deploying capital for future growth opportunities. Without a heavier reliance on partner capital, it will also enable the company to take a higher percentage of future profitability. This offering appears to be a meager price to pay for a much larger long-term opportunity.
Disclosure: I am long BG, SZYM. I wrote this article myself, and it expresses my own opinions. I am not receiving compensation for it (other than from Seeking Alpha). I have no business relationship with any company whose stock is mentioned in this article.