Facebook (NASDAQ:FB) can be considered the most dominant social media website in the world and it has posted a tremendous growth in its business in the last few years. Social networking, e-commerce, and m-commerce trends predict the current momentum of growth will continue in the future.
Performance Last Year
If we want to analyze the performance of Facebook, two important metrics we need to use are the scale and user engagement. Scale can be measured by daily average users (DAU) metric and user engagement is measured by average revenue per user (ARPU). Worldwide DAU increased by 22% from 618 million users in December 2012 to 757 million users in December 2013. DAU increased in all major markets including Brazil, India, and the US.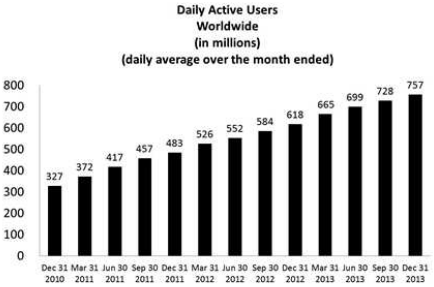 ARPU increased by 28% from $5.32 in 2012 to $6.81 in 2013. This is great progress made by FB. The total worldwide revenue of FB's operations increased by 54.69%; from $5.089 billion in 2012 to $7.089 billion in 2013.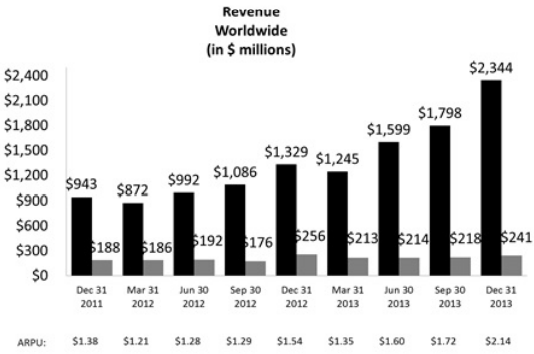 ARPU from Facebook's rest of the world geographical segment (that includes Latin America and Africa) grew at the highest rate of 43%. The US & Canada segment grew by 38%, Europe segment grew by 36% and the Asia segment grew by the lowest rate at 34%. FB expects that the geographical segments that showed low growth will grow at a higher rate in the future.
Why is Facebook the most-visited social media website?
Facebook earns over 80% of its revenue from advertisements on its website. There are around 25 million small businesses that choose to advertise through FB. FB is the most visited social networking website. The exhibit below was taken from experiencetheblog.com and shows that Facebook has the largest number of unique visitors compared to its rivals that include LinkedIn (NYSE:LNKD), Twitter (NYSE:TWTR), Google+ (NASDAQ:GOOG), Tumblr and Pinterest.
Strength of Facebook's Features
Facebook has outstanding features that keep people logged in and if they are visiting another website then there is the option on most websites to share the content of the visited website on FB with a single click. Facebook's networking features are unique and give its users an experience that can't be found on other social networking websites. Facebook fulfills the basic human need of socializing with relatives, friends, people they know or the people they want to know. FB is doing an excellent job of introducing new features to the website to keep users involved and interested because the company knows that stagnant features would bore its users over time.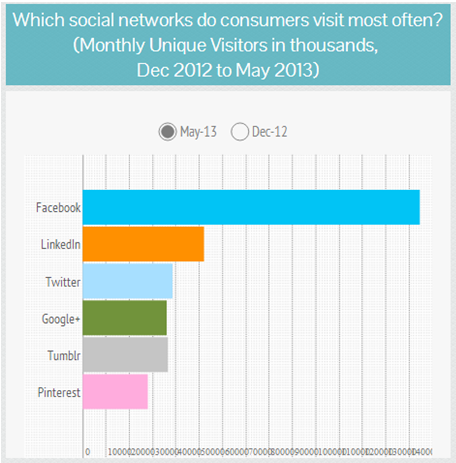 (Source: experiencetheblog.com/ Data from au.businessinsider.com)
The image shows that FB has the highest number of monthly unique visitors compared to other prominent rivals in the social media industry. This popularity of FB among consumers is the reason why businesses choose to advertise through FB to maximize their visibility and to get the maximum ROI from advertisement costs. Another reason that FB is the first choice of businesses for advertisement is because it allows businesses to accurately target certain demographics.
Online retail is growing rapidly and online retailers are looking to promote their products on social media websites. FB provides a very good opportunity to these retailers to establish an identity for their brands. The following image shows that FB is the first choice of online retailers to promote their products.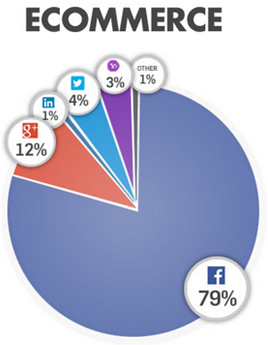 Facebook is Increasing its Revenue Share in Worldwide Net Digital Ad
If we compare Facebook's share of worldwide net digital ad revenue with other rival websites we see that FB's share has increased from 4.11% to 5.64% from 2012 to 2013. Google's share in the market increased by a smaller amount compared to FB. Yahoo and Microsoft had their share reduced over the same period. FB is performing better than its rivals in capturing the growing net digital ad revenue market that grew by 14.68% from $104.22 billion to $119.52 billion in 2013.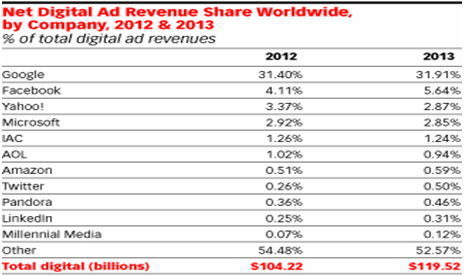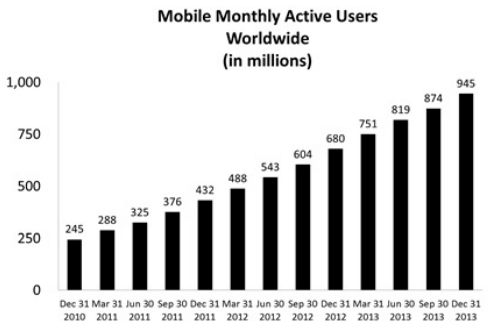 Access to FB on mobile phones increased at an explosive rate of 49%. In December 2012 mobile DAU were at 374 million and increased to 556 million in December 2013. Accessing FB on mobile devices is increasing in all regions and users in Brazil, the US and India are the key source of growth. In the US and developed markets FB access on PCs is expected to remain flat or is expected to decrease.

With a strong presence on the mobile phone platform FB is well positioned to capture the growth of m-commerce. FB has increased its efforts to improve its mobile phone presence. The graph above shows FB's share in worldwide net mobile internet revenue ad share increased from 5.34% in 2012 to 16.91% in 2013. This will be an important driver of profit for FB in the future.
Conclusion
Social networking is an exploding phenomenon and FB is rapidly becoming a growing leader in the industry. With the growth in e-retail and m-commerce, FB is in a strong position to ride the growth trend to boost its top and bottom lines. FB is a stock worth investing in for the long run.
Disclosure: I have no positions in any stocks mentioned, and no plans to initiate any positions within the next 72 hours. I wrote this article myself, and it expresses my own opinions. I am not receiving compensation for it (other than from Seeking Alpha). I have no business relationship with any company whose stock is mentioned in this article.