Introduction
Yesterday I accidentally watched a presentation of Mr. Jonathan Wilmot, Managing Director Credit Suisse, who has an excellent track record in accurate market predictions, and he said that he is seeing substantial potential in markets like Russia and China, as most companies there, are trading at very low valuation multiples.
According to him, China and Russia offer an equally attractive investment opportunity (over the long-haul) as the opportunity that occurred when the markets crashed in 2008-2009. Wilmot believes now is definitely the time to diversify in Chinese and Russian stocks, but that it is very likely that Russia is facing economic penalties from Europe and the US, and that China will see a decelerating growth, which could make the countries' stocks even cheaper.
He believes, and I agree, that making a list of Chinese and Russian companies you'd like to own now, seems like a pretty good strategy. It will be easier to track them and easier to buy them on dips.
Today I decided to come up with a 3 part series wherein I will discuss 3 Chinese companies that could offer serious upside.
Little reminder: I believe Asian Citrus Holding (ACTFF) should already be in your portfolio or on your watch list.
During today's article, I will be discussing, SORL Auto Parts (NASDAQ:SORL).
About SORL Auto Parts
SORL Auto Parts is a Chinese small cap quoting on the Nasdaq at a share price of $4.40. The company has an $85 million market cap and operates as a global tier one supplier of brake and control systems to the commercial vehicle industry. The company calls itself the market leader of commercial vehicles brake systems and was once loved by the public in a time where everyone fell in love with stocks coming from the land of infinite growth. Since then, a lot has happened. Not only came the reality shock when China's growth started to slow down, but also the large number of accounting scandals made sure American investors actively started to avoid Chinese companies.
Here and now, though, SORL might be the sort of stock that patient investors want to check out more thoroughly.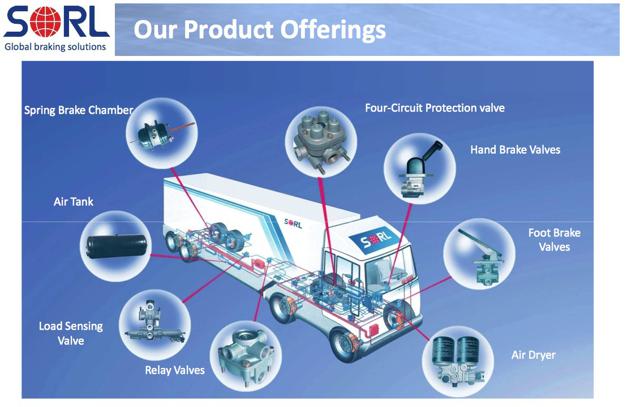 Customer base and revenue growth
Since 2004, SORL was able to close deals with almost every large player in the Chinese vehicle industry, like the Shaanxi Auto Group Co., the Shen Zhen Wuzhoulong Motors Group, the Beijing Foton Daimler Automotive Co. and the Changsha Zoomlion Heavy Industry Science & Technology Development Co.
Thereafter SORL got listed among the top 100 auto component suppliers of China in 2006 as it continued to offer a growing product range with many different specifications while maintaining an ISO system certificate which proves the high international quality of its products.
Needless to say SORL's excellence and expertise in the brake systems market assured loyalty from its existing customers and attracted new customers. This loyal and growing customer base then reflected itself in growing revenue figures.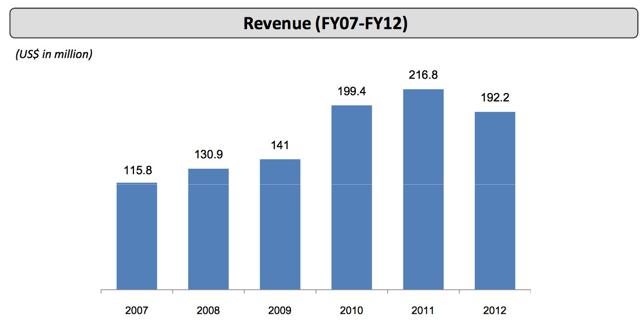 As seen on the graph, revenue of the company increased 67% from $115 million to $192 million in 5 years indicating an annual average growth rate of 13%.
Declining profit margin
While revenue grew hard, SORL's net profit rose only by an average rate of 3.9% during the same period as its profit margin decreased from 9.2% to 6.7%.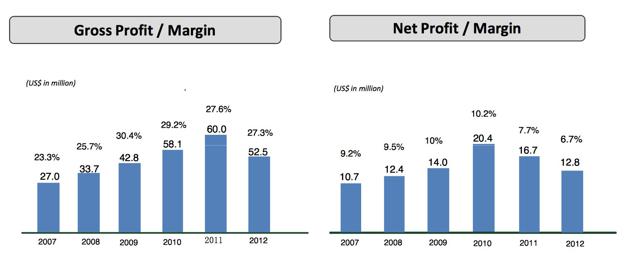 The decline in profit margin since 2010 was partially necessary in order to stay competitive and attract new clients; after all, the company is a small cap and is not a big international player. There was no need to lower its prices or to invest much in R&D while expanding in China, but in order to penetrate Europe and the US more competitiveness became absolutely necessary. Secondly, profit margins fell due to tougher conditions in China; banks have cut lending activity pretty substantially, and that's also filtering down through the economy, as the Chinese government tries to find that happy medium between growth and inflation.
I expect net profit margins to erode some more in the near future as the company has highly invested in R&D. These investments will negatively impact earnings in the short term, but will help the company to gain market share, grow revenue and to produce more efficiently in the long haul.
Cheap valuation
SORL is currently quoting at a:
P/E of 6.67
Price-to-sales ratio of 0.42
Price-to-book ratio of 0.46
Price to free cash flow ratio of 8.33
Debt-to-equity ratio of only 0.10 while holding $32.44 million in cash.
You don't need a PhD in order to see that this company is amazingly cheap. When extracting its cash position from its market cap, SORL quotes at a P/E well below 5.
The future
As China's economy is slowing down and a declining growth rate in China's automotive industry is inevitable, it seems rather fair to be conservative when making a forecast for this company.
For the next 3 years, I'll presume SORL to grow its revenue at a very modest pace of 5% annually (well below its current average growth rate of 13%) and to grow its net earnings by only 2% annually (also below the previously mentioned 3.9% growth rate).
Considering these assumptions, SORL could report $222 Million in revenue and $13.5 Million in net earnings by 2017, making it still extremely cheap compared to its current $85 Million valuation.
Even if SORL would obtain a market cap of $100 Million or $5.17 per share -which would definitely be more justified considering the company's track record, operating effectiveness and strong balance sheet- you'd already be sitting on a 17% profit while still owning a highly undervalued company.
Risk
I agree that SORL continues to be a more risky bet because of the 'China Factor,' but I currently see much more positives than negatives attached to this bet. This automotive company is just too cheap not to own, and I firmly believe that the odds of this becoming a winning investment are in your favor.
Extra margin of safety
I suggest the very cautious investor to wait for a nice pullback as there might still be some unpleasant Chinese economic data heading our way.
Disclosure: I am long ACTFF. I wrote this article myself, and it expresses my own opinions. I am not receiving compensation for it (other than from Seeking Alpha). I have no business relationship with any company whose stock is mentioned in this article.
Editor's Note: This article covers one or more stocks trading at less than $1 per share and/or with less than a $100 million market cap. Please be aware of the risks associated with these stocks.