Nokia has finally come up with its much awaited Android powered device, the Nokia X range of devices. While I do not intend to pass a judgment on the device's quality or usability, I do intend to discuss the strategic impact of the said move, and how it hampers the long term agenda for Microsoft (NASDAQ:MSFT).
The Strategy - Get in the Android Groove
Before I dwell upon the strategy (Although, I think the heading makes it apparently clear) MSFT might be planning with the device, I want to lay down a couple of facts and figures for the readers.
Data compiled by research firm Strategy Analytics in its annual global smartphone market share study shows the absolute domination Android enjoys in the global smartphone market.
With ~79% share of the global market, Google (NASDAQ:GOOG) is way ahead of its nearest competitor, Apple, which stands at a market share of ~15.5%, and way ahead of MSFTs paltry 3.6% share.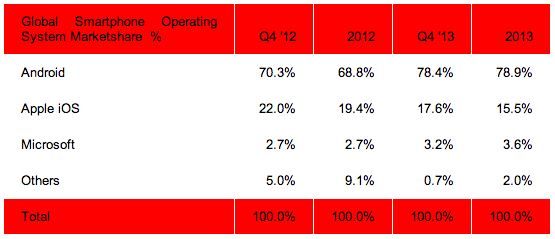 Source: Strategy Analytics
While this might very well be the reason why MSFT wants to foray in the Android domain, Strategy Analytics further reported that Android recorded its lowest ever year-over-year growth since its birth. This is largely perceived to be the result of the market for Android reaching a saturation point.
It is true that Android has achieved a mammoth lead in terms of market share over its competitors, however, we (and MSFT) should keep in mind that GOOG's nearest competitor, AAPL operates in a closed environment, and all of its products are proprietary.
While AAPL might be doing well in mature and rich economies, its exclusivity factor (and affordability) is one of the biggest reasons why it has lost a significant share to GOOG.
MSFT on the other hand has over three decades of experience of playing the game, GOOG has perfected so very well in the last few years.
The success of Nokia's Windows range of smartphone devices are a testimony to the operating system's mass acceptance, and with a number of regional smartphone manufacturers in emerging markets of India and China lining up their series of cheap Windows-based smartphones, the tide may very well be turning in the right direction for MSFT.
Market Sizing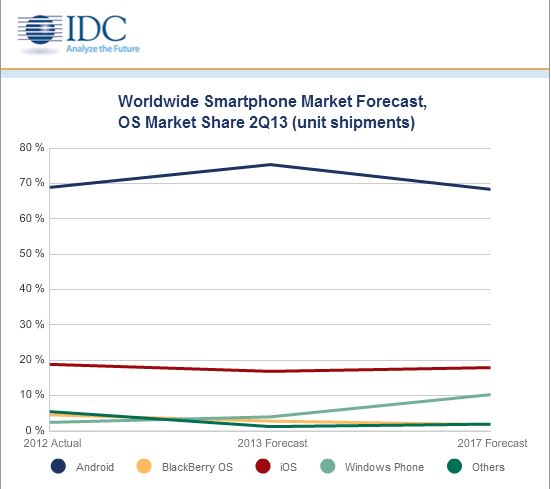 According to global research firm IDC, Windows-based devices are expected to capture ~10% of the market share by FY 2017.
The size of the global smartphone market currently stands at ~$150 billion, and the market is expected to grow at a CAGR of ~15% over the period 2014-2018.
Growing the overall smartphone market at the projected CAGR, we get an overall market size of ~$262 billion by FY 2018. With a forecasted market share of ~10%, MSFT can achieve an impressive share of ~$26 billion.
While the fourth quarter of FY 2013 saw Nokia record a staggering 29% fall in its top line, that hasn't deterred MSFT. The whole reason why MSFT acquired Nokia's handset division was to give a significant boost to its mobile OS platform.
If that is the reason, I see no point in going forward with a range of Android devices.
Final Thoughts
I think the best way forward for the company is to use its large scale distribution networks to promote the Lumia range of devices and continue to offer cutting edge devices on its Windows platform at competitive prices to gain traction in the two largest consumer markets in the world, India and China.
This will not only add significantly to the company's top line, but will also help the company gain traction in these emerging high growth economies and drive its growth for the next couple of years.
Disclosure: I have no positions in any stocks mentioned, and no plans to initiate any positions within the next 72 hours. I wrote this article myself, and it expresses my own opinions. I am not receiving compensation for it. I have no business relationship with any company whose stock is mentioned in this article.