Last week I wrote an article about Boeing (NYSE:BA) and the tremendous growth prospects for the commercial aviation industry. By 2032, global demand will require more than 35 thousand new airplanes. As I researched ways to profit from this long-term growth trend I became very interested in several airline leasing companies. A few major players dominate this sector and include AerCap Holdings N.V. (NYSE:AER), Air Lease Corp. (NYSE:AL), and Aircastle (NYSE:AYR)
My focus quickly turned to AerCap and their recent purchase of International Lease Finance Corporation ("ILFC") - the former crown jewel of American International Group (NYSE:AIG). The deal was announced last December and AerCap will receive 100% interest in ILFC.
Before the deal, AerCap was already a powerful player in the airline leasing sector with 327 aircraft but ILFC's portfolio includes 1,002 aircraft. The two companies combined will have 1,329 aircraft and another 385 aircraft on pre-order from manufacturers. This will make the combined company the largest aircraft lessor in the world, surpassing GE Commercial Aviation Services with the order-book deliveries.
For AIG, the sale of ILFC was clearly part of their restructuring strategy to continue streamlining operations to focus on their core insurance businesses. For AerCap, the deal was simply brilliant and it creates a new powerhouse in the aircraft leasing industry.
The deal was valued at $5.4 billion in cash and AerCap shares. The combined company will have over 200 airline customers, aircraft assets of $35 billion, total assets of $41 billion, total debt of $31 billion, total equity of $5-6 billion, annual revenue of $5 billion, annual run-rate net profit of $1 billion, annual operating cash flow of $3 billion, and a run-rate EPS of $4.00+. The aircraft leasing business is very scalable and the combined company will have substantial opportunities to produce meaningful cost savings and operating efficiencies.
If you're curious how the market liked the news of AerCap's acquisition of ILFC, the chart below is clear.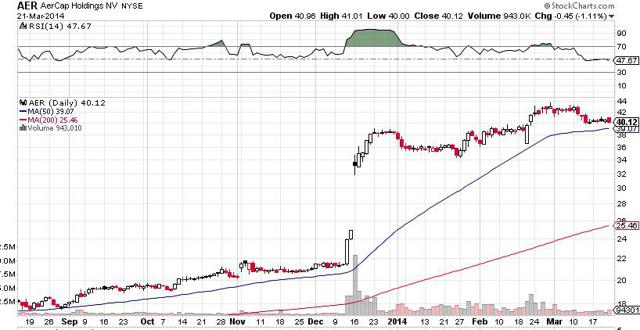 Click to enlarge
A New Airline Leasing Industry Leader
The combined company will have an aircraft portfolio that's comprised of high-quality and diversified aircraft. Over 85% of the combined portfolio consists of A320, A330, Boeing 737NGs and Boeing 777 family aircraft, which are the most in-demand aircraft in the world.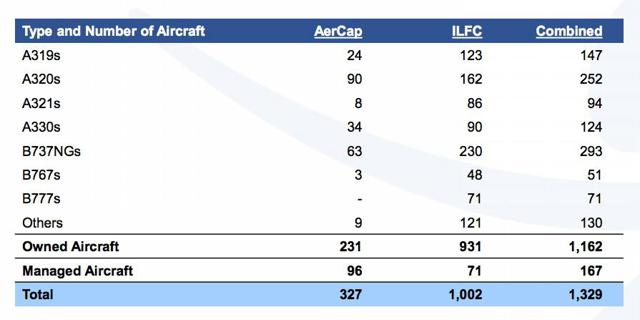 Click to enlarge
The combined order book also contains the most in-demand, new technology aircraft: A350s, B787s, A320-NEOs.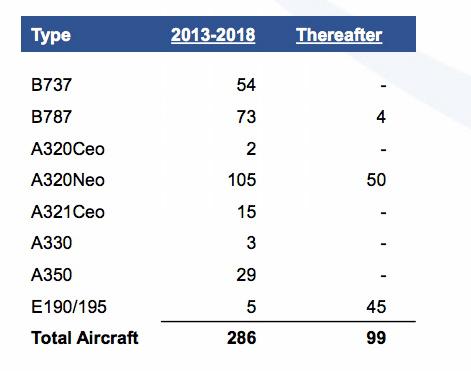 Examining the new capital structure, it's important to note that more than 85% of the lease revenues are contracted for the next three years. As the two charts below demonstrate, AerCap plans to reduce leverage and debt from future profits.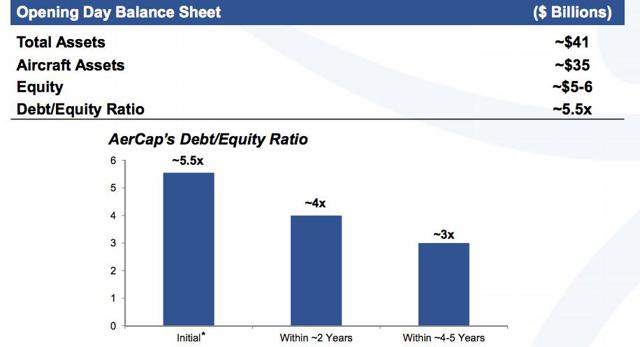 Click to enlarge

Click to enlarge
Summary
To optimize their aircraft fleet strategies, airlines of all sizes are turning to leasing in addition to purchasing new aircraft directly. Airlines have worked hard to cut costs by modernizing their fleets over the last few years and this trend will continue. Today, 87% of AerCap's leasing revenue will come from new technology aircraft and that will grow to 97% in 2018.
AerCap's acquisition of ILFC is an exciting opportunity to invest in a new company that's strategically positioned to profit from a powerful global growth trend. Clearly, the stock price has significantly appreciated in the last six months. I have not yet initiated a position but I'm waiting for the right buying opportunity on any future weakness.
I want to own AIG's former crown jewel.
Enjoy your flight on AerCap.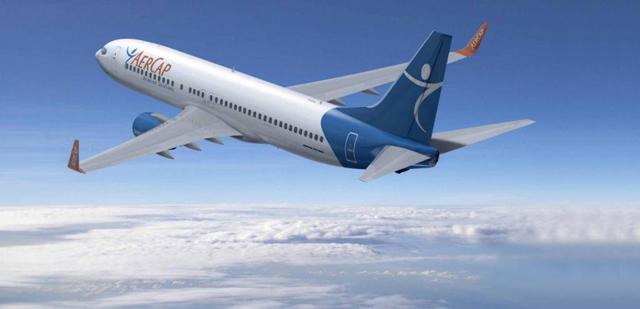 Click to enlarge
Sources: AerCap and International Lease Finance Corporation financial filings and investor materials. All charts are from AerCap investor materials.
Disclosure: I am long BA. I wrote this article myself, and it expresses my own opinions. I am not receiving compensation for it (other than from Seeking Alpha). I have no business relationship with any company whose stock is mentioned in this article.
Additional disclosure: This article is intended to provide information to interested individuals. As I have no knowledge of individual investor circumstances, goals, and/or portfolio concentration or diversification, readers are expected to complete their own due diligence before purchasing any stocks mentioned or recommended.