Realty Income (NYSE:O) investors are currently riding a short-term dividend growth high from all of the company's acquisitions on 2013. The company's total payouts of $2.18 in 2013 ended up being 23.16% higher than the $1.77 that investors received in 2012 (the first quarter dividend increase was 13%). What is intriguing about the American Realty Capital Trust addition is that the acquisition actually increased the quality of Realty Income's real estate portfolio, enabling Realty Income to now boast a 98.1% occupancy rate for its portfolio of 61.2 million square feet.
With the higher quality assets in the portfolio, Realty Income has been able to engage in some intelligent financial engineering the past few months (by the way, I'm using that term stripped of its usual innuendo, and mean it complimentarily). In the broadest sense, the company is selling off lower quality assets and paying down higher interest debt while issuing new shares while the stock is decently priced and opening credit lines that come with better rates.
To put it more specifically, Realty Income has created 9.8 million additional shares, which has inched the number of shares outstanding upward from 196 million to just under 206 million, giving the company almost $400 million to make new acquisitions and pay down the more onerous debt. Realty Income has also increased its credit line by $500 million (up to $1.6 billion) so that the company can go on the offensive if we experience a milder version of 2008/2009.
Armed with capital and American Reality Capital under its belt, Realty Income is a much more robust than it was even a year and a half ago. It is putting itself in the position to raise its FFO by 7% or so over the next five years as the company has 3,866 properties on which it will have the capacity to generate more income and the company is now armed with the extra cash to make acquisitions. The company likes to point out (rightfully so) that it has paid 525 consecutive dividends and has raised it 75 times since becoming listed on the New York Stock Exchange in 1994, and the company is making the kind of high-quality, moderate growth investments to keep that streak going indefinitely.
The only concern I would have with owning Realty Income is generally macroeconomic; if prevailing interest rates increase faster than inflation in the next few years, then economic conditions put pressure on Realty Income's ability to increase funds from operations because the company's borrowing costs (remember, the company has $4.5 billion in debt, over $2 billion of which is due in the next five years and may have to be rolled over at higher interest rate) would be growing at a pace faster than the company's ability to generate higher rents. If interest rates rise quickly, and inflation lags the interest rate increases, you could reasonably find yourself in a situation where funds from operations only increase at 3% or 4% per year. And because Realty Income pays out 93% of its funds from operations to shareholders, the growth of the dividend might only be in the range of 3% or 4% in that realistic worst case scenario.
Of course, you should also keep in mind that Realty Income doesn't necessarily need a high dividend growth rate to make a good investment; reinvesting a 5.3% dividend can paper over a lot of low growth problems. For instance, look at Realty Income's performance since 2001-a period of time that consisted of many years in which the dividend only grew 1%, 2%, or 3%.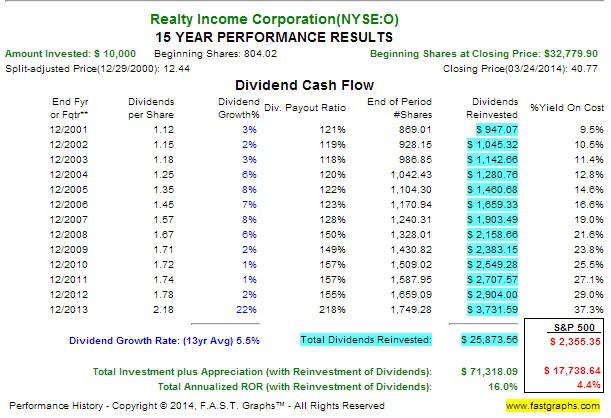 The magic is that reinvesting your share count enabled a $10,000 investment to grow the shares in your possession from 869 to 1,749. Most stock charts don't absorb this fact; they just show you a stock price that "goes nowhere" in the $30s and $40s, and a dividend growth rate that tends to plod along. You're left to manually account for the fact that reinvesting dividends doubles your total share count in a little over a dozen years.
For those of you trying to figure out where Realty Income's dividend is headed, you should first ask yourself the question: Will interest rates increase at a rate higher than inflation over the next 3-5 years? If you answer that question yes, then we're looking at dividend growth around 3% or so. If you think interest rate increase will be moderate or roughly in line with inflation, then Realty Income stands to grow its funds from operations by 7% or so each year. The company seems to be acting intelligently in the face of higher rates by securing lower cost capital now while it is available, allowing Realty Income to partially absorb some initial interest rate hikes. For those reasons, it looks like Realty Income's medium-term annual dividend growth rate will be in the 3-7% range over the next five years.
Disclosure: I am long O. I wrote this article myself, and it expresses my own opinions. I am not receiving compensation for it (other than from Seeking Alpha). I have no business relationship with any company whose stock is mentioned in this article.