Last week, Nike's (NYSE:NKE) earnings report left many investors disappointed and this led to a sell-off. Those that have been waiting for a pullback to start a position in the company might have found one. In this article, we will look at how Nike looks from a long-term standpoint.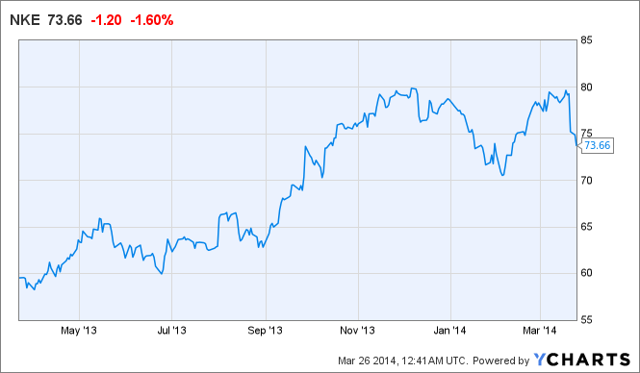 Nike has a long history of strong growth. Year after year, the company launches new products, enters in new markets and uses its strong brand image built through heavy and effective marketing over the years to post growth. As a result, the company's year-to-year revenue growth chart looks very impressive with very few minor bumps on the road.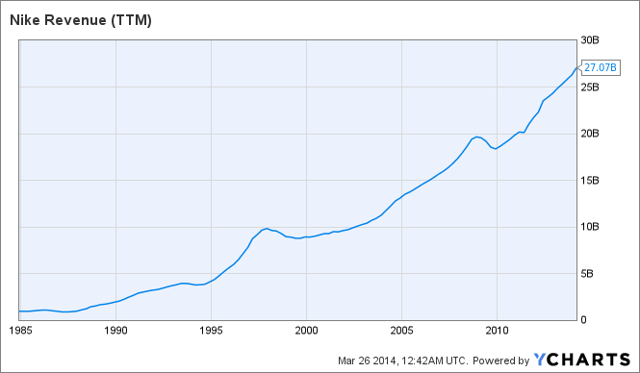 Nike has been able to post net annual profits for more than 30 years in a row and this is something not many companies can boast about. In fact, what makes this even more impressive is that the company continues to be in a growth mode as it posts strong profits year after year. Many major corporations see their profits shrink or disappear altogether when they invest heavily for future growth while Nike accomplishes growth and profitability simultaneously. Between 2000 and now, Nike was able to grow its per share earnings from $0.50 to nearly $3.00. The company's profits of 2000 look like a rounding error compared to today's profits.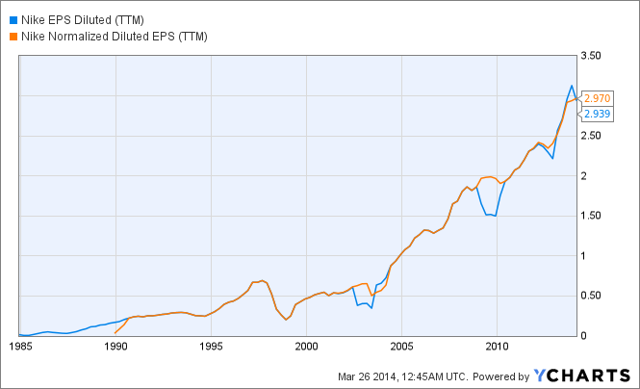 Nike always enjoyed strong margins thanks to its strong brand name. Many people are willing to pay a premium price for Nike's products and the company can usually get away with increasing its prices to pass growing costs to its customers without much trouble. If you look at the long-term trend, you will notice that Nike's gross margins have been increasing almost consistently in the last two decades. Currently, the company enjoys a gross margin of 44.33% and while this is a little below the peak, it is still above historical averages. Notice how the company's gross margin expands and stays high during the Great Recession of late 2000s while many companies were posting margin contractions during the same period. This is also a good sign about the company's resiliency.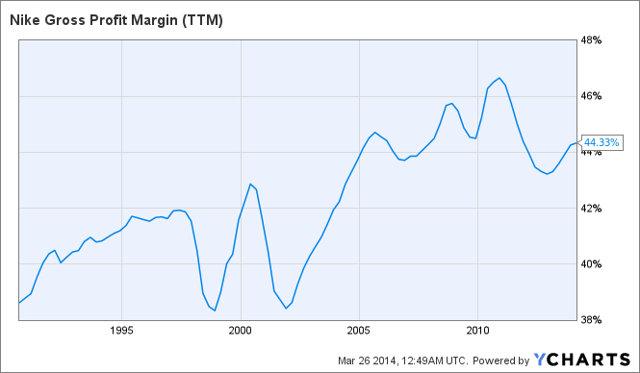 If we look at the operating and net profit margins, both of these margins are near the peak as we speak. Over the years, Nike has learned to be more efficient and the company increased the power of its marketing so that it could reach larger audiences, make bigger impacts while spending less of its revenues to accomplish this. If the global economy goes back in growth mode, Nike's margins are likely to improve further but even if they don't improve anytime soon, these are still strong margins that many growth companies would love to have.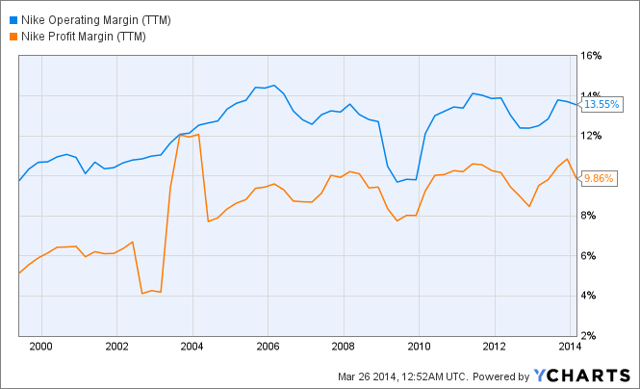 Over the years, the investors paid different multiples to own shares of Nike. For example, in late 1980s to mid 1990s, investors gave this company P/E ratios in mid-teens because they thought that the company was pretty big and it didn't have much room to grow. Once Nike started having a feel for the potential in Asia and other international markets, investors start bidding the company's shares up. During the 1990s, the company's P/E rose to as high as 65 but this was greatly influenced by the market bubble that was inflating at the time. In 2000s, investors realized that Nike is still growing at a solid rate while staying profitable so they decided to give it a multiple in 20s. The company's current multiple of 25 is the highest we've seen in the last 5 years but it is difficult to call it expensive if we look at the company's history of profitability coupled with strong growth.
Since Nike gets a lot of its revenues from international markets and it is known to be a product for which people pay a premium price, the company's margins will rely heavily on economic situation and currency exchange rates in developing nations. Moving forward, this will be the biggest issue for Nike investors to worry about. As the company has been getting rid of non-core brands in the last few years, the margins (excluding currency effects) may continue getting better and Converse will continue to add fuel to the company's revenue growth in both domestic and international markets.
Many analysts see Nike growing its earnings in double-digits through margin expansion, share repurchases and revenue growth. Since the company's recent earnings report, 14 of the 16 analysts covering the company downgraded their outlook for this year while 15 analysts downgraded their outlook for the next year; however, the estimates still look strong as the analysts are looking for $2.97 per share this year, $3.30 per share next year and $3.97 per share in 2016. In fact, the company's EPS will approach $5 by 2017 if it can meet the analyst targets. This tells us that even if many analysts downgraded their estimates in the recent weeks, they are still optimistic for the company in the long term.
For those that have been waiting for a good time to buy Nike, this may be your time.
Disclosure: I have no positions in any stocks mentioned, but may initiate a long position in NKE over the next 72 hours. I wrote this article myself, and it expresses my own opinions. I am not receiving compensation for it (other than from Seeking Alpha). I have no business relationship with any company whose stock is mentioned in this article.