Facebook Share Valuation
Facebook (NASDAQ:FB) is hot on the spot this time, especially after recently acquiring Whatsapp for about $19 billion ($4 billion cash and $15 billion in Facebook stock), with very vague statements about how the company will get its investment back. At more than $42 per user, it seems difficult for the company to get even its revenue back. A user paying more than $5 for Whatsapp seems to be out of the question. The bigger question is: has Facebook hit a brick wall in organic growth and is now highly dependent on M&A efforts?
Facebook has over 1.23 billion monthly active users, 945 million monthly active users on mobile, over 757 million daily active users on average, with 81% of daily active users outside the U.S. and Canada.
Facebook bulls often cite the big revenue increase that the company has had in the past years.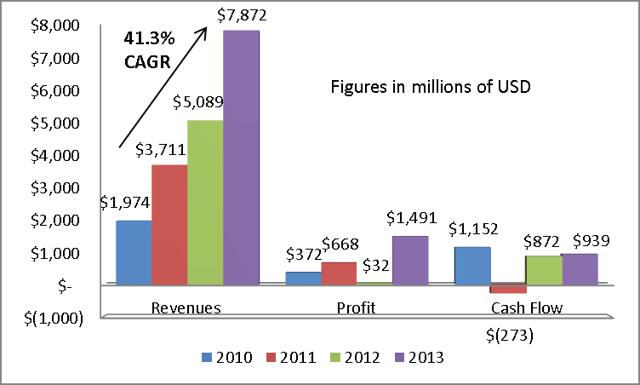 Excel chart made with Company's 10-k data.
This revenue increase would be great news; if it also came along with increased cash flows, which is what a company is valued upon.
Revenue
89% of the company's revenue during 2013 was generated from third parties advertising on Facebook. For 2012 and 2011, 84% and 85% of revenue was derived from third-party advertising. As it is common in this industry, marketers do not have a long-term advertising commitment and may view these products as experimental and unproven.
2013 was a great year for the young company, as mobile advertising revenue represented about 45% of total advertising revenue, as compared with 11% in 2012. Other factors that influenced its advertising revenue growth in 2013 included an increase in the number of marketers actively advertising on Facebook (increased demand for ad inventory), a 22% growth in Daily Average Users (DAU) from December 2012 to December 2013.
Volume and pricing of ads for 2013, as stated in the company's 10-k:
In 2013 compared to 2012, we increased the number of ads shown by 20% and the average price per ad by 36%. The increase in average price per ad was driven primarily by the increased number of News Feed ads on both mobile devices and personal computers, offset partially by product changes including our decision to lower the market reserve price, i.e. the minimum price threshold accepted in our auction. The increase in the number of ads shown was driven by user growth and the reserve price change, partially offset by a shift towards more usage on mobile devices, where we show fewer ads than on personal computers.
In other words, to keep revenue growth going, higher ad volume and lower price had to be done to justify advertising on mobile, where less ads are shown.
As you can see in the next charts, the company has been slowly diversifying its ad revenue geographically to rely more on Asian revenue growth instead of only in the U.S. and Canada. The switch has been slow, as almost 46% of revenue is still coming from the U.S. and Canada, the company's more mature market.
Compared to 2012, U.S. and Canada revenues grew 69% in 2013, Asian revenues grew 89%, European revenues grew 76% and "rest of the world" revenues grew 92%.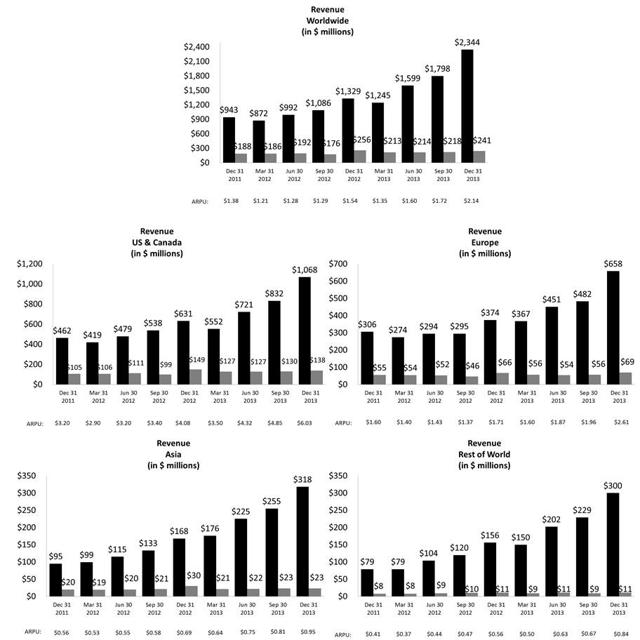 Image source: Company's 10-k data.
As of December 31, 2013, the company had 1.23 billion MAUs, a 16% increase from 2012. Users in India, Brazil and Mexico represented key sources of growth in 2013, according to the company's 10-k.
Compared to 2012, Monthly Active Users (MAU) grew 4.1% in the U.S. and Canada in 2013, 8.0% in Europe, 23.5% in Asia and 23.7% in the rest of the world.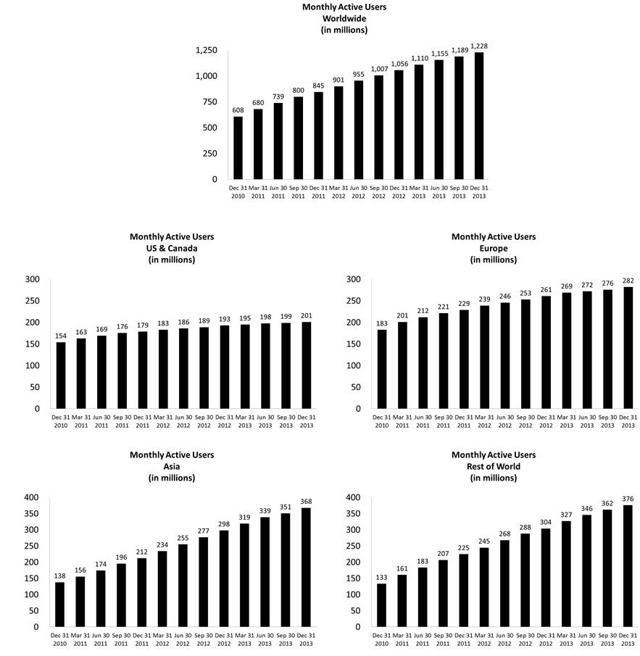 Image source: Company's 10-k
Revenue by user geography is based on delivered ad impressions. Average revenue per user (ARPU) is calculated by dividing total geographic revenue by number of MAUs in that region.
Some pricing information comes from the company's latest 10-k:
Revenue and ARPU in such regions as the United States & Canada and Europe are relatively higher due to the size and maturity of those advertising markets as well as our greater sales presence and the number of payment methods that we make available to marketers and users. For example, ARPU for an average user in 2013 in United States & Canada is more than five times higher than for an average user in Asia.
So the user growth for the coming years that the market is expecting must come from emerging markets such as Asia and "rest of the world," as the user base in United States & Canada seems to have stabilized at single-digit yearly growth.
Valuation
The company currently has:
P/E of over 118
Forward P/E of over 69
P/Book of over 11 (with Book Value of $6.30)
P/Cashflow of over 68
Graham Formula
Using Graham Formula with 2014's expected EPS of $1.00 and maintaining a 50% growth, the stock would be worth $63.50. Reversing this formula can tell us that the market is expecting the company to keep growing EPS at 55%.
EBITDA Multiple
Having an EBITDA multiple is helpful as a back-of-the-envelope number for getting close to how much a company is worth based on "years of operative earnings" that the company would need to provide in order to justify its price. EBITDA multiples vary, for many industries; the range is usually 8-12, as investors get impatient if they need to wait more than 12 years to get their money back, provided there are other lucrative investment alternatives. To get to the current price of Facebook shares, EBITDA would need to be multiplied by 64.
Reversing this formula tells us the market is expecting EBITDA to be about $15-$20 billion a year (depending on the multiple used). 2013's EBITDA was $2.8 billion.
DCF Valuation
As usual, I will create 3 scenarios for the company and use a discount rate of 10%, as I do for this and every other stock, punishing buying price beyond its true cost of capital. If you want less safety and tolerate more risk, you can use a lower discount rate, which will yield a higher expected price. Being patient on price and buying only bargains is, in my opinion, a much better strategy than buying what's "hot."
Business as Usual: Facebook grows in popularity with both ad buyers and users, having more than 1.5 billion monthly active users (MAU).

Ad revenue keeps growing at 41.3% rate for 4 more years, and keeps growing at 25% in 2018, and grow 5% less each year, until revenue growth reaches 5% growth in 2025 and forward, as companies keep paying growing quantities for Facebook space, which have proven their effectiveness in targeting users with help from its Whatsapp synergies. EBITDA passes $20 billion by 2018.
The company beats EPS estimates for 2014, coming in at $1.11 (vs. $1.00 estimates).

Facebook has reached a healthy balance between innovation and R&D spending. Investing cash flows are capped to below $2.5 billion per year and are decreased by 5% each year. Financing costs are negligible.
Operating margins increase as well, expanding from 76.2% to 80% by 2020, in 0.5% increments each year, as the company does not need to employ as many people and resources to further expand its revenue-generating capacity with ads.
Price Target: $55
Optimistic Scenario: Under this scenario, Facebook dominates not only the social media space, with over 2 billion MAU, but also is a key space lusted after by marketers. Its R&D efforts have paid off immensely, having created even more features in the platform to keep users and advertisers engaged and locked into it, having ever-growing switching costs and being a lot more difficult for competitors to ever catch up to its innovative platform.
Ad revenue keeps growing at 50% in 2014, 45% in 2015 and 5% less each year, greatly increasing the company's lifecycle, until revenue growth reaches 5% growth in 2024 and forward. The $50 billion revenue mark is passed in 2019. EBITDA reaches $18 billion by 2017.
This makes the company grow at a highly-accelerated pace, reaching $2.32 EPS (consensus is currently around $1.00 for 2014) and reaches over $5.08 EPS by 2016.
Facebook needs to invest only around $2.65 billion each year to keep up its impressive growth. Financing costs are negligible.
Operating margins increase as well, expanding from 76.2% to 80% by 2014, and ranging between 80% and 85% each year, forever.
Net margins are over 30% each year, as the company gets leaner and does not need any more personnel and keeps trimming SG&A expenses as a percentage of revenue.
Price Target: $85
Pessimistic Scenario: Facebook proves skeptics right and while it stays somewhat popular for a few more years, it fails to capitalize on the monetization opportunities it promised investors. R&D efforts are not enough (think of Whatsapp's acquisition but many more to come) and while having more apps and features in the platform, it fails to keep users and advertisers engaged and locked into it.
Ad revenue is now only growing at 35% in 2014, 30% in 2015 and 5% less each year, until revenue growth reaches 5% growth in 2019 and now starts decreasing each year.
The company fails EPS estimates of $1.00 for 2014, reaching only $0.91 EPS.
There is no more cash flowing out in the form of investments. Instead, there is $1-$2 billion divestment each year, generating more cash flow, but decreasing the capacity to generate further confidence in the business model.
Operating margins hover between 74% and 78% each year.
Net margins are always below 24%, staying between 19% and 24% as the company does hire more talent and tries to get more advertisement revenue but fails to generate the needed demand.
Price Target: $20
Reverse DCF
By doing a reverse DCF starting from the "Business as usual" scenario, we can see that the market is expecting those numbers to follow through, but with revenue growing at 55% for 2 years, then slowing down to 50% in 2016, and then the same as in the "business as usual" scenario, for this stock to be valued at nearly $70 a share, or a combination of over 40% growth with gross and net margins over 80% and 30%, respectively, for the next 3 years, at least. Is it feasible?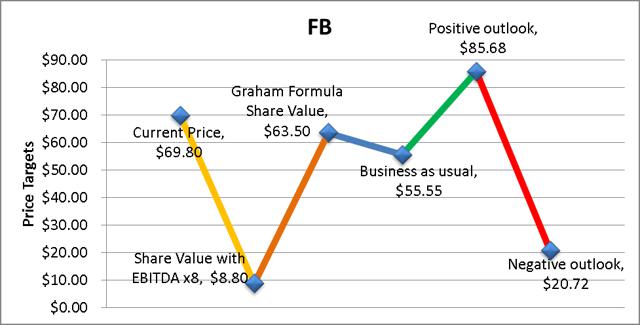 So how much are users worth?
As of right now, each Facebook user is worth $6.40 in yearly revenues. If the "business as usual" scenario is to play out, by 2017 and with 2 billion MAU by 2017, then each user would be worth $15.69 per year. This is about a 25.1% CAGR in value per user per year. Let's see if advertisers see the potential to get this much revenue growth with the same limited visual space the platform has right now. The growth will most probably come from Asia and "rest of the world," as it has more potential user increase and ads can still command a higher price.
Taking the $177.9 billion market cap into account, each MAU is worth $144.71. How long will it take for the platform to stabilize around a certain number of MAU? Well, taking into account that there are 7.1 billion people on the planet, 45.5% of which use the internet, Facebook's users should start stabilizing after crossing the 2 billion MAU mark, so there is, theoretically, still space for revenue growth coming from more MAU's space being sold to advertisers.
Another way the company could get more revenue could be to demonstrate users are logged in more time per month, click more on advertisements, perform more actions per hour, etc. The idea is that there are still some actions that could feasibly be done to get advertisers to pay more because they are getting more value from each user, especially in underdeveloped markets.
Piotroski's F_Score
From Piotroski's F_score, we have nine fundamental signals to measure three areas of a firm's financial condition: profitability, financial leverage/liquidity, and operating efficiency. Each of these areas have their measures (for the complete article, click here).
Since each of the 9 fundamental signals is binary, 0 points are awarded if the signal is worse than last year or negative and 1 point is awarded if the signal improved versus last year.
Profitability is measured by the first 4 measures in the following table.
Financial Leverage/liquidity is measured by leverage changes in the capital structure (5th measure), current asset to current liabilities (ΔLIQUID) and whether the company issued more equity or not (EQ_OFFER).
Operating efficiency is measured by an increase/decrease in gross margin and an increase/decrease in asset turnover (revenues/beginning of the year assets).
| | | |
| --- | --- | --- |
| 1. ROA | 1 | Positive net income before extraordinary items |
| 2. CFO | 1 | Positive Cash Flow from Operations |
| 3. ΔROA | 1 | Increased net income before extraordinary items |
| 4. ACCRUAL | 1 | No Accounting red flags (Cash Flow from Operations is bigger than net income before extraordinary items) |
| 5. ΔLEVER | 1 | Decreased its interest-bearing debt |
| 6. ΔLIQUID | 1 | Better current assets to current liabilities ratio |
| 7. EQ_OFFER | 0 | Issued more equity |
| 8. ΔMARGIN | 1 | Increased gross margin |
| 9. ΔTURN | 1 | Increased asset turnover |
Conclusion
If you have followed stock price since its IPO, you have seen the shifting of investor's expectations. After the IPO, investors were seeing the company headed towards a "negative" scenario. But after a few months, we can see how strongly investors have moved to expecting a very optimistic scenario.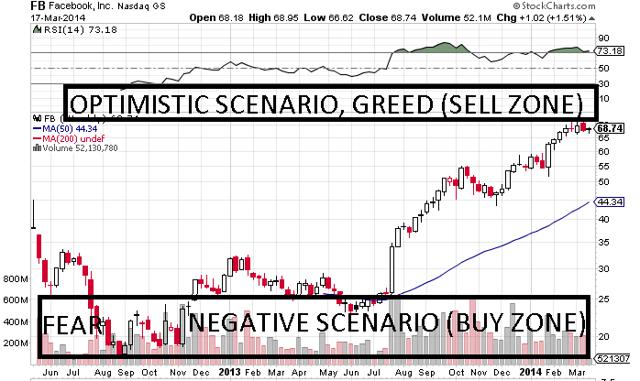 (Original Chart courtesy of stockcharts.com)
Buy when others are fearful and sell when others are greedy could not be better exemplified.
What Facebook has going for it is that it is currently winning the "winner-take-all" race in social platforms, followed by a very distant Google+ (NASDAQ:GOOG), with 540 million users. The key ingredient missing is the ability to continue monetizing with ads users without scaring them off. Getting value from the other side of the equation (users) seems farfetched, as many of its users are unwilling or unable to pay for this service.
I would avoid buying this company, as the time where it was priced for its downfall has passed, and a bargain price may never come again. If you are holding, be sure to place stops and be able to handle your risk, as every earnings report will be met by huge moves, depending not only on EPS, but more importantly, on revenue and user growth.
I am also avoiding buying because even though I do see the potential in social media, I think the actual expectations of investors about monetization are way too high to justify buying into them. One day, marketers might stop overpaying for the now-precious social media advertisement after realizing not that many users actually purchase goods and services because of them, and the revenues of social media companies will suffer an inevitable decline from decreased advertiser demand, leaving investors angry at themselves for buying when expectations were already too high. You have been warned.
Disclosure: I have no positions in any stocks mentioned, but may initiate a short position in FB over the next 72 hours. I wrote this article myself, and it expresses my own opinions. I am not receiving compensation for it (other than from Seeking Alpha). I have no business relationship with any company whose stock is mentioned in this article.
Additional disclosure: Might initiate a short position using short call spreads if the stock crosses over 70 again.