General Electric Company (NYSE:GE) is a diversified company with products and services that include aircraft engines, power generation, oil and gas production equipment, and industrial products. The company serves customers in more than 100 countries, and employs approximately 30,7000 people around the world. The company operates eight segments. The purpose of my article is to decide whether or not the current price is a good entry point for investors to take part in the company's future earnings and growth.
Oil and Gas Segment:
The oil and gas segment provided about 12% to the total net revenues in 2013. Back in February 2014, the company announced that Total S.A (NYSE:TOT), a leading global oil and gas company, would install two of GE's ecomagination-qualified single-stage Integrated Compressor Line (NYSE:ICL) units to help boost natural gas development in Bolivia. The company is pleased about the installation of its first ICL units in Latin America, as it will open doors for the company to secure new contracts in Latin America, where demand for natural gas is expected to increase. This compressor will generate zero emissions, and offers crucial environmental benefits compared to conventional compressors. With these two units in Latin America, GE has sold 26 ICL units globally. The ICL orders reflect a growing shift to natural gas from other fuel sources, and this is expected to continue, as natural gas is expected to account for 26% of the world's primary energy supply by 2025.
Aviation Segment:
Aviation is one the world's leading providers of jet engines and related services, with operations in North America, Europe, Asia, and South America. The segment contributed about 15% to the total net revenues in 2013. Sales were $22 billion, compared to $20 billion in the last year. The 10% increase was primarily from higher equipment and services sales in commercial spares and commercial engines. I believe that the solid past performance of this segment will continue in the future because of two major reasons:
Increased passenger travel in the emerging markets will lead to increased demand for new planes. Boeing (NYSE:BA) forecasted a long-term demand of more than 35,000 new planes in the next 20 years. Increased demand for new planes will lead to more demand for the company's commercial aircraft engines and spare parts.
Last year, the U.S Federal Aviation Administration (FAA) awarded Part 33 certification to GE Honda Aero Engine's HF 120 turbofan engine, certifying its airworthiness. Back in February, the board of directors of the General Aviation Manufactures Association (GAMA) approved GE Honda Aero Engines. Rated at 2,095 pounds of thrust, this engine is designed to set new standards of performance in fuel efficiency and low noise. This achievement will drive the company's growth in the coming years, as demand for fuel efficient engines are increasing.
Healthcare Segment:
GE is one of the world's leading providers of healthcare technologies to developed, developing, and emerging countries. The healthcare segment provided 12.5% to the total net revenues in 2013. The company agreed to buy several life-science businesses from Thermo Fisher Scientific for about $1.06 billion. The acquisition will broaden the company's life science offering, and accelerate the development of technologies for cell biology research and cell therapy. The company considers the segment an important part of its future growth strategy, because the company expects robust growth in this sector in the coming years. The global medical imaging equipment market will reach nearly $30 billion by 2017. The main growth comes from the emerging markets, rather than developed markets. The U.S. remains the market leader for medical devices, accounting for about one-third of the worldwide market. The global medical devices, technology, and equipment market is forecasted to be worth more than $440.5 billion by 2018.
Valuation:
I have calculated the fair value of the stock on the basis of the price-to-earnings, price-to-sales, price-to-book, and price-to-cash flows price multiples, and I believe that the stock is undervalued at its current price level. I assigned more weight to price-to-earnings and price-to-cash flows, as these are more important to the share price. According to my valuation, the stock gives a 17% upside potential and investors should consider GE as a long-term investment.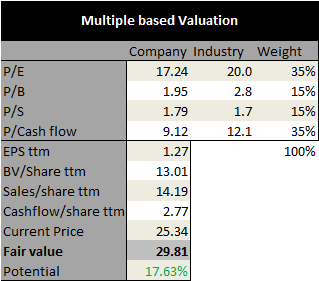 Source: MSN Money
Conclusion:
Considering the future prospects of the aviation and healthcare businesses, the demand for the company's various products will remain strong in the coming years. Emerging markets are important, and I believe that the main growth will come from these markets in the future. I recommend buying the stock.
Disclosure: I have no positions in any stocks mentioned, and no plans to initiate any positions within the next 72 hours. I wrote this article myself, and it expresses my own opinions. I am not receiving compensation for it (other than from Seeking Alpha). I have no business relationship with any company whose stock is mentioned in this article.