Introduction
In this article, I'll revisit Detour Gold (OTCPK:DRGDF), which will now enter its first full year of commercial production at the Detour Lake project in Ontario. I will provide my view on the financial results and the company's balance sheet. Thereafter, I will discuss the near-term outlook for Detour Gold, which will result in my conclusion at the end of this article.
All images in this article were directly sourced from the company's press release and financial statements.
My view on the financial results
As the company only declared commercial production in August, only four months of realized revenue were effectively recorded as revenue, whereas the revenue from gold sales in the first eight months of the year were offset against the construction and commissioning costs. As such, Detour Gold reported a total revenue of $154M, which resulted in an operating margin of almost $26M. Unfortunately, the depletion, exploration costs and administrative costs pushed the company into the red, and Detour Gold reported a loss of $73.8M before the finance income and a net loss of $12.3M, or $0.10/share.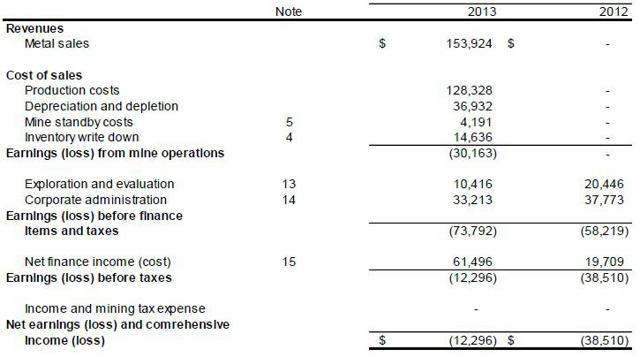 Looking at the cash flow statements of Detour, the company generated $23.7M in operating cash flow (after financing costs and changes in working capital), and as Detour spent $356M on capital expenditures, the company definitely still was free cash flow negative, despite the capex being down considerably from last year's $986M. Investors shouldn't panic at all, as 2013 was very likely the last year of huge capital expenditures, and we should have a smooth trip from here on, and I'd like to refer you to the subtitle about the outlook for Detour Gold.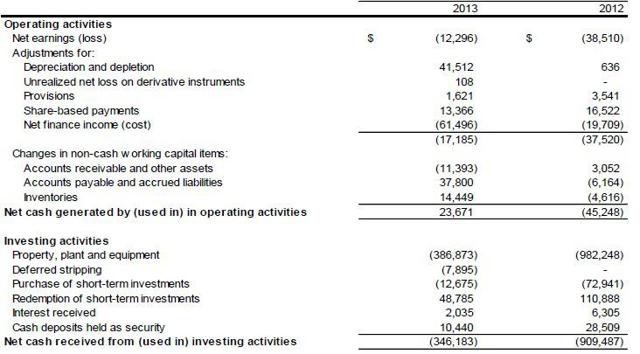 My view on the balance sheet
Moving over to the balance sheet, Detour Gold had a working capital position of $65M as of at the end of last year. Earlier this year, Detour Gold closed a "bought deal", raising approximately $155M before costs. I think this will have been the last financing, as Detour Gold should now be ready to fund all expected expenses from cash on hand and the operating cash flow.
As of at the end of 2013, Detour Gold had a book value of $11.56/share, meaning the company is currently trading at a discount of almost 20% to its book value. I was actually a little bit surprised to see no impairment charge has been recorded on the Detour Lake asset, despite the drop in the gold price during 2013. I'd also like to note there's an accumulated deficit of $210M on the balance sheet, and this will very likely result in Detour not having to pay taxes during the first two years of its operation.

Outlook
Detour Gold has always been quite upfront with its investors, and has also provided an official production and cost guidance for 2014. The company expects to produce 450-500,000 ounces of gold at a "total" cash cost of $800-900/oz. If I'd take the mid-point of both ranges and a gold price of $1300/oz, Detour should generate approximately $214M in operating cash flow. As the expected sustaining capex, G&A costs and exploration costs are estimated at $153M, I would expect Detour Gold to generate approximately $60M in free cash flow, if gold doesn't drop again.

This means that I'm convinced the most recent private placement was the last one, as Detour should now be able to generate sufficient cash flow to cover all expenses and repay the $54M in debt, which is due this year. From next year on, I expect the capex to drop further and the output to increase, for an operating cash flow of $275M and sustaining capex, G&A and exploration of $125M. This means that from next year on, Detour Gold will be able to build its cash position in anticipation of repaying $500M of convertible notes, which are due in 2017. I do expect the company to issue new debt to repay a part of these loans, but the stronger the cash position is, the more options Detour Gold has to refinance the debt due in 2017.
How sensitive is Detour Gold to a change in the gold price?
For every $100 difference in the gold price, Detour's operating cash flow will be impacted by $45-50M this year and approximately $60M next year (based on an anticipated production of 600,000 ounces of gold). This means that if the average gold price for 2014 would be $1150/oz, Detour would very likely still be free cash flow negative (as the operating cash flow at $1150 gold will not be sufficient to cover the planned sustaining capex, G&A and exploration). Extrapolating my expectations for next year, Detour Gold will need a gold price of $1000/oz to be free cash flow positive in the longer run (from 2015 on).
Conclusion
Detour Gold seems to be on the right track to be free cash flow positive this year, and thus far, the company has only encountered minor teething problems at its Detour Lake gold mine. I expect the company to be able to cover all its expenses and expenditures from this year on, but I do think additional (debt) financing will be needed by 2017 to repay the convertible debt, which will become due in that year.
I was happy to buy Detour Gold under $4 when the share price collapsed in November after CEO Gerald Panneton resigned, but I would not recommend buying more shares at this moment. Wait for a dip in the share price before initiating a position. Alternatively, you could write some put options on the Canadian stock exchange.
Disclosure: I am long DRGDF. I wrote this article myself, and it expresses my own opinions. I am not receiving compensation for it (other than from Seeking Alpha). I have no business relationship with any company whose stock is mentioned in this article.