Targacept (TRGT) is a company focused on CNS diseases and disorders, targeting Neuronal Nicotinic Receptors (NNRs). As a company spun off from R.J Reynolds and still located in Winston-Salem, it knows a thing or two about this subject.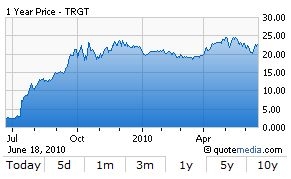 NNRs are ion channels that open in response to the binding of the neurotransmitter acetylcholine allowing the flow of sodium and potassium ions across the cell membrane. NNRs have effects on learning, memory, reward, and other functions. Neuronal Nicotinic Receptors are called such because they are bound and activated by nicotine as well as acetylcholine. Two of most abundant NNR subtypes are α4β2 and α7. These two subtypes are thought to be involved in a host of disorders ranging from Alzheimer's Disease, nicotine addiction, schizophrenia, and Parkinson's Disease, among others.
Targecept's most advanced drug, TC-5214 acts as an antagonist (blocker) of both the α4β2 and α7 subtypes, though most of its activity is attributed to α4β2 antagonism. It is being tested for Major Depressive Disorder (MDD) - in essence - as an antidepressant. Results from a randomized, placebo controlled Phase IIb trial for TC-5214 as an add-on therapy released July, 2009 showed patients who did not respond to the Selective Serotonin Reuptake Inhibitor (SSRI) Celexa, from Forest Laboratories (NYSE:FRX), may respond to Celexa + TC-5214.
In this trial, 579 patients were initially treated with Celexa for eight weeks. After this period, investigators measured their response to the drug; patients who did not respond or had incomplete responses continued on to the second, randomized phase of the trial, which included 265 patients. During the second, eight week phase, patients received either Celexa + placebo, or Celexa + TC-5214. By the end of the eight weeks, twice as many patients in the TC-5214 arm compared to the placebo arm achieved remission.
Upon release of these results the stock rocketed from around $2.50 to about $22, a level it has lingered at since. In December of that year, AstraZeneca partnered with Targacept for a worldwide license to TC-5214, paying a whopping $200 million upfront, with over $1 billion in milestones, and double-digit royalties on net sales- quite the deal for a company worth less than $100 million just a few months earlier.
Treating depression is a very large market, with worldwide antidepressant sales of approximately $20 billion. SSRIs, including Celexa, Lexapro, Zoloft, Prozac, and Paxil, make up a significant portion of antidepressant sales. Though initially quite effective, greater than 60% of patients will eventually become resistant to SSRI therapy. If TC-5214 can help these patients, the market opportunity looks to be quite substantial.
Recently, several large Pharmas, AstraZeneca included, have decided to pull back from their internal research in depression, calling it "high risk" and complaining about the difficulties of measuring success in these trials. This is a positive development for Targacept. If its drug makes it to market, it will be one of the few standouts in the next generation of antidepressant therapies.
TC-5214 is set to begin Phase III trials in the middle of this year with completion set for 2012. The trial design will be similar to the Phase II trial, providing a higher degree of confidence in the outcome of this trial. If all goes well, it could be approved by 2013. Decision Resources analyst Alana Simorellis said "Phase IIb trials demonstrated the efficacy of TC-5214 as an augmentation therapy for major depressive disorder; should Phase III trials demonstrate both efficacy and tolerability, TC-5214 will have a significant market advantage and may earn blockbuster sales in the major depressive disorder market."
Targacept has a deep pipeline beyond TC-5214. These compounds are designed to be highly selective modulators of either the α4β2 or α7 subtype. There are three additional compounds in Phase II development. Among them, TC-5619, which could complete a large Phase II trial by the end of this year for the treatment of cognitive dysfunction in schizophrenia, for which there is no currently available treatment. According to Targacept, 70% of schizophrenics suffer from this condition. The compound has recently entered Phase II testing in ADHD and will also go into development for Alzheimer's disease. AstraZeneca has the option to license this compound. If it chooses to do so, Targacept will receive $30 million in upfront payments.
Two other compounds have already been licensed to AstraZeneca. One, TC-1734, has shown recent success in a Phase II adult ADHD trial and is set to begin an expanded Phase IIb trial to include younger patients. The other, TC-6683 is set to complete a Phase II trial later this year in Alzheimer's Disease.
There are earlier stage Phase I and preclinical compounds in the works as well. These are programs in Parkinson's Disease, inflammation, and pain. I find the pain indication particularly noteworthy, though it is still very early stage. Several years ago, Abbott Laboratories made headlines when it synthesized a painkiller based on the poison from a dart frog that was 200 times more effective than morphine but non-addictive. The compound exerted its effect through modulation of NNRs. It was unfortunately sidelined due to gastrointestinal side effects. A drug with this level of efficacy without the side effects would herald a new paradigm in pain management.
Research on NNRs is not without competition. Others working in the field include Roche (RHHBY.PK) (it acquired Memory Pharmaceuticals in 2008 for their pair of α7 agonists (activators), now in Phase I and II trials), Abbott Laboratories (NYSE:ABT) licensed a Phase 1 compound from Neurosearch for cognitive disfunction, and EnVivo Pharmaceuticals has an α7 agonist in IIb trials for schizophrenia and Alzheimer's Disease. Still, Targacept is clearly the leader in this field.
The company is very well capitalized, with $285 million in cash and practically no debt. Excluding any milestones or royalties it may receive, it expects to have sufficient cash to last into 2013. In the biotech world, a three-year cash run way is practically unheard of. With a market cap of under $650 million, this is a company worth keeping an eye on.
Disclosure: Author holds long positions in TRGT and OTCQX:RHHBY