Lululemon:
Lululemon (NASDAQ:LULU) has not performed well compared to equities markets and its competitors in 2013. LULU suffered from several negative events starting with management and recalls of a major clothing line due to see through pants, which resulted in a ~20% drop in the stock in 2013 and is down ~18% so far YTD. Despite the negative news and drop in stock, LULU has managed to increase sales by 21% and its bottom line by more than 5% even though it had recalls.
LULU is reporting earnings on Thursday and there are several reasons I expect the news to be positive and possibly provide a positive surprise. Harsh 4Q winter conditions may pose a threat to past 4Q performance but forward guidance should send the stock higher after the release. The following will contribute to positive report:
1) Higher demand for LULU products:
More consumers are willing to pay for LULU's specialty athletic apparel and according to consumer surveys, LULU's brand is dominant compared to competitors. Despite the cyclical business environment and unlike competitors, LULU does not discount their apparel during holiday shopping seasons or other times during the year. This enables LULU to maintain a higher profit margin.
The business environment will also contribute to a strong future for LULU. The recent Economic Report issued by The White House in March indicates that consumer spending will be higher than it's been since the financial crisis setting up a nice year for retail. Consumer spending growth has been at around 2% but is expected to increase to 2.5-3% in 2014. This is a 25-50% increase in growth which means if LULU grows sales at 20% in 2013, it could expect to grow sales by 25-30% in 2014 based on increased spending alone.
2) New Clothing Lines:
New clothing lines will also increase sales in the coming years. LULU started offering an athletic-inspired casual clothing line that can be worn outside the yoga studio. This fashionable and practical brand has been flying off the shelves since inception. When the clothing line first hit stores, it sold out within 1 hour. LULU is continuing to build its dominant brand and is a fashion forward company providing desirable products sold at a premium with higher demand than competitors.
3) New Management:
Everyone has heard the controversial comments made by LULU's founder Chip Wilson earlier last year. This and the see through pants recall was a major disappointment for LULU's investors and resulted in lost sales for the company. Chip and LULU's chief product officer resigned in 2013. Since then these two positions have been replaced and the company is already seeing the positive results of a new, positive management structure.
4) Strong Growth:
LULU has a relatively small footprint compared to competitors and is currently opening up new stores faster than ever. A main driver to the 3Q earnings surprise was due to the additional sales from new stores opened during the 3Q. I believe 4Q will be similar and there will be significant sales from new stores. Going forward, LULU will continue to be in new locations and be able to provide their products to consumers that were not reachable before. This will ultimately increase sales and continue its high growth.
5) LULU Sales and Earnings Report:
LULU 3Q2013 sales grew 20% compared to 3Q2012. Additionally, all three comparable 2013 quarters increased sales by an average of 21% compared to respective quarters in 2012. Despite tough winter conditions and a slow retail industry during holiday shopping seasons, I expect LULU's sales to grow at a relative strength for 4Q. Analysts expect sales to be ~$515 million and EPS to be ~$0.72. This represents a ~6% increase in sales compared to 4Q2012 and a ~4% decrease in EPS compared to 4Q2012. Due to an increase in demand, consumer spending, department store growth and additional clothing lines, I expect LULU to beat expectations. I expect sales to be above $535 million and EPS to be $0.77. Values are derived using a 10% increase in sales quarter over quarter.
However, 4Q results is not going to be the big story. As I mentioned above, 4Q results are at risk due to a tough winter and slower consumer spending during the holiday season. The real story that will push the stock higher after the results is its forward guidance. I went through several reasons why LULU is set up for a big 2014 year and guidance is going to be higher than expected. Expectations are for LULU to provide 1Q guidance of 13% sales growth. My estimates put sales growth at 21-25%.
The following chart assumes my current 4Q estimates along with sales growth from 2013-2016 to be 17.16%, 22%, 26.5% and 28% respectively. These rates are based on an improving economy, higher consumer spending, increased product lines, department store growth and higher demand.
Note: Amounts in millions except EPS and stock price.
Note: Stock price is derived at a future PE ratio of 23
| | | | | |
| --- | --- | --- | --- | --- |
| LULU | 2013 | 2014 | 2015 | 2016 |
| Total Sales | $1,605 | $1,958 | $2,477 | $3,170 |
| Income | $283.15 | $391.67 | $445.91 | $634.19 |
| EPS | $1.95 | $2.68 | $3.05 | $4.34 |
| Stock Price | $61.70 | $70.25 | $99.91 | $135.85 |
Technicals:
Technical analysis shows some consolidation but there isn't much indication of a move in either direction. It appears the market is waiting for earnings and will react afterwards. As mentioned, I expect a beat in expectations, however, it may not beat 4Q for reasons mentioned but will be a strong beat on future guidance.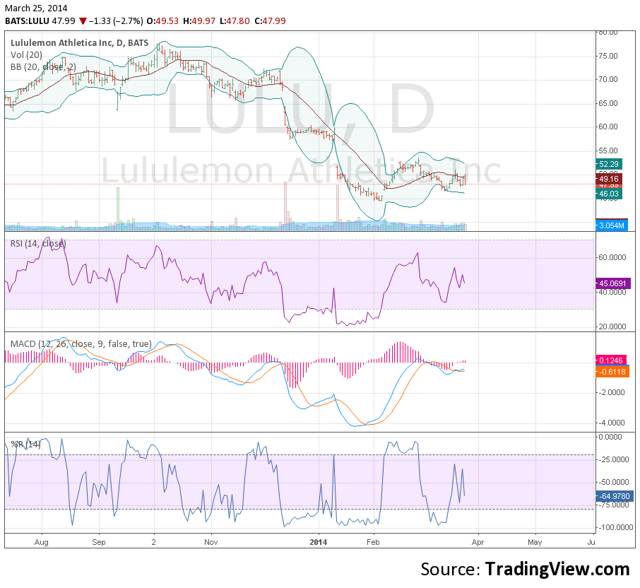 Conclusion:
LULU has had a rough year and the stock has been punished by pretty much everyone. I believe that this punishment presents a fantastic buying opportunity for a growing company trading at only 25 times earnings and growing sales at 20%. The managerial and product problems in early 2013 was a short-term blip in a very long-term stock. For reasons mentioned above, the stock will perform well in the future and will very likely beat earnings expectations this Thursday.
Disclosure: I have no positions in any stocks mentioned, but may initiate a long position in LULU over the next 72 hours. I wrote this article myself, and it expresses my own opinions. I am not receiving compensation for it (other than from Seeking Alpha). I have no business relationship with any company whose stock is mentioned in this article.